:Concert Review: Salvation Tour 2015 – KMFDM, CHANT, Inertia – August 17, 2015 @ Summit Music Hall, Denver, CO
Salvation Tour 2015
KMFDM/CHANT/Inertia
Concert Date: August 17, 2015
Venue: Summit Music Hall
Location: Denver, CO
Review by Sarah Martinez
Photos by Fernando Altonaga
Strolling up to Summit Music Hall half an hour before our show was to begin, we were greeted with a swarm of black-clad fans of all ages that wrapped around the block. Although it hadn't been that long since KMFDM was in Denver, it's hard to resist seeing any icons of industrial when they come to town.
Our evening started right on time with openers Inertia. Inertia's been around a long time and is one of those bands that have a lot of history under their belt, having worked and toured with scads of other influential industrial, goth, and electronic artists. Reza Udhin channels classic frontmen from the '80s and '90s in a really great way and worked the front rows with aplomb. I enjoyed the somewhat pop synthy stylings of the performance that still had enough dark elements to not be out of place at an industrial show.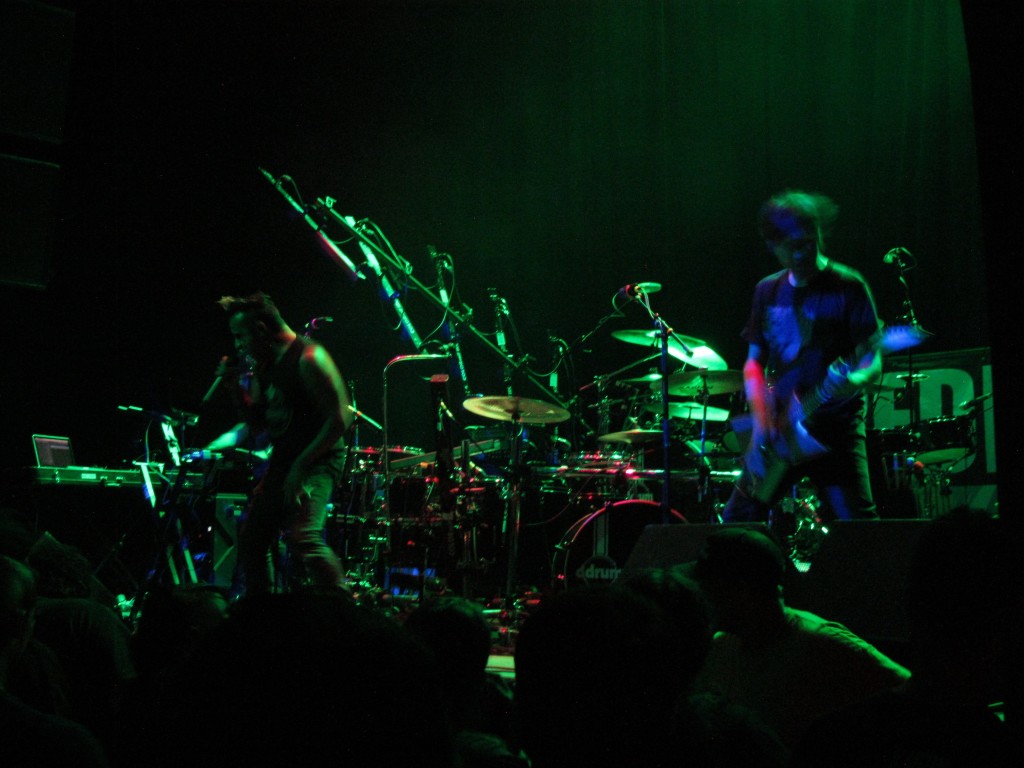 If Inertia was there to warm the stage, CHANT's mission was clearly to set it on fire. Holy moly am I glad that I finally got to see them live. On their third tour with KMFDM, the Texas based band were the perfect choice to get the crowd riled up. From their badass lighting rig to the tribally influenced rhythms and smooth reciprocity between Bradley Bills, Kristopher Robin, and Alvin Melivin, this is a group that must be seen live to truly take in their full, high energy, exhilarating sound.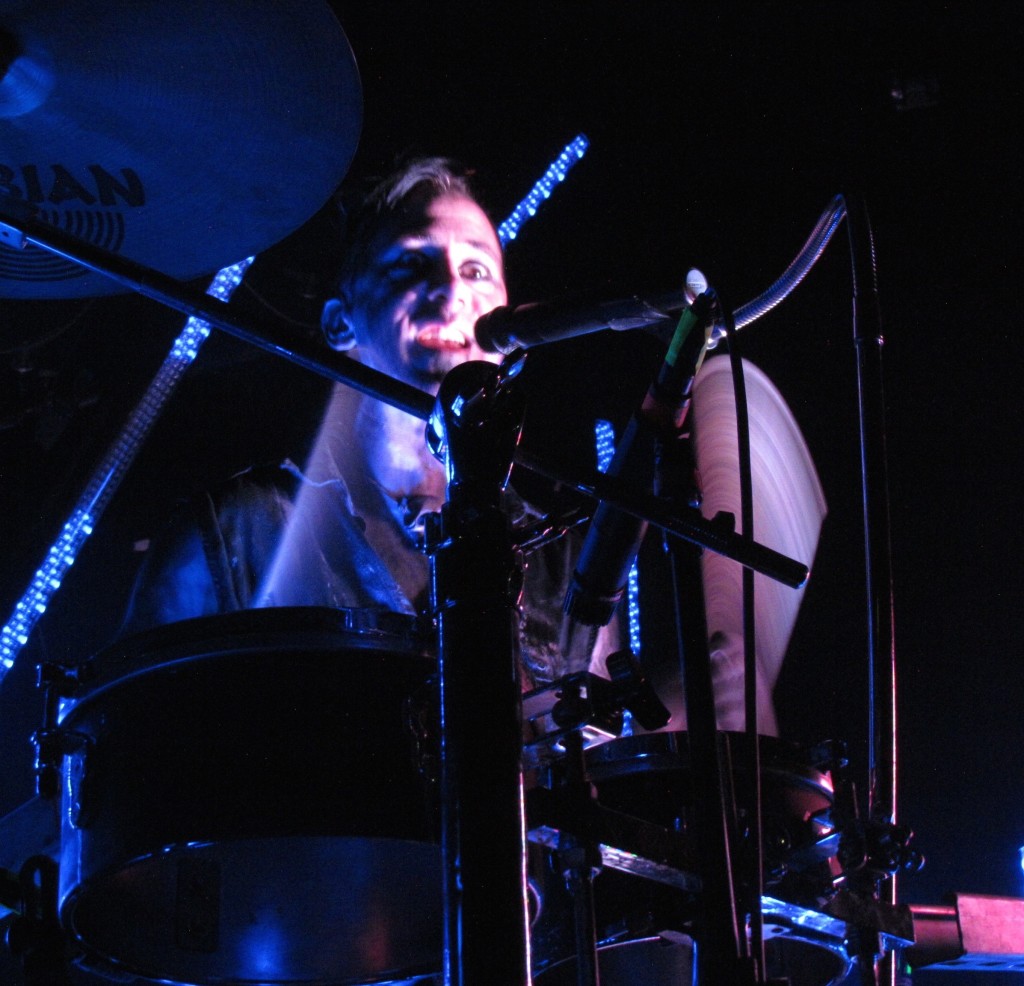 Elements of Nitzer Ebb can be found in CHANT's sound with a dash of Nine Inch Nails, but don't mistake the band for anything but their own entity. It's so refreshing to hear relatively new songs that the crowd enthusiastically accepts as contemporary classics. CHANT is exciting, different and when they performed "Revolt" it felt as though the crowd had found their anthem for the evening. I was moved to dance and was enraptured by their visually stunning set throughout its entirety; I highly recommend seeing them live if possible.
Now on to headliners KMFDM. The band brought out a mix of newer and many of their best loved songs for this tour. Was it great to hear the band start off with, "One for the Money, two for the show, three to get ready, now go kids go?" Definitely. I felt like shit was about to go down. KMFDM's got a trademark sound and is the forefather of so many other bands, but a concert review doesn't let one rest on the laurels of ones, admittedly huge, accomplishments.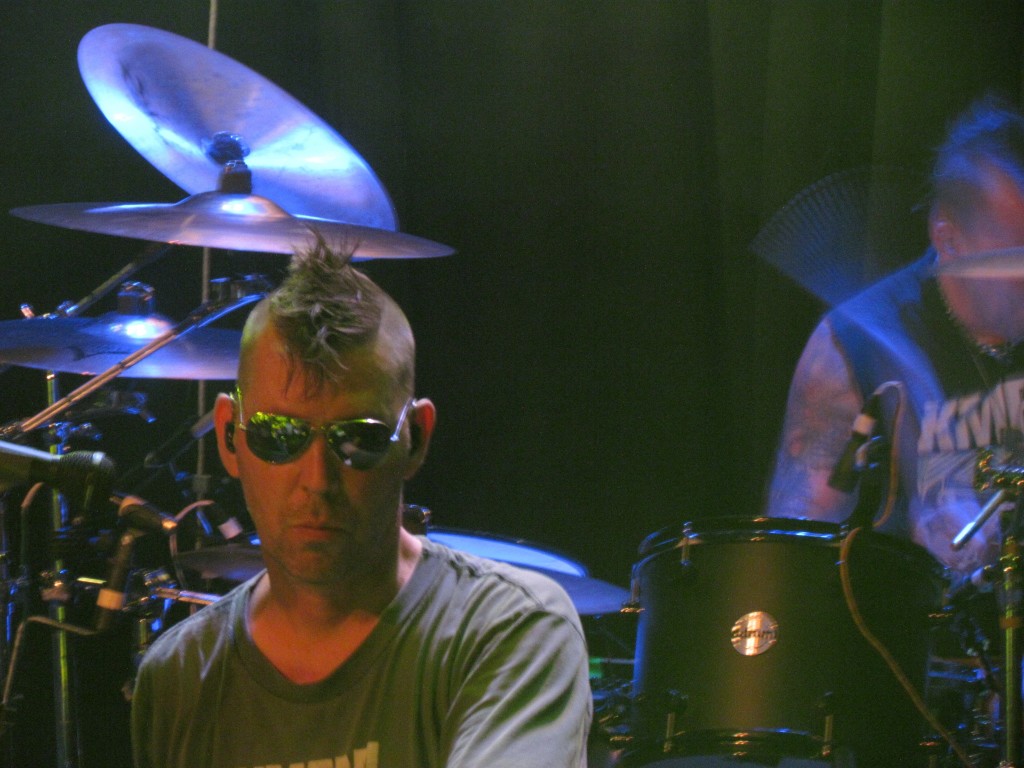 Having been a long-time fan but never actually having seen KMFDM before, I wasn't burdened by memories of the stage performances by other high-profile temporary band members; the wealth of cool including En Esch and Raymond Watts. I'd come to finally see the live performance of music that'd made me dance over the course of the past couple of decades.
The lovely Lucia Cifarelli, skilled Jules Hodgson, and Steve White didn't disappoint from a technical standpoint. The band is a well-oiled machine that puts on a polished performance.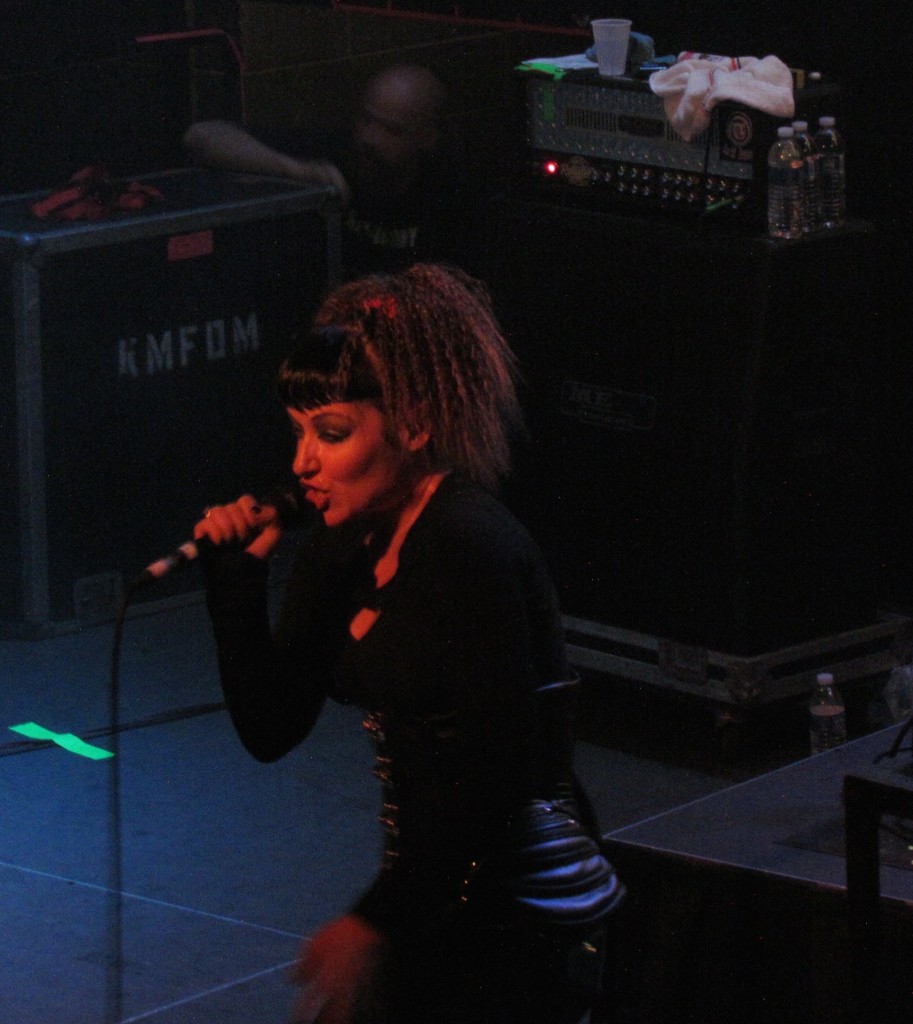 Choreographed movements stemming from years of performing are evident and frontman Sascha Konietzko is still super cool. Did I dance? Sure…a little. There's a sentimentality that couldn't be escaped. Hearing "Salvation" was to be expected and there were plenty of other hits to keep the head bopping crowd steeped in nostalgia.
If I was someone that'd never heard KMFDM and this concert was my first introduction, I don't know that I would have gone to the merch booth to buy a t-shirt or run home to torrent the KMFDM catalogue or buy the hits off iTunes. In fairness, Denver was the second to last date on a lengthy tour and the band's tour bus broke down just a few hours before showtime, which no doubt created some unexpected glitches and exhaustion. This wasn't a bad show; it just wasn't remarkable in any way. I'm a fan. Not a superfan, but certainly a fan. Many of these songs provided the soundtrack during my formative years and even since then.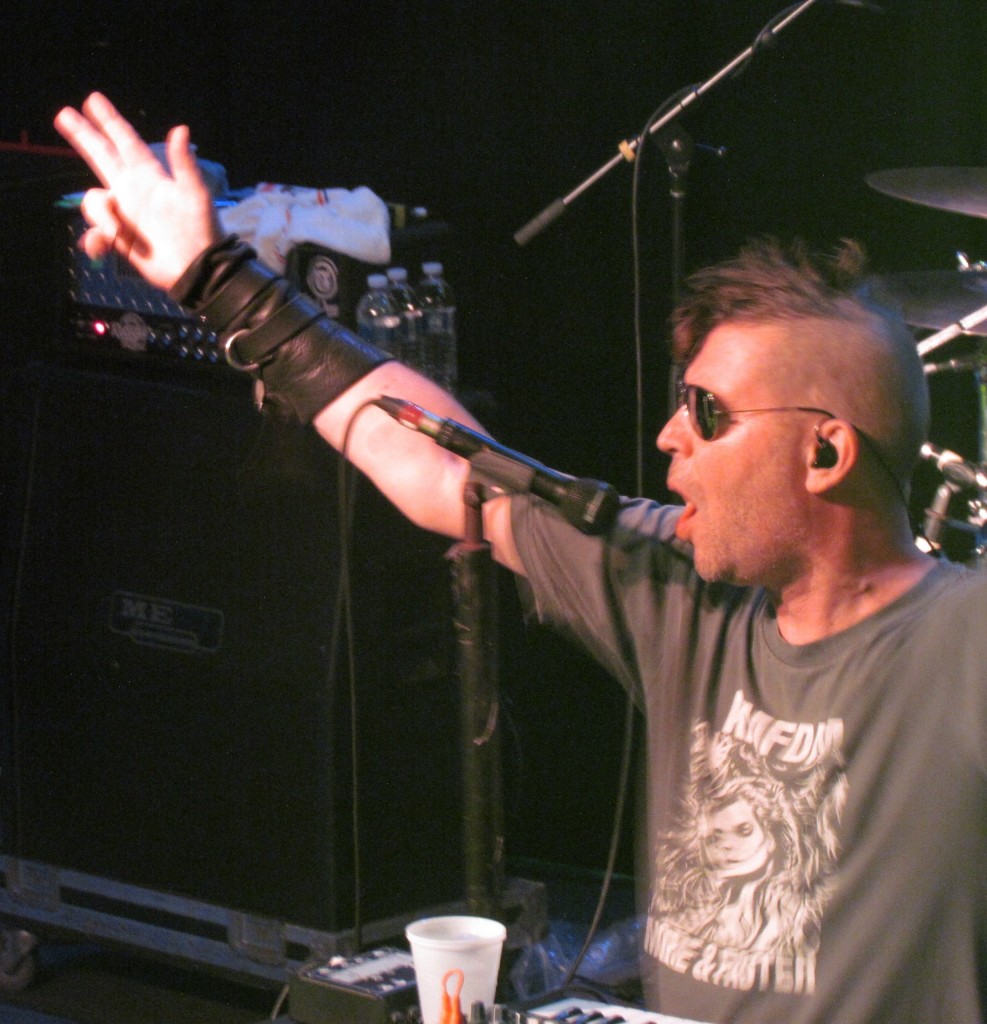 While I didn't expect to be moved in the way that one is with great soul music, or something that just touches one's heart, I did expect to want to dance. I wanted to flail around in a pit of other old-timers and youths who'd found something in the clever, hard-hitting "Ultra-Heavy Beat" provided by Andy Selway that spoke to them or made them lose themselves temporarily in great industrial music. What I experienced was a band that was technically sound with a clearly well rehearsed stage performance that maybe isn't as hungry as they used to be, maybe not as fun as they used to be. A band that isn't only in danger of being overshadowed by their opening act, but that was. I'm grateful to have seen KMFDM live and will check out any upcoming releases, but will likely pass on their live performances.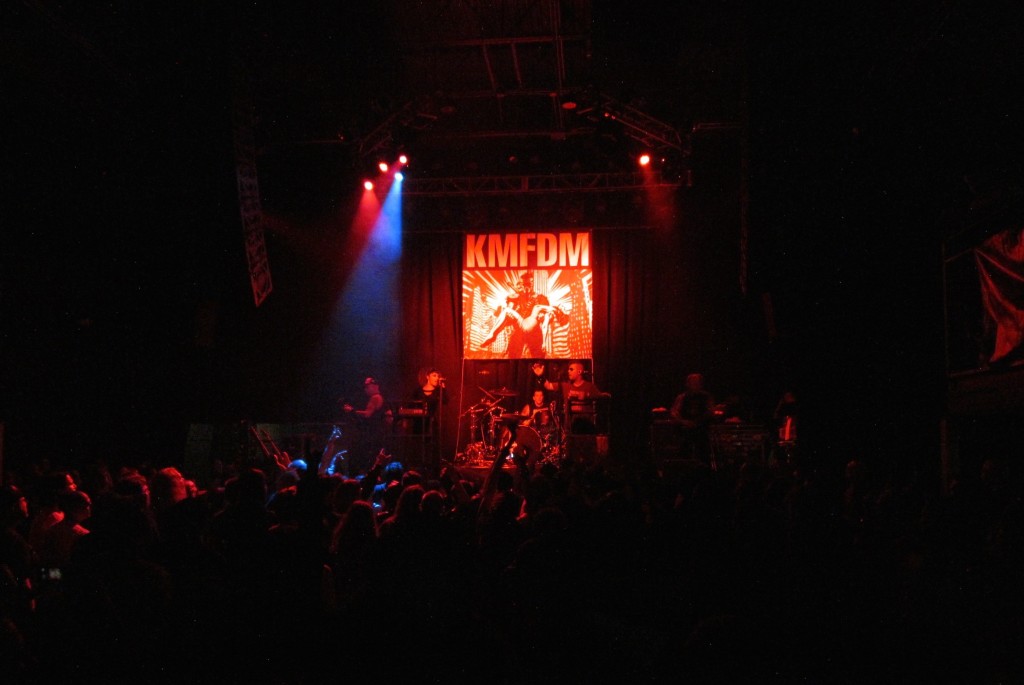 Tags Alvin MelivinAndy SelwayBradley BillsCHANTFernando AltonagaInertiaJules HodgsonKMFDMKristopher RobinLucia CifarelliReza UdhinSalvation Tour 2015Sarah MartinezSascha KonietzkoSteve White
You may also like...