:Music Review: Volt 9000 – Timeshift
Volt 9000 – Timeshift
Release Date: June 22, 2015
Label: Artoffact Records
Website: Official│ Facebook │ Twitter
Review by Danesha Artis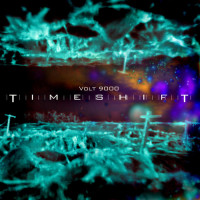 Let me preface my review with this declaration: this was the first album that made me aware of Volt 9000. (Sorry, Cory and Andrew! But I did make it a point to go backwards in your discography and it also did not disappoint.)
I completely found it by dumb luck while on the Artoffact Records Bandcamp page. And with that out of the way, I have to say this was the best case of dumb luck being on my side.
Timeshift is the sixth offering from Volt 9000, (five if you don't count the Live In Fukushima album), and if this is an indication of a newer direction, I can easily say that I am all for it.
"Glitch In Time" opens the album and it feels like it's almost setting a tone for the aural journey you decided to take with the V9K crew. The guitar in conjunction with the syncopated beats give you a feeling of uneasiness; a feeling like "what did I get myself into and how do I learn more about this?" Even while that is going on, their voices harmonizing bring you back to a feeling of comfort.
"Skeptology" leads in with minimal chords on a piano with muted drum pads and distorted synth entering into it a bit later, but that feels to be an afterthought and not in a bad way. The lyrical content of the song alone is worthy of a listen. "Does it follow the rules? Is it lost in a dream? Is it part of my new religion? Is it part of my pseudo science? Part of my theology? Welcome to skeptology." The song feels like it urges the listener to think critically and not in the "wake up sheeple" fashion.
The titular track happens to be one of my favorites on the album as a whole. "Timeshift" feels like the critical buildup in a story before some serious shit goes down. The auditory journey starting off with a "Glitch In Time," guiding you through "Skeptology" to "Review Reverse," delving into the "Puzzlebox" where we witnessed the "Auroras" as they're "Gone In Two." We are then left in the "Mindgame" that led us to "Grand Illusions" that go like "Clockwork" to leave us in the inevitable "Timeshift" and finally being guided "Beyond The Door."
(Don't worry, I'll agonize over this more than necessary and kick myself over this later.)
I wouldn't really call this album industrial in the genre sense, nor consider that such a terrible thing overall. Speaking personally, this would be a wonderful "sit in a darkened room and play this on vinyl while contemplating the existence of being" record. I don't want to immediately say that you will have a deeper understanding of the universe as a whole after this album, but there will be a feeling of having heard something unique and worthy of repeated listening.
Track Listing
Glitch In Time
Skeptology
Review Reverse
Puzzlebox
Auroras
Gone In Two
Mindgame
Grand Illusions
Clockwork
Timeshift
Beyond The Door
You may also like...