:Festival: Voidstar Productions 25th Anniversary Festival – October 2-4, 2015 – Boston, MA
VOIDSTAR PRODUCTIONS 25th ANNIVERSARY FESTIVAL
By Luke Haughwout
By the end of the summer, North America will have seen several amazing undergound music festivals (Terminus, Cold Waves, Aftermath). Each internationally recognized festival showcased a "Who's Who" in what we call the "industrial scene," highlighting styles like EBM, industrial metal, and darkwave, to name a few.
However, there is one big music festival left that has a decidedly more avant-garde electronic flavor.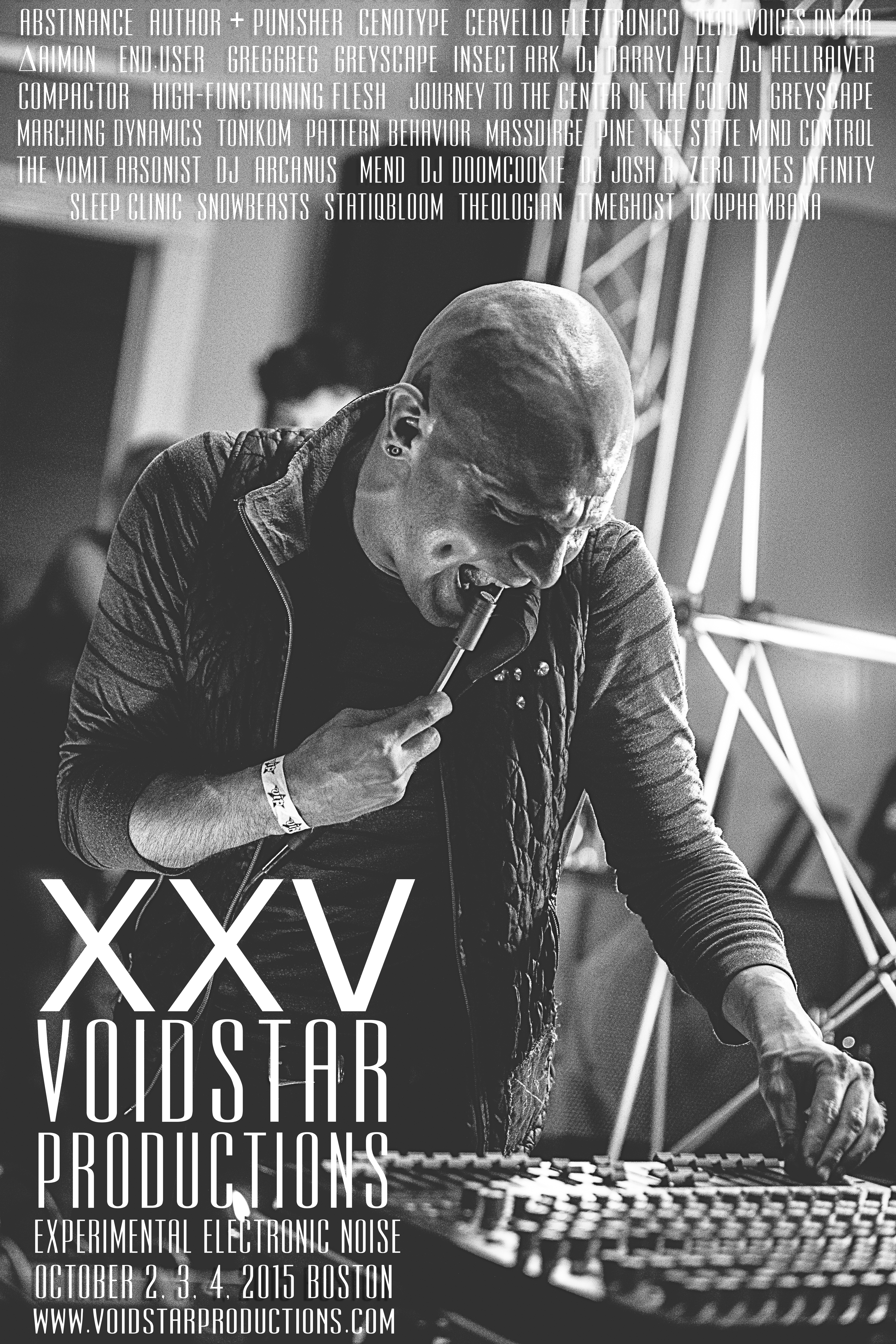 The Voidstar Productions "25 Year Anniversary Festival," will take place October 2-4 in Boston. The festival's website boasts nearly 30 individual acts, over a three day period. Voidstar attendees will witness a blend of experimental, dark ambient, IDM, powernoise, rhythmic noise, and other less often represented electronic subgenres. And some of it will no doubt be uncategorizable.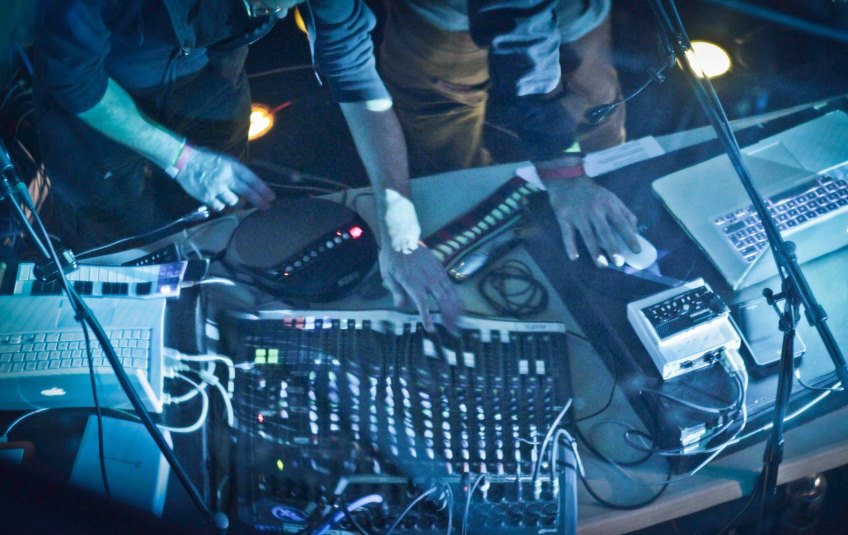 "You will not hear any futurepop," says festival organizer Deftly-D (aka David Dodson). "You will not see a slew of bands that sound the same or follow the same formula. You will see some acts that I suspect will blow up in the future. You will see artists and performances that are unlike anyone else."
Since it began, Voidstar Productions has been doing its part to keep the experimental noise side of industrial music alive in the northeastern part of the country; the dangerous, DIY, confrontational, performance art side of industrial music.
With his famously uncomfortable looking self-fabricated MIDI controllers, and bowel-stirring industrial-sludge signature sound, Tristan Shone of Author & Punisher will be one of the many standout performers of the weekend.
"It's going to be a blast," says Shone. "I have a few surprises for this show, in terms of what will be on the stage, with some guest vocals in the works on some of the newer tracks in addition to custom sound reinforcements, that really project A&P in the way it was originally intended. The fact that I am not flying to this show really enhances what I can bring with me…thousands of pounds of punishment."
If you have not yet witnessed an Author & Punisher performance, imagine the sound of an immense demon warhammer bashing itself against the black steel gates of hell, over and over, and you are headbanging along with it.
There will also be plenty of music to dance to. The proto-EBM stylings of High-Functioning Flesh will warm even the coldest hearts of old school rivetheads. For fans of more futuristic sounds, Chicago's MEND will be performing their melodic, intelligent, danceable electro instrumentals. ΔAimon will be there performing beautifully dark romantic songs with male and female vocals. Statiqbloom will be there, with retro-industrial rage-filled beats pummeling away, and lots of dreadlocks flying everywhere. Hymen Records artists Marching Dynamics and Tonikom will be there, among the artists representing the glitchy IDM genre.
Another special guest will be Mark Spybey, whose musical collaborations (with legends like cEvin Key of Skinny Puppy in Download) make him virtually electronic music royalty. Spybey and Dead Voices on Air will cast a spell over festival attendees with the sonic powers he's practiced over the last few decades.
"I want to establish a relationship with the audience. It has to feel like we are communicating…" says Spybey. "If they get what I do, they are quiet and they stare. Stand still quietly and stare. Or sit down and stare. I get energy from them and it affects the sounds I make. It's all good. My music is quiet and loud. When it's quiet it can be pin drop quiet, it's never meant to be gratuitously loud for effect. It just gets loud when it needs to."
There will definitely be performers that you've never heard of who just might blow your mind. Timeghost, an artist who combines sculpted analog sounds with unforgettably creepy and seemingly dark magic rituals, is one who may give you actual nightmares.
If you would rather hear what a vacuum cleaner sounds like when it's fed through a distortion pedal with a guy screaming like he's on fire, there's also that. Andy Grant, also known as The Vomit Arsonist, is one such noise artist, who will be using a series of effects pedals and sound making devices to conjure up soundscapes from a dozen different hells. "I'm really looking forward to it," says Andy. "I've been doing shows with Voidstar for well over a decade, and they're always something different, something interesting, something that goes against what pretty much everyone else is doing."
All of this adds up to what will no doubt be a unique and once in a lifetime music experience. "I want people that come for some acts to be blown away by artists that they were unfamiliar with or even entire paradigms of performance and music that they were previously unfamiliar with," says Deftly-D.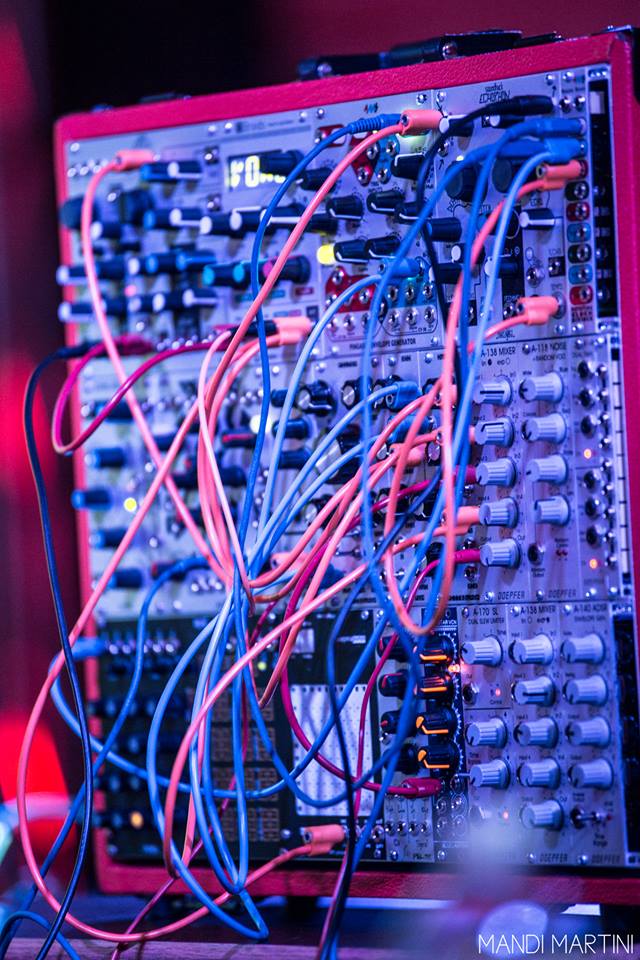 The full lineup, not including DJs and multimedia video artists will be as follows: Abstinence, Author & Punisher, Cenotype, Cervello Elettronico, Compactor, ΔAimon, Dead Voices On Air, End.user, GreggreG, Greyscape, High-Functioning Flesh, Insect Ark, Journey to the Center of the Colon, Marching Dynamics, Massdirge, Mend, Pattern Behavior, Pine Tree State Mind Control, Sleep Clinic, Snowbeasts, Statiqbloom, Theologian, Timeghost, Tonikom, Ukuphambana, The Vomit Arsonist, and Zero Times Infinity.
For more information or to purchase tickets to the festival, visit www.voidstarproductions.com
Tags AbstinenceAuthor & PunisherCenotypeCervello ElettronicoCompactorDead Voices On AirEnd.userGreggreGGreyscapeHigh Functioning FleshInsect ArkJourney to the Center of the ColonMarching DynamicsMassdirgeMendPattern BehaviorPine Tree State Mind ControlSleep ClinicSnowbeastsStatiqbloomThe Vomit ArsonistTheologianTimeghostTonikomUkuphambanaVoidstar ProductionsZero Times InfinityΔAIMON
You may also like...