:Tour Review: Seven Cities with KMFDM and CHANT – Salvation Tour 2015
Seven Cities with KMFDM and CHANT – Salvation Tour 2015
By Luke Haughwout, Danesha Artis, Maresa Whitehead
Photos by Peter Thadeus, Noel Holmes, Mandi Martini, Kyle Reed, Maresa Whitehead, and Fernando Altonaga.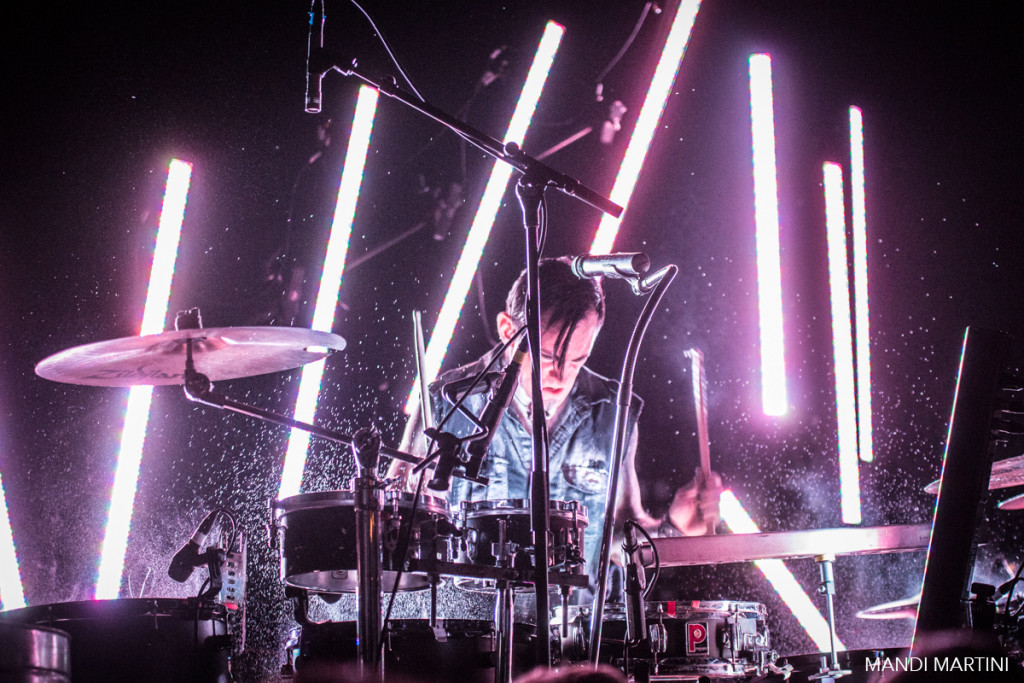 When the Salvation Tour was announced, we at COMA Music Magazine jumped at the opportunity to yet again document the long-lasting industrial juggernauts known as KMFDM. It's always fun. And seeing CHANT live is always absolutely mandatory whenever possible. Fortunately, both bands were gracious enough to let us be their "paparazzi" for seven different shows across the USA: Seattle, Los Angeles, Denver, Pittsburgh, Buffalo, Boston, and Philadelphia.
Rumors had been circulating, after an angry post on KMFDM's Facebook page, that this might be the last tour in the USA due to some kind of IRS red tape bullshit.
In fact, in a sit down video interview with The Jerry Jonestown Massacre Podcast before the July 26 show in Dallas (which is a must see video for fans, click here to watch), Sascha is still extremely irate about the issue of being unfairly taxed by the U.S. government.
Apparently Uncle Sam is reaching right into KMFDM's pocket, even going as far as calling the venues where the band is about to play to steal a sizable percentage of the earnings before the band even gets paid. Sure, they might get the money back eventually, but it no doubt adds a tremendous amount of pain to the ordeal of organizing and funding the band's epic tours.
So was all that rage going to help fuel the Salvation Tour? We were going to find out…
Seattle, WA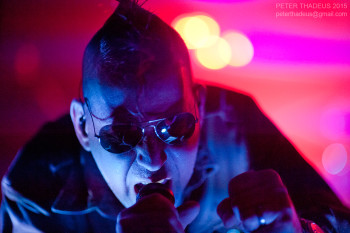 On July 18, Seattle's Showbox Market served as a great starting place for the bands and crew to all come together and launch the 2015 tour. Seattle was, after all, KMFDM's hometown since they reformed in 2002. Recently Sascha Konietzko and Lucia Cifarelli relocated to Berlin, but to the relief of longtime fans, it hasn't seemed to slow down their output.
It could have been called the "Third Times a Charm Tour." KMFDM and CHANT seemed to really compliment each other in 2013 both times they came through North America. For this tour, CHANT had expanded to a three-piece band, with some of the newer songs featuring more guitars.
Our photographer Peter Thadeus reported that the Seattle show was packed, the crowd was rowdy, and both bands sounded powerful. The smaller, more intimate venue had no crowd barrier allowing the fans to get closer to the action. All indications pointed to this tour being very high energy, and that they were playing some old songs that hadn't been played in a while.
After Seattle, the tour looped around for a string of dates in Vancouver, then back down for Portland, San Francisco, and Los Angeles.
Los Angeles, CA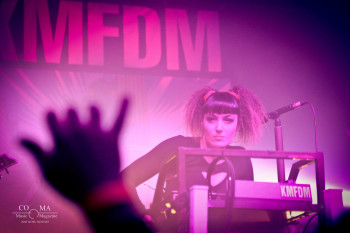 On July 23, our coverage picked up again at The Regent. Los Angeles act Ravens Moreland was the evening's opener…an irreverent and sexy mix of dark and folksy industrial rock that combined electronics with live guitars and drums.
During CHANT, COMA photographer Noel Holmes reported that the L.A. crowd stood mesmerized as the impressive LED light show washed over them.
KMFDM was reported to be sounding at the top of their game, mixing classic material with new tracks from 2014's "Our Time Will Come." The crowd appeared to be extremely excited, and chaos broke out on more than one occasion. The energy in the venue was so high, and that our photographer even got a bloody nose when someone accidentally elbowed him in the face!
Over the next week KMFDM and Co. cranked out shows in Phoenix, Dallas, Houston, New Orleans, Atlanta, Raleigh, and Falls Church with only a single day off. We caught up with them again in Boston on August 1.
Boston, MA
By Luke Haughwout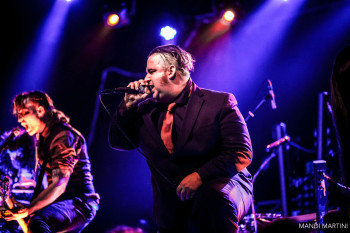 Boston loves KMFDM and the show that night was SOLD OUT. Opening for the tour was Seven Factors, a five-piece industrial doom band from Florida. They put on an impressive show, with the hulking vocalist wearing a red and black suit in the center flanked by two guitarists and two female synth players on both ends. Their sound is dark and driving. The vocals are deep, death metal growls, with actual sparks spraying from angle grinders at times. They were definitely well rehearsed and sounded professional, and were exciting to watch.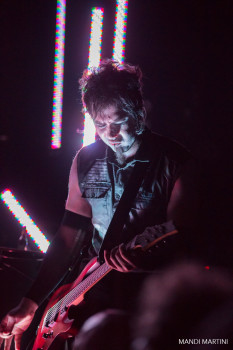 After a quick change up of the stage, CHANT took the stage in front of an excited crowd. In the previous tours supporting KMFDM, there has been this moment at the beginning of the shows which could be called the "CHANT Moment." It's when all the people who have been hanging back far from the stage hear CHANT for the first time and rush the stage. That didn't happen tonight. The Boston crowd remembered how CHANT had blown them away the last time he was in town. They were already packed around the stage at this point, charged and ready to explode.
And CHANT set it off without delay. Despite having added another member to the live band, Bradley Bills is as busy as ever on stage, singing while banging away on the drums on new songs like "Dead Muse" and "Manifesto." His eyes are the eyes of a maniac coming apart at the seams, but his hands never miss a beat.
The past year has been quite a wild ride for Bradley Bills. He toured Europe with industrial legends Die Krupps, supporting the main act in his own band CHANT, and also sitting in on drums. And somehow he found the time to finish the album Brave New Apocalypse.
COMA had a chance to interview Bradley on August 1 before the show. We asked him how it came about that he was asked to tour North America with KMFDM for a third time, a feat no other band has accomplished.
COMA: So here you are touring again with KMFDM, for a third time. How did that happen?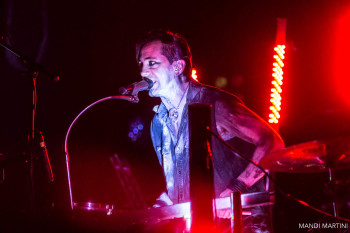 Bradley Bills: Last summer I did two European tours with Die Krupps, playing drums for them. I had a day off in Hamburg, so I called Sascha and said "Hey I'm going to be in town for a day." And he had me over, cooked me some amazing dinner, and we were drinking martinis late into the night and talking. At one point he mentioned, "If we come over a third time, maybe we should just do it again." And I laughed. I was like "Well you know, your fans might get sick of me" and all that. And then I thought about it. I emailed him back and said "You know, if you're coming back over, sure I'll do it a third time." I'd always want to tour with KMFDM. We've become friends, our crews are friends, we work really good together. And I think the music matches up really nice and builds up the intensity of the night. I'm thrilled to be back on the road again.
COMA: So how do you keep your energy level so high, what keeps you motivated?
Bradley Bills: I get my most inspiration, especially on this tour, from the fans. I'm trying to get used to people coming up to me and saying that they have the first two records, and that they've seen me before and they've been waiting for this. Last night in Falls Church, a girl was at the show who had flown from Hawaii. And then in Vancouver, there was a kid that talked to me about what it meant to him, because he's gotten bullied a lot. And he listens to "Revolt" and it reminds him to be true to himself. So that is inspiring in itself, no matter how tired I am, it makes it really fun. Meeting people is really one of the number one reasons I like getting out there on the road.
CHANT is a band that must be seen live in concert. No video or studio recording has yet been able to capture the energy that flows from the stage to the audience. The song "Blood + Peace" begins with blisteringly fast percussion, but halfway through the song everything suddenly stops. All eyes are on the stage for the next minute during the quiet part of the song, where Bradley sings of the pain of having blood on his hands and losing a friend. Songs like this show the deeper, more emotional side of the music of CHANT. It's not just fast pounding drums and energy all the time.
The marching anarchic anthem "Revolt" was saved for the last part of the set. CHANT lived up to their reputation, leaving the energy level in the venue very high for the headliners.
And then, one of the most famous bands in the history of industrial music took the stage.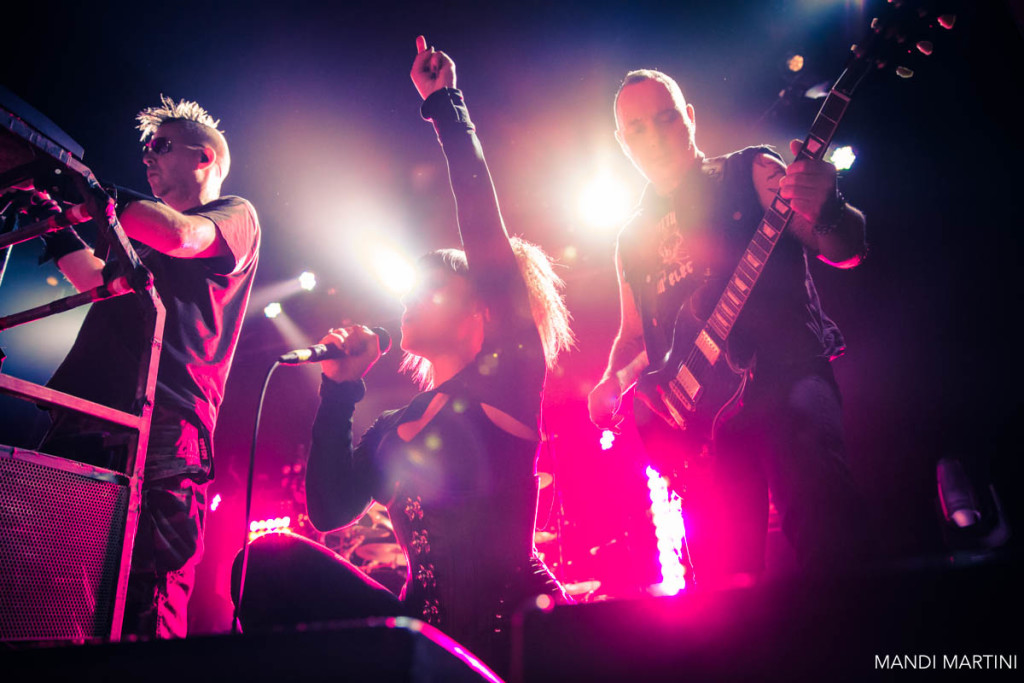 As the orchestral stabs of "Money" filled the venue, a deafening cheer arose. The troops took their trademark places on the stage. Guitar player Jules Hodgson stood on the right, guitar player Steve White stood on the left, and the hardworking Andy Selway took his spot in the back on drums.
As Sascha Konietzko walked out on stage an even more deafening cheer arose from the crowd. "Money" hasn't been played on stage for many years, and the new retooled version of it was very well received. Kapt'n K paced back and forth, with his trademark aviator glasses and Mohawk, shaking hands and fist bumping thrilled audience members at the front of the stage.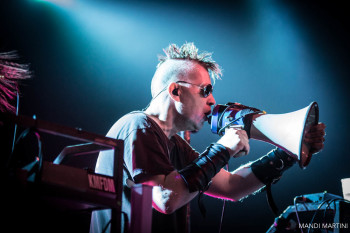 Then, as the unmistakable opening guitar riffs of "Light" began the second song, Lucia Cifarelli made her entrance onto the stage. Her eyes scanned the crowd like a predator, as she weaved back and forth gracefully, the way she does. During "Rebels in Kontrol" the energy in the packed venue was high, as Lucia led the crowd with her fist in the air.
It seemed like the energy in the crowd was feeding the band. Small mosh pits formed, during the crowd favorite "Son of a Gun." Jules Hodgson and Steve White churned out song after song of trademark riffs, trading solos, and making it look easy. Lucia's new song "Shake the Cage" seemed to fit nicely with the older material. Occasionally she would pick a girl in the crowd and have a staring contest. She used her powers again to get the crowd riled up on "Animal Out."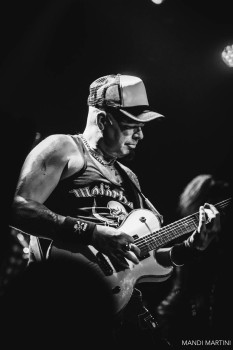 The classic "Terror" was also dusted off for this tour, and followed by the new single "Salvation." Sascha played his usual role as the detached ringleader who never ages. During one song, he smoked an actual cigarette with anti-authoritarian disregard. They rolled like a tank through song after song, for almost a full hour, before climaxing with "A Drug Against War." The encore consisted of "Adios," "Godlike," and "Waste."
As the band finally left the stage for the last time, Sascha thanked the breathless and sweaty crowd with one word: "Speechless." Later on, outside the venue, we saw Jules smoking and greeting fans. He said Boston had been the best crowd of the tour so far. We said, "See you tomorrow!" which seemed to confuse him.
Philadelphia, PA
By Luke Haughwout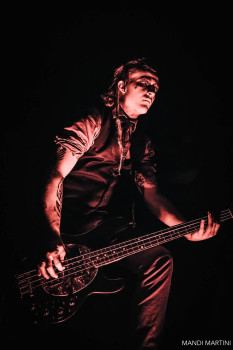 The next morning, though our feet and bodies ached from the night before, we threw ourselves into the car and headed to the next stop. Hours later, outside the Philadelphia venue, we were waiting in line suffering through the August heat. It was a mix of young and formerly young, many sporting the iconic t-shirts with the famous art designed by Brute. Some exchanged stories of the first time they heard KMFDM, or their favorite songs. We spotted Rodney Anonymous of the Dead Milkmen in line, and he told us how much he loved the song "Adoration" from the new CHANT album.
Jules, Andy, and Steve were seen running across the street to score some Chinese takeout before the show. They looked just like grown up kids playing hooky from school.
Eventually, we all filed into Union Transfer Station. It was a smaller venue than the previous night, but with better lighting. Seven Factors again proved a very solid opener. If the name sounds familiar, it's because the frontman's last band Human Factors Lab supported KMFDM on tour previously. It seemed better seeing them the second time around, so perhaps they are a band that grows on you.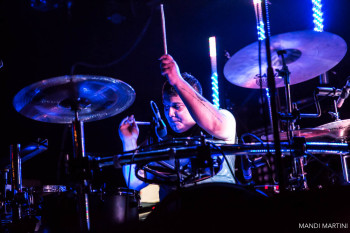 CHANT took stage in front of a loosely packed Sunday night crowd. There was definitely a "CHANT Moment," but it didn't take the uninitiated long to pay close attention to the stage. Seeing CHANT a second night in a row, it became even more impressive. The drums are so tightly in sync that all three members of the band seem telepathically linked. Sometimes during the instrumental parts you can hear hints of Nine Inch Nails at Woodstock, or classic Ministry.
Bradley Bills is electric as ever; his vocals cut through the mix like a knife on the previously mentioned "Adoration," "Dead Muse," and a memorable song from the last tour, "Universal." Alvin Melvin's guitar work is powerful at times and sparse at others, interweaving perfectly around the songs. Kristopher Robin is as always Bradley's right hand man, alternating between drums and synthesizer.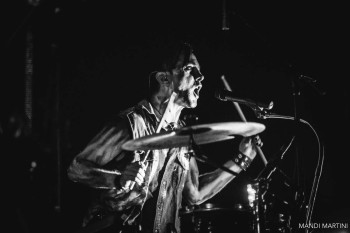 But our hero is Bradley Bills, whose wild eyes seem to say "hold on for your life." You wonder how he manages to keep up with the monster he's created. In the song "Manifesto" he starts out standing up in front of one drum while doing vocals. Then during a drum fill, he literally drumrolls his way over to another drum set, jumps on it, and keeps playing without missing a beat…and back…within the same song.
It's sights like that, and the way the band never fails to blow away the crowd, that make CHANT one of the most exciting bands currently touring in the industrial scene. It's the complete opposite of pushing little squares on a MIDI controller while standing still. It's visceral and makes you feel alive.
Then KMFDM took over. Again "Money" started the night off followed by "Light." There were mini-moshpits during "Rebels in Kontrol" and "Tohuvabohu." KMFDM were delivering song after powerful song, a rich catalog of recognizable favorites.
I looked around to see how the crowd was reacting to the onslaught.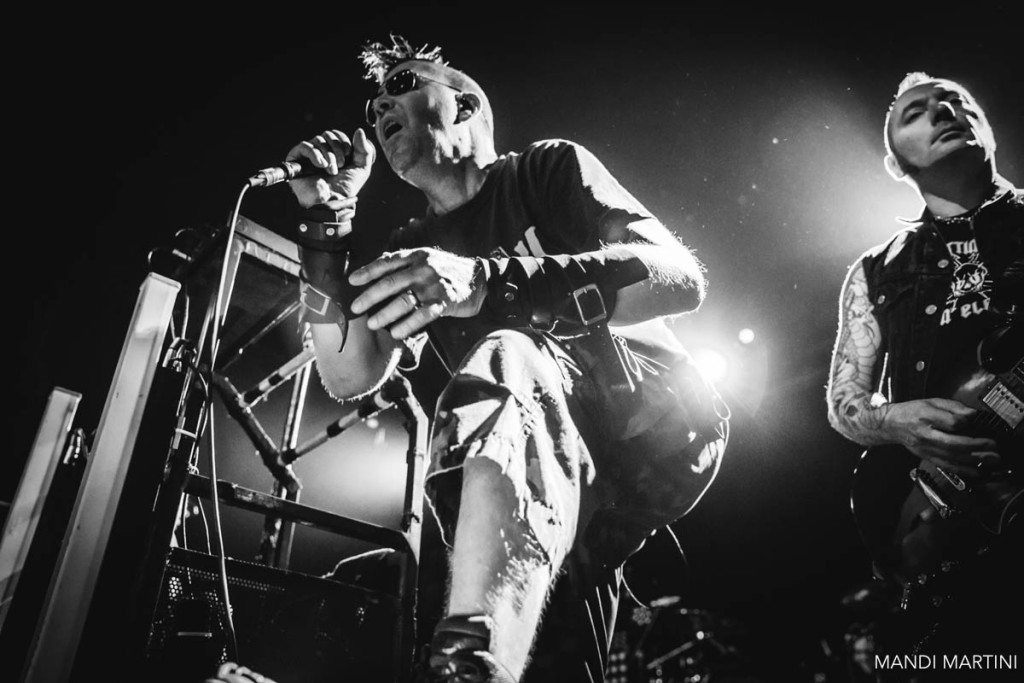 Philadelphia is a great music town, but in terms of enthusiasm they were not as charged as the kids in Boston were the night before. You could see a few in the crowd that were either unmoved or just concentrating hard. Some stood in the back with arms crossed, as if the band had to prove something to them.
Others were completely sold, shouting out "superhero number one" with fists raised, escaping into the feeling of timelessness. On "Amnesia" Lucia seemed to hypnotize the crowd with her voice, swaying back and forth as she alternated from one side of the stage to the other.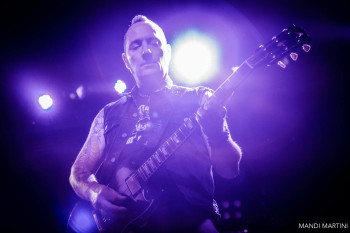 The dual effect of Steve White and Jules Hodgson on guitars is always an impressive onslaught of technical proficiency. Andy Selway's drumming is so flawless you almost don't notice how good he is.
At over 50 years old, the co-founder of KMFDM shows no obvious signs of slowing. In fact, this tour did seem a little leaner and meaner than the last tour. Certain tongue-in-cheek staple songs like "Sucks" and "D.I.Y." were cut to make room for "Salvation" and "Terror." Looking at the setlist, it seemed like only about three songs were from the latest album, "Our Time Will Come." It would have been nice to hear how some of the new songs sounded live. But if everyone got to hear all the songs they wanted, the show would be three hours long.
KMFDM closed the show again with the encore of "Godlike," "Waste," and "Adios." "Godlike" always gets a huge roar of approval from the crowd. That sampled guitar riff from Slayer's "Angel of Death" never gets old. And to many, KMFDM will never get old either.
The next few nights, the tour penetrated New York City and up into upstate New York.
Buffalo, NY
By Danesha Artis
In the past few years, Buffalo, NY has seen a decent uptick in industrial tour traffic. So when word got out of KMFDM's return to the Queen City, people came out en masse to see the legends once again grace the stage.
The chosen venue for their next stop on the Salvation Tour was at Buffalo Iron Works; a fairly large two-floor venue secreted away in what was christened the Cobblestone District in downtown Buffalo. The size of the stage and the floor was more than adequate for the amount of stomping and moshing that would break out later on in the night.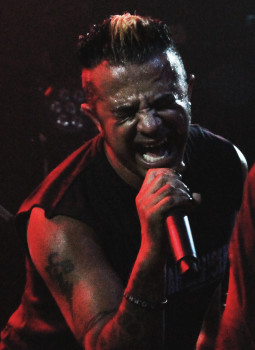 First up was Inertia, a three-piece band hailing from the United Kingdom and headed up by front man Reza Udin. They kicked off the night with the first song from their newer album, "Existential." Reza's energy on stage was equally matched by his band mates, winning over the people closest to the stage.
Inertia continued to power through their set, drawing even more people in that were initially unsure of the group. The heavy guitar riffs laced throughout, coupled with Reza's lyrics made for a great kick-start to an already highly anticipated show. The crowd, fully primed, applauded and cheered wildly for Inertia. Next up, Austin's own CHANT.
I admit, I had no idea what to expect when I saw the massive drum rig front and center on the stage. CHANT took the stage and immediately launched into the title track of their newest CD, "Brand New Apocalypse" (which was reviewed by COMA). The heavy drumming accompanied with the guitar did nothing short of flooring me. Speaking for self and probably a few others, we all felt the music cut right through us. I admit, that was the first time I've ever seen and heard CHANT live, and it was definitely one hell of an experience.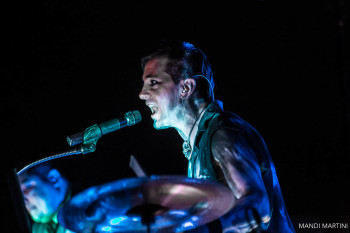 They continued to intrigue the crowd with their hard driving music, causing them to come even closer and even got the standard "folded arms and nodding" concert goers moving. That within itself is no mean feat. Later on in the set, when all three band members began drumming, everyone was floored. I can easily say that was something genuinely unexpected, but no less amazing.
With their set finished, the crowd was well and truly ready to rock out with Kapt'n K and crew.
I have to be honest here: I haven't seen KMFDM since the Hau Ruck tour came through and had Combichrist as support.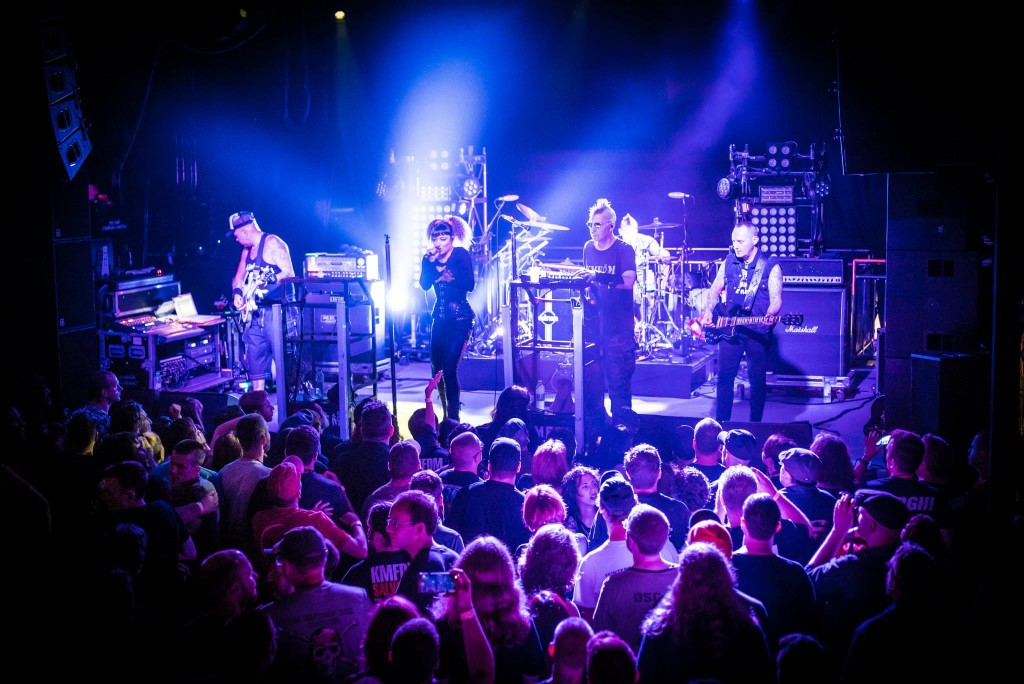 That was more time than I care to admit when it comes to seeing any huge industrial band, but here we are. Fast-forward to the present, and the anticipation is flowing through the room. KMFDM hits the stage hard, starting off with "Money." My only regret out of the gate was that I didn't have the necessary aviator sunglasses with me to go along with the song. That was a minor inconvenience compared to the rest of the night.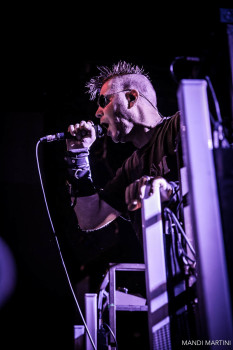 KMFDM hasn't lost a single goddamn step. Let me put it this way; I was taking notes the entire night so I can do this article. Once they got going, I barely touched my notepad.
When they played "Ultra," I pretty much lost it and danced my heart out. Looking around, I saw everyone pretty much doing the same; standing or sitting, they were digging it. It was like everyone was temporarily transported back to the time when they first discovered KMFDM and just flat out reveled in it. And there's not a damn thing wrong with that.
"Son of a Gun" had almost the entire venue shouting the words right along with them. They wrapped up their set with "Hau Ruck" and then filed off stage to the cheers of many.
"KMFDM SUCKS!"
That chant started up not too long after the fact and gained momentum. There were a few that were confused by it, but when the desired effect happened, no one longer questioned it.
True to form, they came back for an encore. "A Drug Against War" and "Godlike" was our reward and it was definitely worth it.
Once the show was fully over, I was a bit stunned, but riding the show high that happens after every good show. I was stunned that it took me too long to see Sascha K. and company again on stage. But I didn't think too much on it. I found out about two equally amazing bands in CHANT and Inertia due to musical procrastination. So everything was worth it. Even the lack of sleep I would deal with at work the next day was a minor hurdle.
Pittsburgh, PA
By Maresa Whitehead
KMFDM once again marched into Pittsburgh to play their patented Ultra-Heavy Beat at Mr. Smalls on their Salvation Tour 2015. The industrial metal giants last graced the Mr. Smalls stage in March 2013—not that long ago, relatively speaking, but it didn't stop the masses from converging in the cramped streets of the North Side Millvale neighborhood, sometimes from hours away (hello, friends from Columbus, OH!).
Denizens of the raucous KMFDM fan base were easy to spot in their all-black, eye-lined, combat-boot-enhanced getups (including mine!) as they lined up down the external cement stairs and into the street outside of the brick church-turned-live-music-venue. The excitement in the air was palpable, and KMFDM t-shirts seemingly (and ironically?) graced 90% of the attendees. The cramped entrance to the venue was backed up with will call, ID checks, and merch tables, but the crowd was friendly and talkative amongst themselves as they inched their way into the spacious open room flanked by two bars, centering in front of the stage.
Historically in Pittsburgh, the audience trickles in throughout the night, not so concerned with the openers as they are with the headliner. The opposite was true this humid summer Friday evening, and though it got thicker throughout the evening, a sizeable crowd formed to pay tribute to Pittsburgh darling Rein[Forced], the UK's Inertia, and Texas-based CHANT.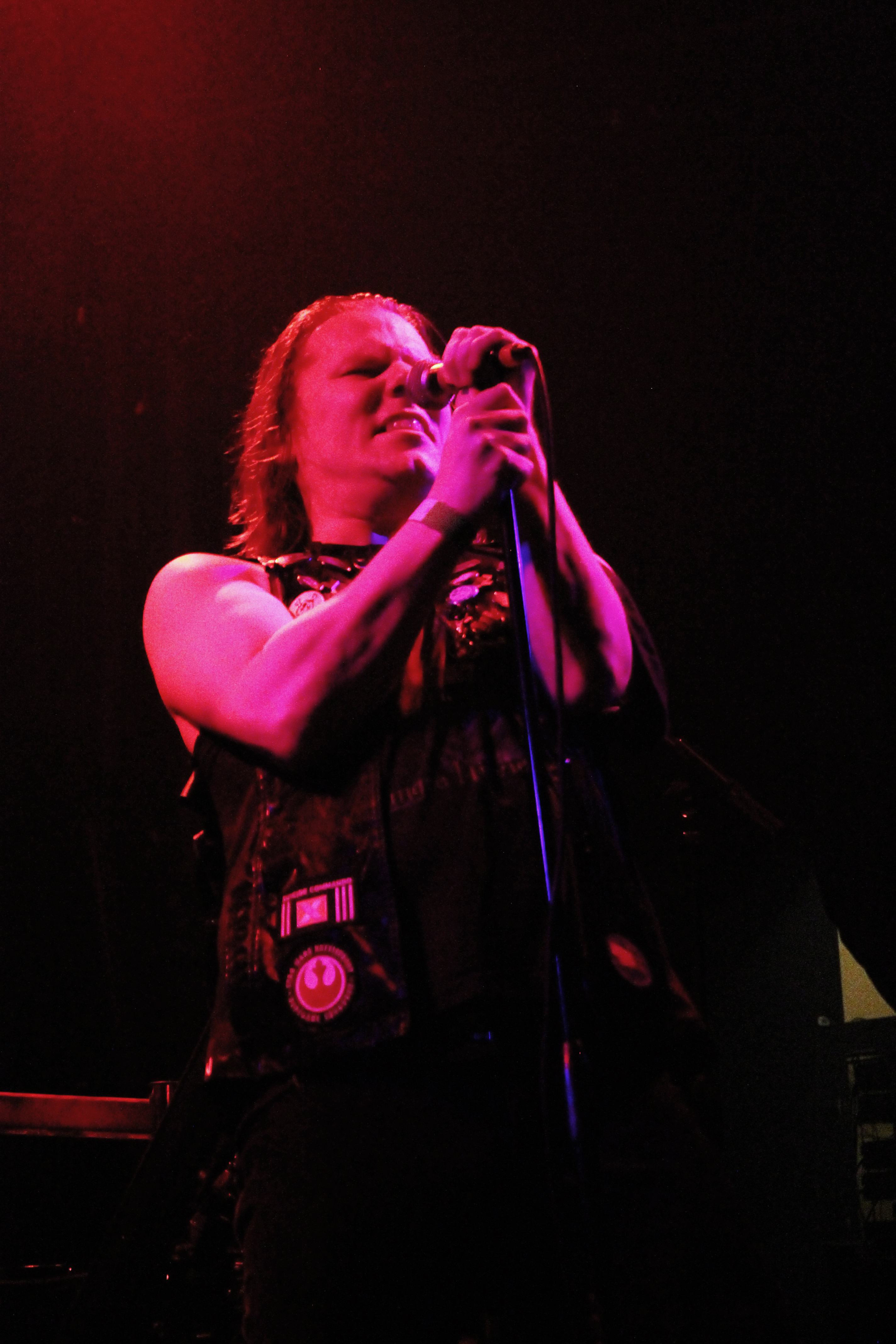 Not long after doors opened, vocalist and local legend Jim Semonik took the stage with his talented keyboardist Turner. Many local patrons were quite familiar with Rein[Forced]'s brand of electro-industrial, and Rein[Forced] sounded fantastic that night—loud, synth-driven, and danceable. Semonik's emotionally tinged vocals and rock-star swagger were on point, and the crowd cheered for their favorite tracks, including "Dichotomy." The highlight of the performance, both for the audience and, noticeably, for Semonik himself, was when Inertia frontman Reza took the stage for "Malignancy." The crowd sang the familiar lyrics about Semonik's battle with cancer along with the two vocalists, and Rein[Forced] had effectively kicked off the night by drumming up energy—sometimes an impossible task for an opening act, but one which Semonik and Turner took on proudly and didn't let tone them down.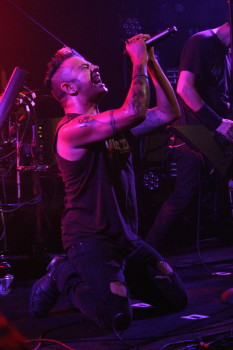 Inertia followed the solid performance with one of their own. The industrial rock outfit was poised, energetic, and likeable. Though their last visit to the city of bridges garnered a much smaller crowd, Inertia was noticeably comfortable in the larger venue with far more ears open to their dance-rock beats. And though the group doesn't have the same name recognition as KMFDM outside of a particular scene, the tour with such a legendary act has been beneficial for expanding their US fan base—more people than expected joined in singing the lyrics and had quite obviously come early because they knew Inertia, they loved Inertia. It was a beautiful thing to witness, as the talented and polished group deserves it, and their live show that night proved they are only moving up in the industry, hopefully with new and unexpected fans gotten from this tour.
But it was CHANT, post-apocalyptic tribal-industrial drum extraordinaire, which raised the bar of intensity for the night.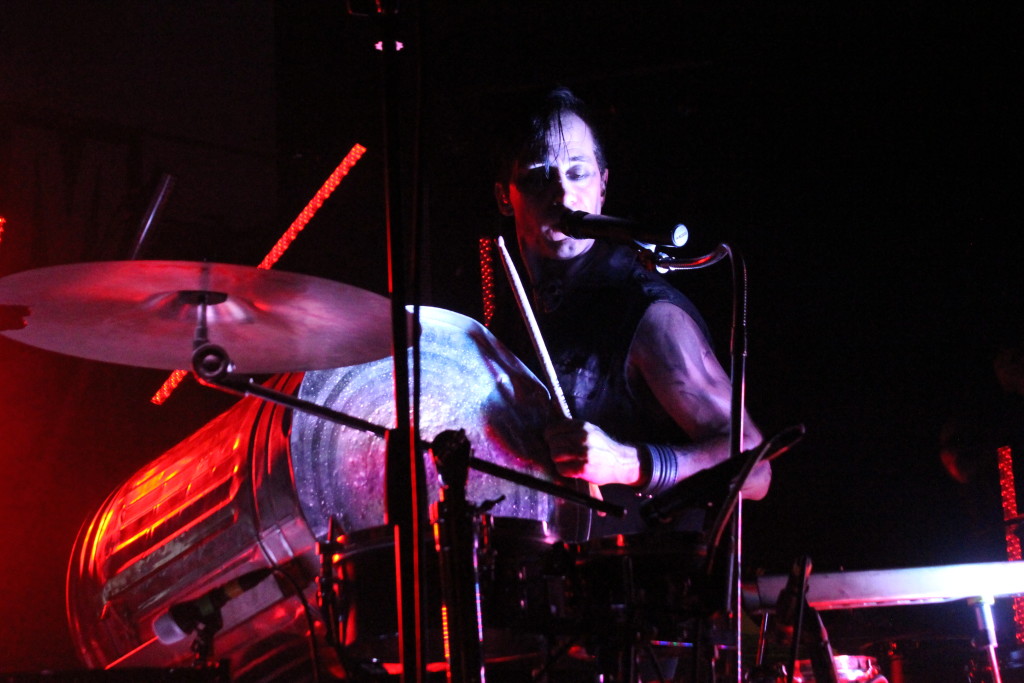 Even just watching the roadies transform the stage into a massive, over-the-top drum set was enticing, and those who were unfamiliar with CHANT knew they were in for the best kind of spectacle when metal trash cans and thick metal bars were added to the percussion piece. Vocalist Bradley Bills looked the part, complete with skull choker that looked as if it were embedded in his oil-stained neck, and his guitarist and keyboardist (both of whom moved between the drum action and their more typical instruments throughout the performance) showed tribal-painted faces to match.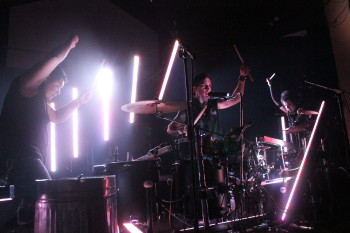 CHANT's performance was dark, both literally and sonically. It was also masterful—watching these three performers pour sweat as they drummed their hearts out, switching between instruments and portions of the massive drum set, made it seem as if this was all they were born to do. It was heavy and engaging, powerful and loud, overtaking every inch beneath Mr. Smalls' 40-foot ceiling with vibrations that reverberated in the bodies of the onlookers. The minimal lighting and strobe lights further transported the audience to the futuristic, revolutionary dystopia—or was it the reality of today's world?—straight out of CHANT's lyrics.
Those audience members who were keen to feel the musical heaviness of KMFDM were highly satisfied to spend some time before the headliner with this fantastic performance. Hopefully others caught the sheer beauty in the tiny details—the cymbal that had been pounded so hard a large chunk of it broke off, the way the water that had been poured onto the drum heads defied gravity, jumping off of the drums and hovering in mid-air with each pound of the sticks. These minuscule moments, combined with the overwhelming awesomeness of the performance at large, made CHANT the highlight of the evening.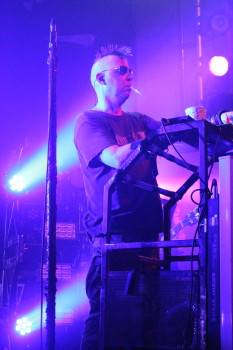 That's right. Not even KMFDM could measure up after CHANT, in my opinion. The legion of diehard fans were unquestioningly pleased with KMFDM's performance that night. The hardcore fans loved hearing their favorites mixed with a handful of lesser-played tracks, and looked upon Konietzko and Cifarelli with awe and longing in their eyes. Others seemed less satisfied, having seen KMFDM on their last jaunt through Pittsburgh. The evening was a near-perfect recreation of something that we are already familiar with, and caused a handful of people to walk out early (whether to beat the traffic, get fresh air from the sweaty musk that was the crowded venue, or because they've seen it before, who knows). There was nothing inherently wrong with the performance from either a sound or visual standpoint. Everyone was satisfied. But that's just it—satisfied. Not blown away (though surely some in attendance would disagree) like we were when CHANT was on stage.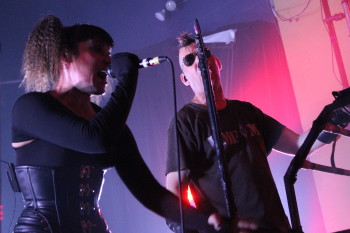 Where the members of CHANT gave everything they had, and left the stage sweaty and wrecked…KMFDM's attitude came across as careless rock stars. Like when Sascha lit a cigarette in the middle of a song in the middle of the stage of a non-smoking venue, and ground out that cigarette on the floor of the stage of a non-smoking venue, which just happened to be carpet, by the way. Loyal fans didn't seem disappointed by the same old show, believing Sascha Konietzko and company can do no wrong. Don't get me wrong—it was solid KMFDM to be sure. But KMFDM didn't try to make the performance once-in-a-lifetime, not the way that CHANT did that night.
Again, just my personal opinion and this opinion is likely unpopular. It's not to say that the performance was inherently lacking or bad. But it is to say that the legend itself seems to be in danger of being outshined by the next generation of bands, CHANT in particular.
The tour rolled on tirelessly through Cleveland, Newport, Nashville, St. Louis, Indianapolis, Chicago, Minneapolis, and Lawrence. Eight shows with only one day off.
Denver, CO
Then, with only three stops left of the 29 city tour, followers on Lucia's twitter account learned that KMFDM's tour bus had broken down outside of Denver. We wondered if they would just throw in the towel, since the tour was almost done anyway. Maybe just Inertia and CHANT would play, minus KMFDM? But thankfully for the fans in Denver, all three bands somehow still managed to deliver a show like the professional killers they are.
And so our seven days of following KMFDM and CHANT came to an end. The tour rolled on, into Salt Lake City the next night and then to its final destination in Boise, Idaho.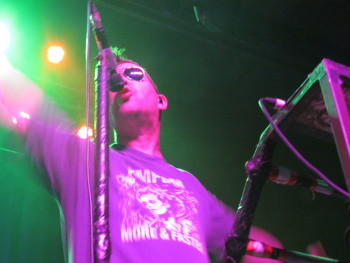 No doubt many handshakes and hugs were exchanged as the tightly knit group broke up and went their separate ways, to different parts of the country and different parts of the world.
Hopefully, the business with the IRS gets sorted out, for the sake of the thousands of KMFDM fans that would be heartbroken at the thought of not seeing their industrial icons again. One thing is certain; KMFDM and CHANT lived up to their end of the deal on this tour.
From coast to coast, they did what they set out to do. For that, and letting us tag along in seven different cities, we at COMA Music Magazine salute them. See you next time, hopefully!
Special thanks to Bradley Bills, Josh Penner, and KMFDM for making this possible.
THE END
MORE PHOTOS FROM THE TOUR:
Seattle
Los Angeles
Boston
Pittsburgh
Denver
Tags CHANTDanesha ArtisFernando AltonagaKMFDMKyle ReedLuke HaughwoutMandi MartiniMaresa WhiteheadNoel HolmesPeter Thadeusravens moreland
You may also like...