:Festival Review: AFTERMATH 2015
Aftermath Festival 2015
Dates: August 27-30, 2015
Venues: Club Phoenix/Velvet Underground/Nocturne
Location: Toronto, ON, Canada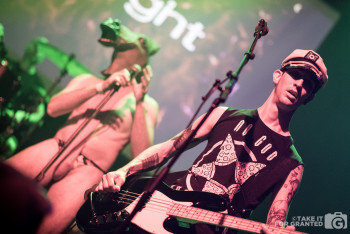 Review by Danesha Artis
Going to Aftermath felt like my first day of college all over again; the traveling, the looking lost, the new experiences. I was excited about the prospect of attending a music festival that was relatively close to home. I happened to miss it last year due to a show I was a part of (being a musician), but as luck would have it, I was able to attend the second go-around of this festival.
My good friend/DJ/roadie companion and I were part of the Buffalo contingent that made it to this mad gathering of scene folks and angry sounding music.
Luckily enough, we showed up on the very first day. With only a few hours to prep and get ready for the show, we did the unthinkable: We arrived early to a goth/industrial show. (I'll be sure to turn in my ersatz goth card later.) Upon entering Club Phoenix and seeing the people inside already, it felt like a giant family reunion. People that have only heard of one another online, getting along like they've know each other for years. I have to admit, it was a great feeling considering it's hard to find those types of safe spaces as of late.
Night One
First up for Night One of Aftermath was Peter Turns Pirate. I've heard of him in passing due to their opening for the Grendel/Ludovico Technique tour that happened last summer in Toronto, but hadn't had the opportunity to explore it. Well, his performance rectified my grievous error immediately. His high-energy one-man show put me in awe. The best way to describe him was if Michael Jackson decided to go with perfectly goth-type lyrics with heavy synthplay all around. Peter Turns Pirate was a hell of a way to kick this festival off.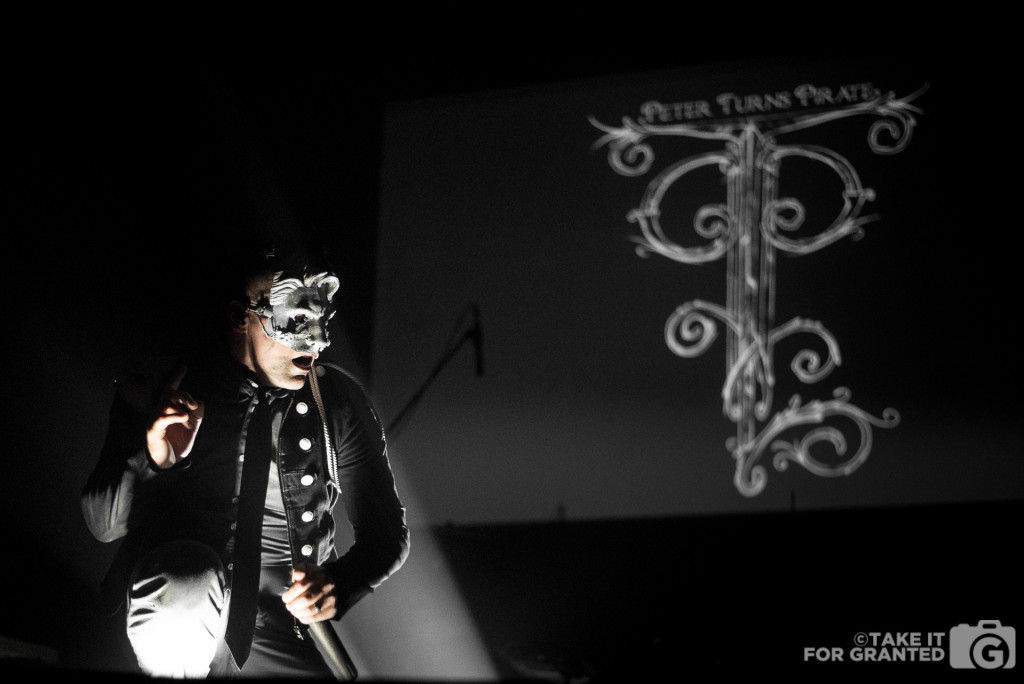 Next up was Alter Der Ruine. I was already hyped to see them after hearing their last album. Seeing Mike Trevoloni on stage messed with my mind slightly. Here, we have a slick looking gent rocking a suit coat on stage at a festival like this. Holy hell. When the band started playing the beginning of "Lights" and then his voice came in? Wow. Smooth and powerful.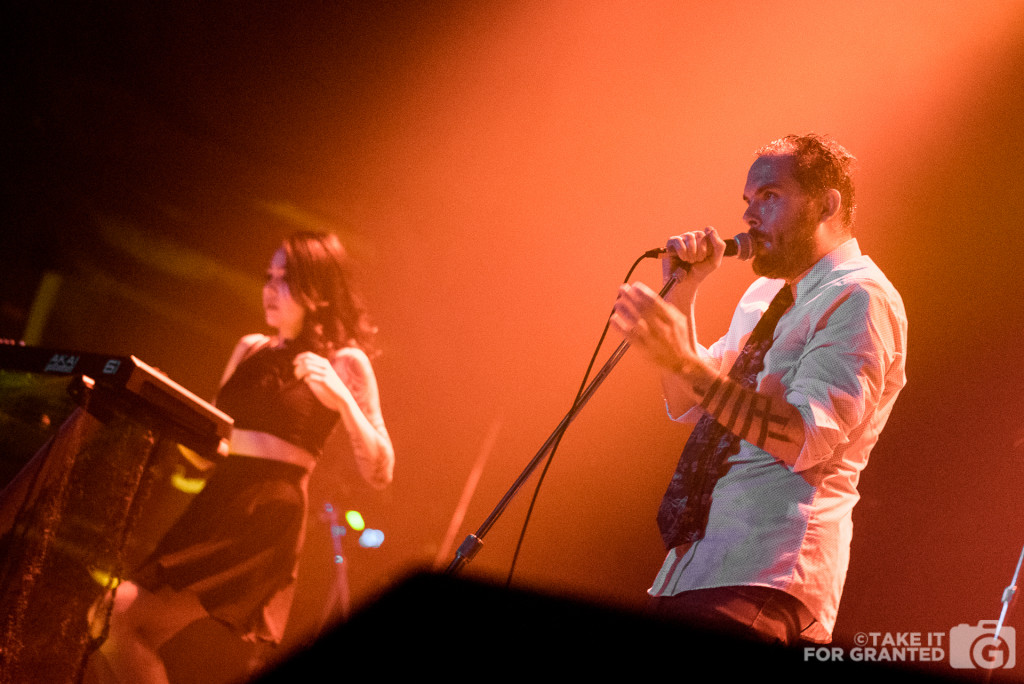 Ego Likeness took the stage not long after their set, but with two drummers. I only really knew about Mike Johnson, but Rick Furr from Mindless Faith joined in for this go around. I've heard and read about the probable melding of bands that may occur through the festival, but this was the first time I've witnessed it. I gotta say, the two drummers melded perfectly with Donna's sultry voice and Steven's aggressive guitar playing. When they played "New Legion," it seemed like all caution was tossed to the wind and people were dancing either gleefully or seriously (hard to tell with goths) along with the music.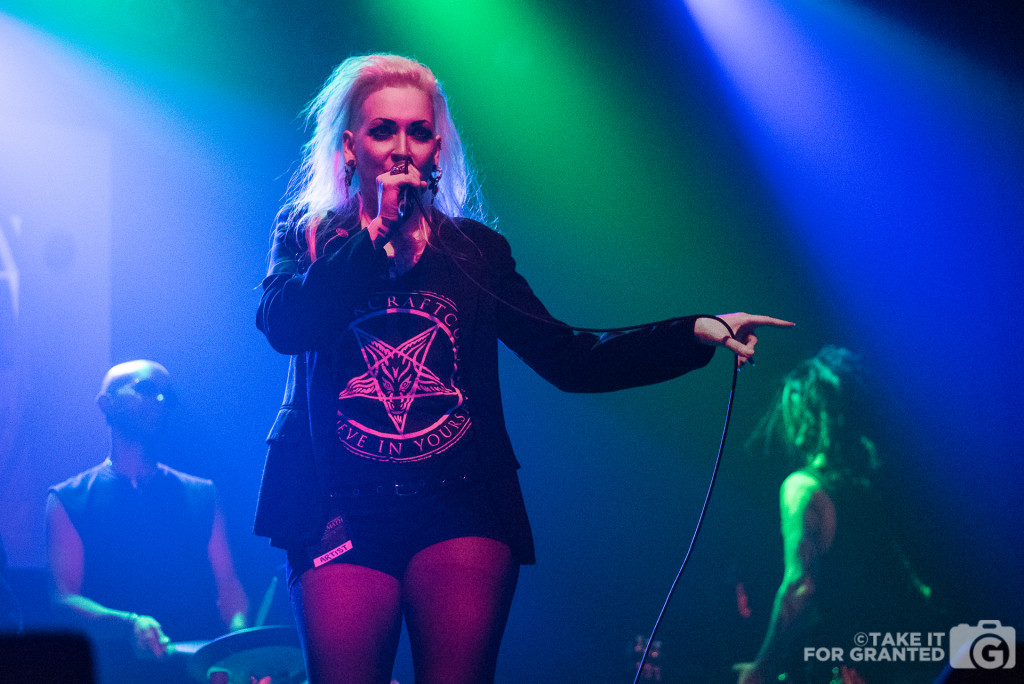 Next up was FGFC820, guest starring Steven Archer on the drums. This was my first time seeing these guys on stage, though I do have their CDs. The way I can sum up their performance is this: If Rexx Arkana had commanded me to start some mess, I probably would have done it without question. Hearing "Call to Glory" live is definitely one hell of an experience. Rivetheads and goths tore the floor up for the majority of the set. With Dräcos von Strecker working his magic at the back of the stage and Steven giving the drums what for, they brought the energy up even higher at the venue.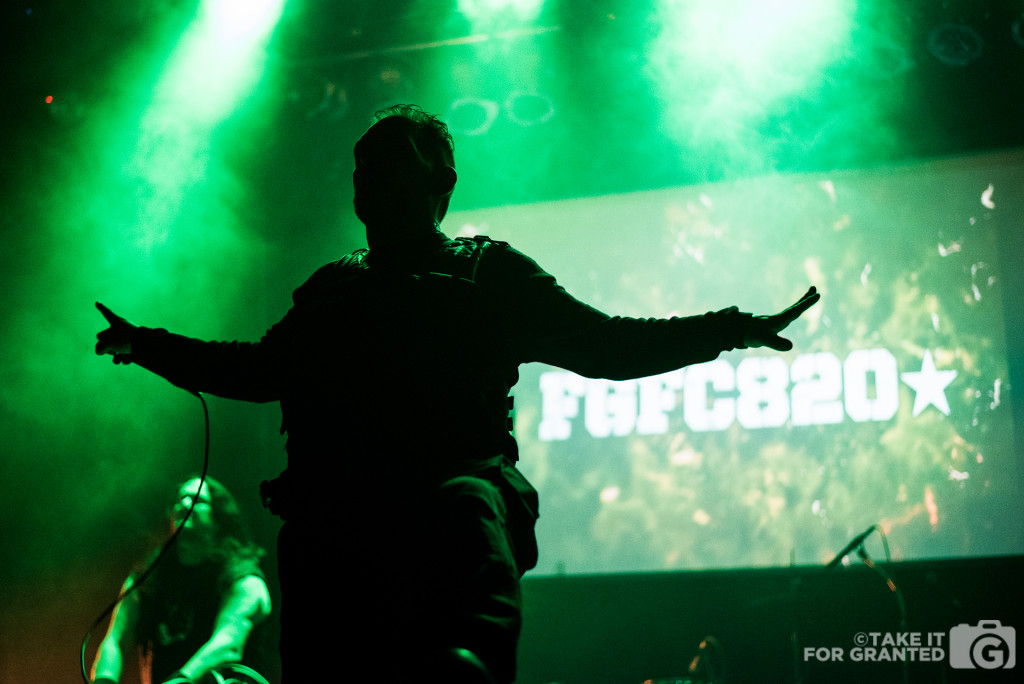 I was lucky enough to see William Control perform previously, when they did the We Love You Part 2 tour with Combichrist last year and they impressed me then. Flash forward from October till now, and they still have a solid set. William's dulcet tones seemed to entrance the audience and get them moving. Another thing that draws the eye to William Control is his showmanship on stage. He worked the crowd into a frenzy during his songs, swinging his mic around like a bullwhip. He had the audience fully engaged.
The Dreaming was one of the bands that had people interested, since it was made up of ex-Stabbing Westward members. That seemed to be a high point for most of the '90s kids in attendance, especially when they did a cover of Garbage's "#1 Crush." The crowd really lost it when the first hard riffs of "Save Yourself" started playing, and you bet your life that everyone shouted the lyrics right along.
Troy Hilton (from Darker Side of Light) was running around the venue, as most can attest to during his shows, but made it a point to stop near my friend and I. He leaned in and said, "Stabbing Westward is playing on my stage!" At this point, I should add that he also did a little fanboy flail right along with his statement. (I warned you that was going in, Troy!)
Bruderschaft was another band I was looking forward to hearing. Considering why the project was made, I was a bit surprised to hear they would be playing, but there they were. Verena May was on lead vocals with Rexx and Dräcos from FGFC820 backing her up. Anthony from Tactical Sekt was also on keys for this set. All of them sounded amazing together. The audience was really into it and singing along as well. There was a guest appearance by Daniel Myer singing Wolfsheim's "The Sparrows and the Nightingales" and "Lucretia My Reflection" by Sisters of Mercy. Those two songs alone made every hardcore goth swoon just a little bit.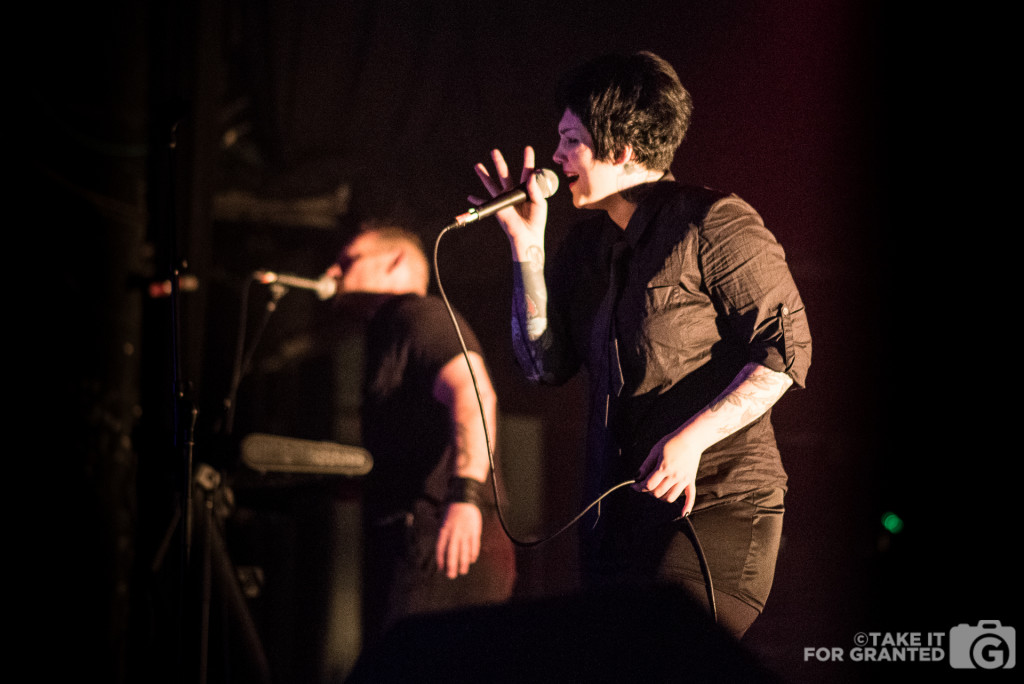 And last for Night One: Leæther Strip. As promised, he did an old school set from the Zoth Ommog Records days. Claus and Kurt brought the night to a close with some good old-fashioned four-on-the-floor stompy goodness.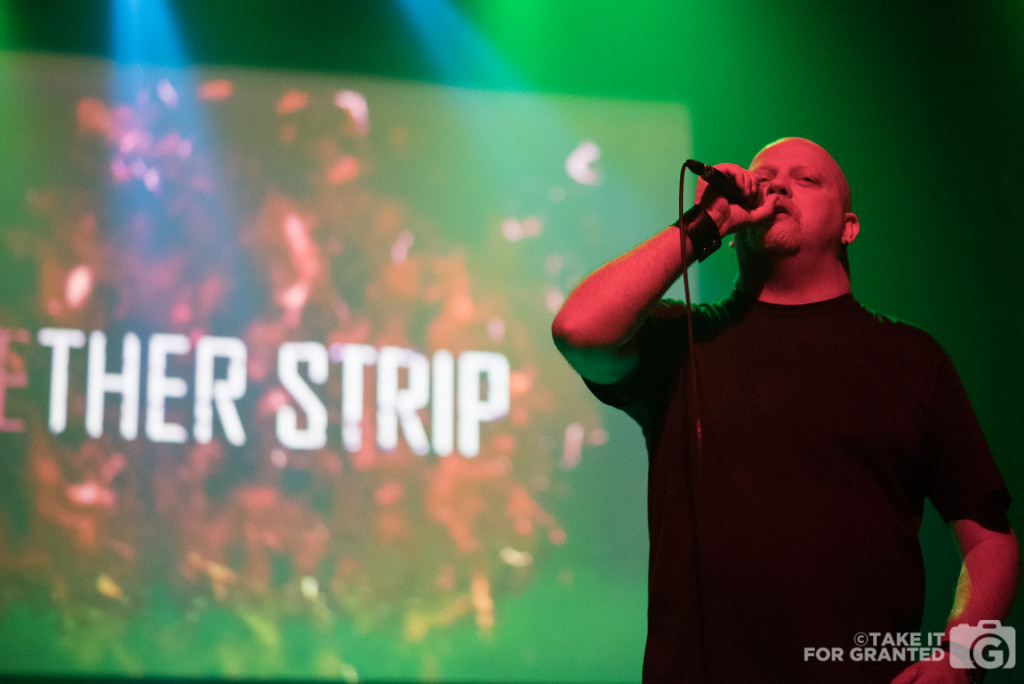 Night Two
The punk band Dead On TV opened up the second night and got folks moving. Punk music at an industrial show? Yes. It works on all the necessary levels, and they are definitely an act to catch when you're able. I haven't seen them perform in about a year and they still retain the same intensity, if not even more, than before. Also as a note: If you see the lead singer Daniel Evans bend around on stage like he hasn't got a spine, I assure you he's fine.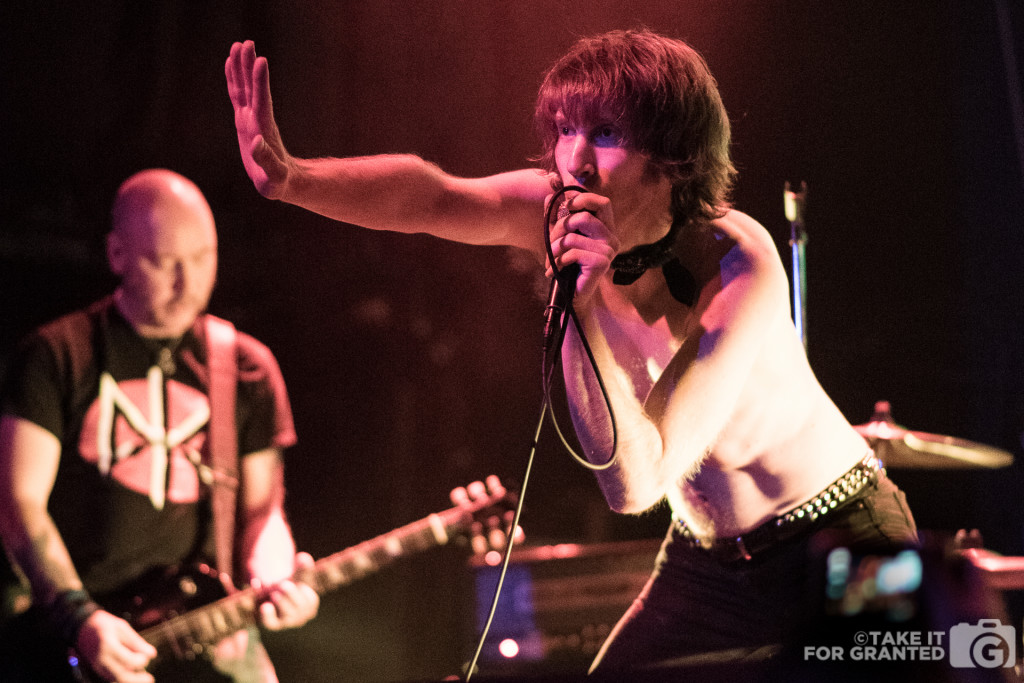 Stoneburner gave an amazing performance. Steven Archer's Dune-inspired solo project, accompanied by the projections onstage, really did get everyone moving to the music. Even though his Stoneburner project is normally accompanied by belly dancers, their absence didn't take away from the overall performance. Watching Steven almost get lost in his music was quite a sight.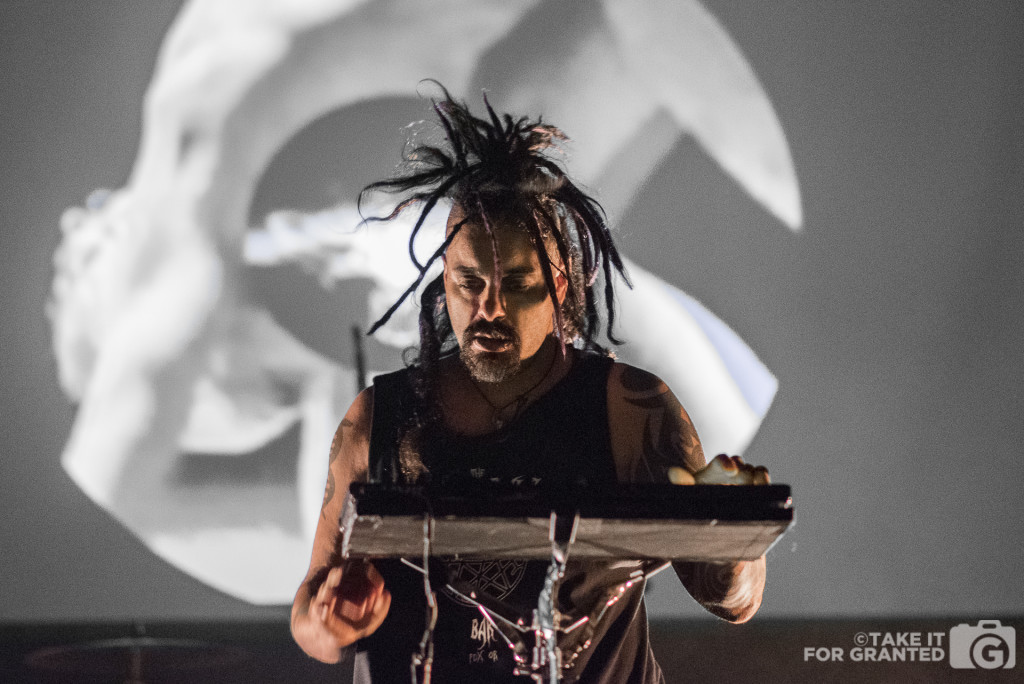 Kevorkian Death Cycle: This was entirely my first time hearing them. (I think somewhere I just heard Roger Jarvis call me an unkind word for that.) I really should have kicked my ass into gear about them earlier. I can see why COMA gave their I AM GOD release such high praise. Their whole sound will rip right through you and make you love it. It also didn't hurt that they covered "It's A Sin" by The Pet Shop Boys.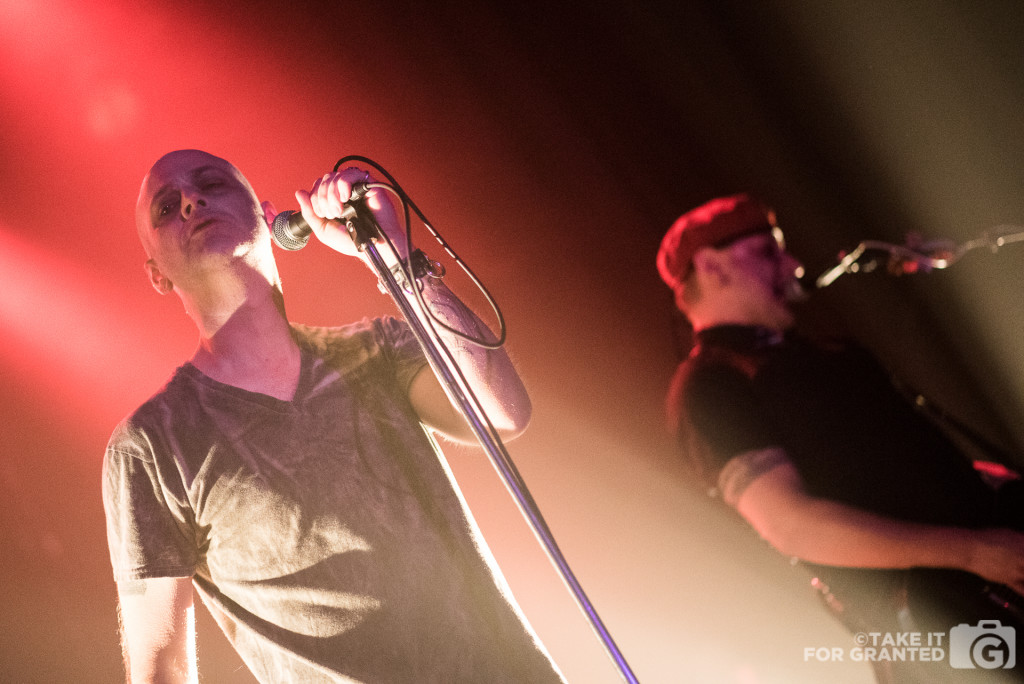 Christian and the Nitro/Noise crew basically swaggered into Aftermath and kicked the shit out of everyone with their performance. His voice, accompanied by the guitar and bass, really give you no other choice but to stomp it out on the floor. Their last song of the set, "Synchronized Beat Fuck" had a special guest in tow. Rexx Arkana came out and further inflamed the audience. I am not ashamed to admit that I had a huge fangirl moment, and lost it while dancing.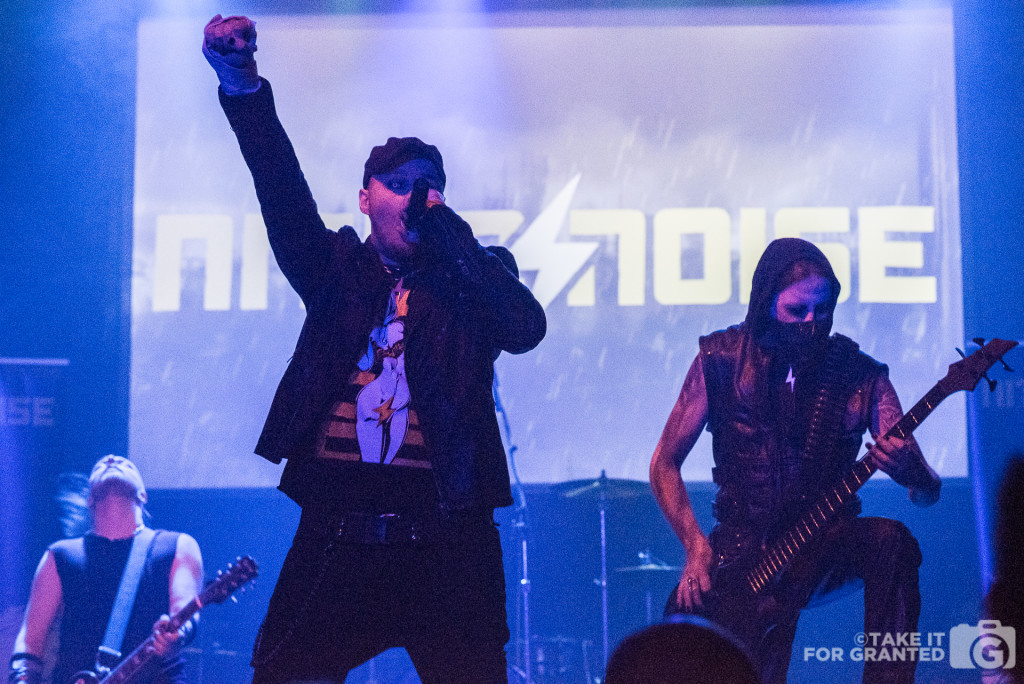 The Mr.Kitty performance was amazing to me. Forrest and Isaac have a minimal set up with gear and lights, but it was no less engaging. With Forrest dressed all in white and distorting his vocals, it sounded like he had a woman singing along. It had me entranced. I've listened to his stuff before, but seeing it performed was a different matter entirely. I was up front for the entirety of his performance and was singing along to his music. It reminded me of new retro wave music, and I enjoyed every bit of it. And as evidenced by the rivetheads dancing along, it was an overall hit.
Next was Ludovico Technique. I've had the privilege of opening for them with my band twice. Ben V's presence and command of the stage never disappoints. I'm also happy to say that the streak continues in that sense. This was the first show (that I saw) featuring their new drummer Evan Patterson, and I have to say; the kid is pretty damned good. There was another drummer on stage, manning an electronic kit, which added even more impact to the overall sound. Ludovico Technique is pretty much a band that demands your attention and will make you thank them for the privilege.
Then came Tactical Sekt. Dear Lord. I couldn't even make it up front, due to how packed the floor was, when Tactical Sekt hit the stage. When the first notes of "Bring Me Violence" hit, it was like a huge wave rose up and filled the dance floor with stomping boots. Anthony Mather declared in the middle of the set that everyone here was a new member of the Sekt, and damn it if he wasn't right. We were all feeling it and we collectively lost our minds. And guess who came out again to encourage the audience? Rexx Arkana. I joked that Rexx was making inroads to be in all the bands during the festival. But Ego Likeness had a monopoly on that.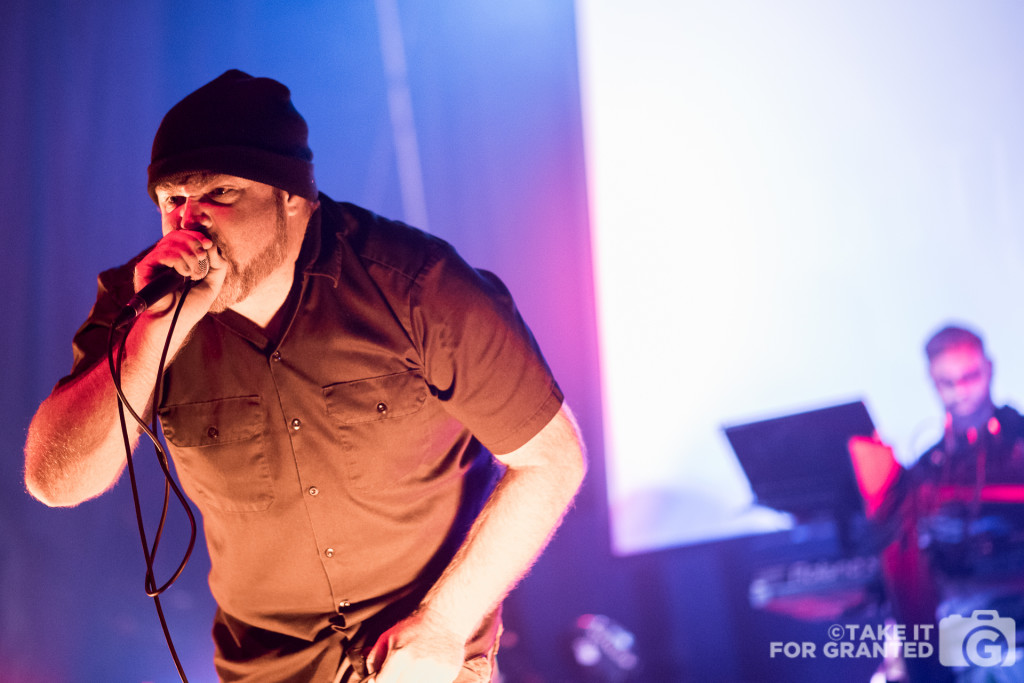 The headliner of Night Two was Velvet Acid Christ. They got the crowd going with "Fun With Drugs" and kept the night going from there. Members of Ego Likeness joined Brian and Christof on stage for their set. Donna Lynch came out and sang, adding another dimension to the overall set. I've read that there were fusions of VAC and Ego Likeness in the past, and I was lucky enough to see one in person and saw why it worked so damn well.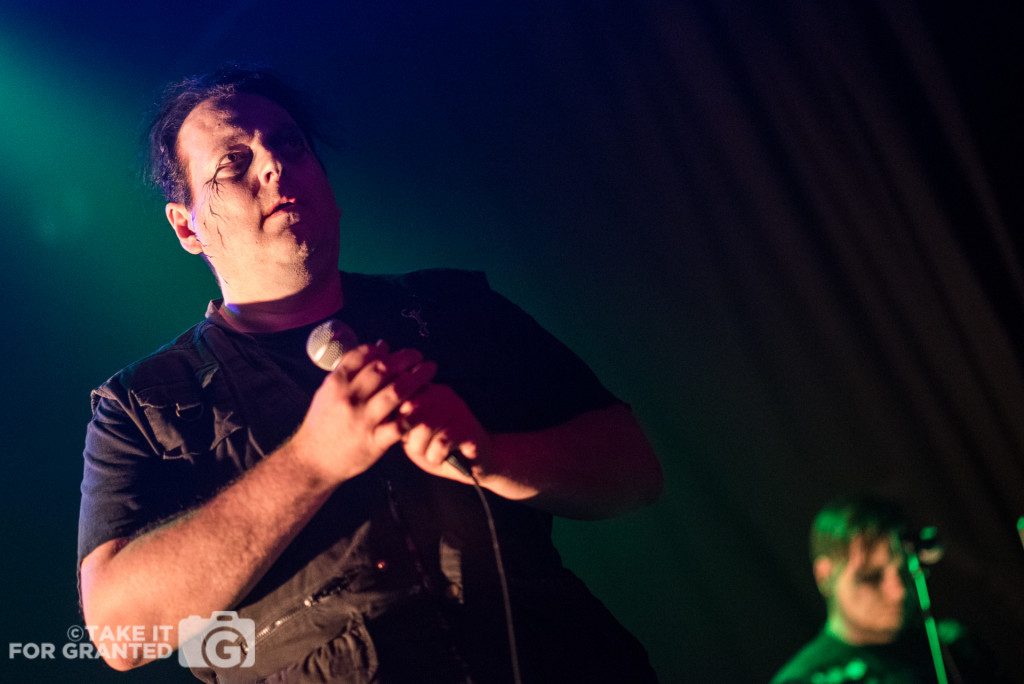 Night Three
First up on stage was Glenn Love. I received a full on crash course about who Glenn Love is, and after this, I will no longer consider myself ignorant of him and his music. With more than ten years in the EBM/industrial game, his music will get even the most reluctant folks dancing. When you first hear him growl out his song, it is a bit of a shock. But then again, shock seems to be an overarching theme in industrial. This is one such band that will knock you on your ass.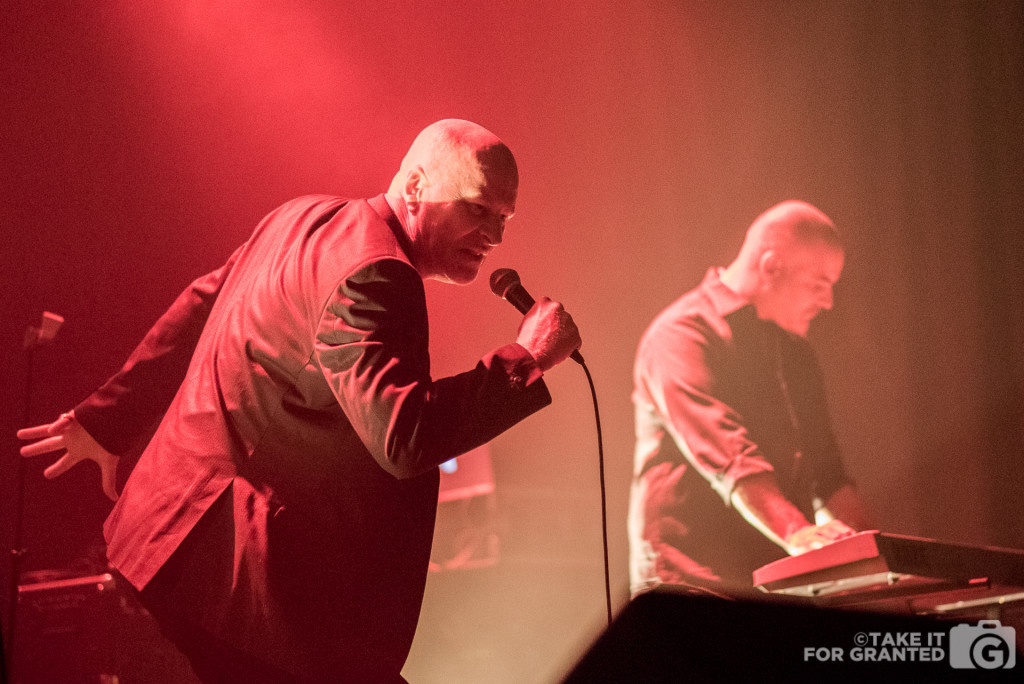 Electrovot: Great music from two fine gents hailing from Mexico; their music is more synthpop in nature, but nonetheless danceable. It was a bit slow going on the audience end, but I believe that could've been due to the dreaded festival fatigue. But those that stuck around continued to power through it in their own way, nodding appreciatively or dancing when the mood struck them.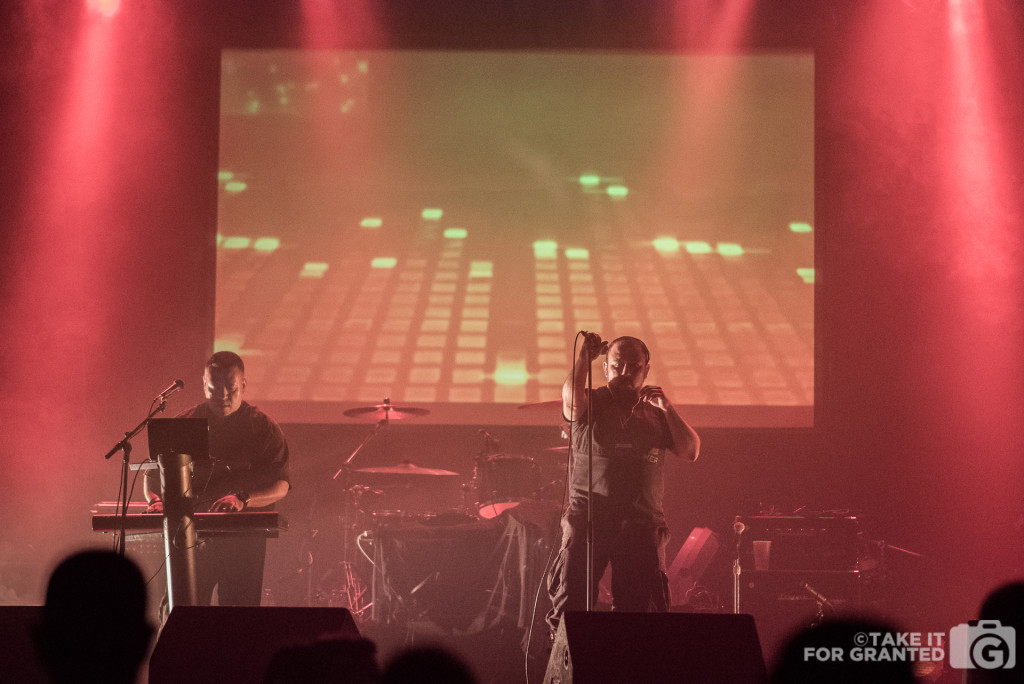 Next was Mend; a super chill, downtempo group with a little bit of IDM influences tossed in. Apart from a few sound issues, the set was definitely enjoyable and the visuals were wonderful from an artistic standpoint. The minimal lighting on stage with the cones scattered about lent to the intimacy of the set. I could have listened to them for a lot longer, but the show must go on.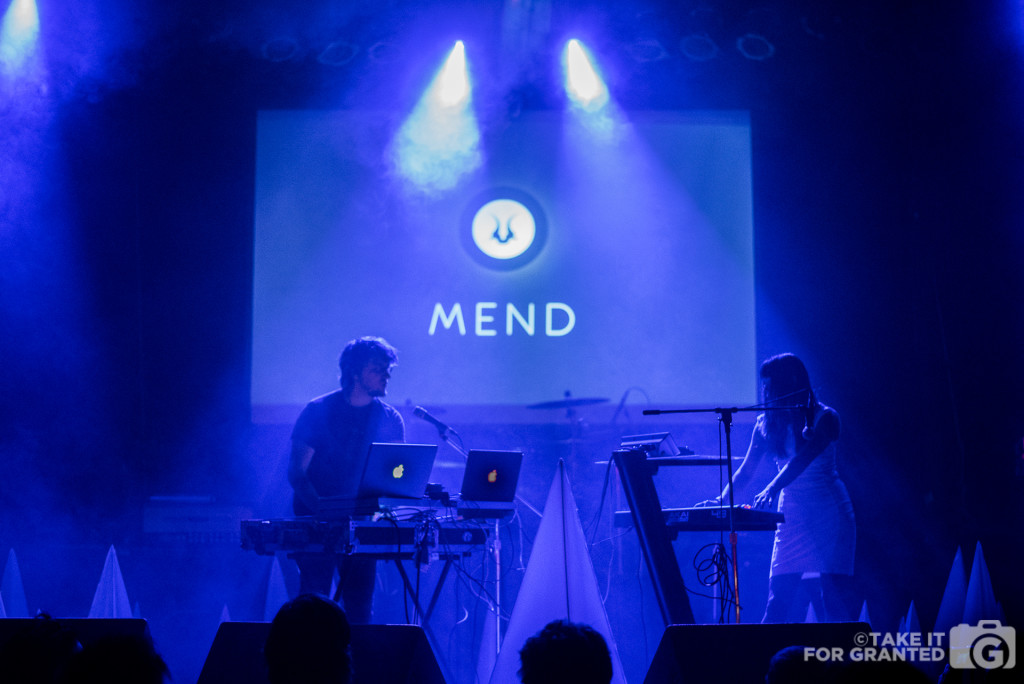 Then came Squid Lid. These guys. Ryan Cameron-Clark made it a point to tell me that these guys are "something you definitely have to check out." How right he was. I admit, myself and probably quite a few others didn't know how to process James Fisher and Chloe Dellark's stage gear and the proverbial mountain of masks behind them. All I knew was "we are going to be in for some shit." And yes, yes we were. They looked like heralds of Cthulhu. They managed to create some kick ass music, with synths and drum machines, and just made everything infinitely better.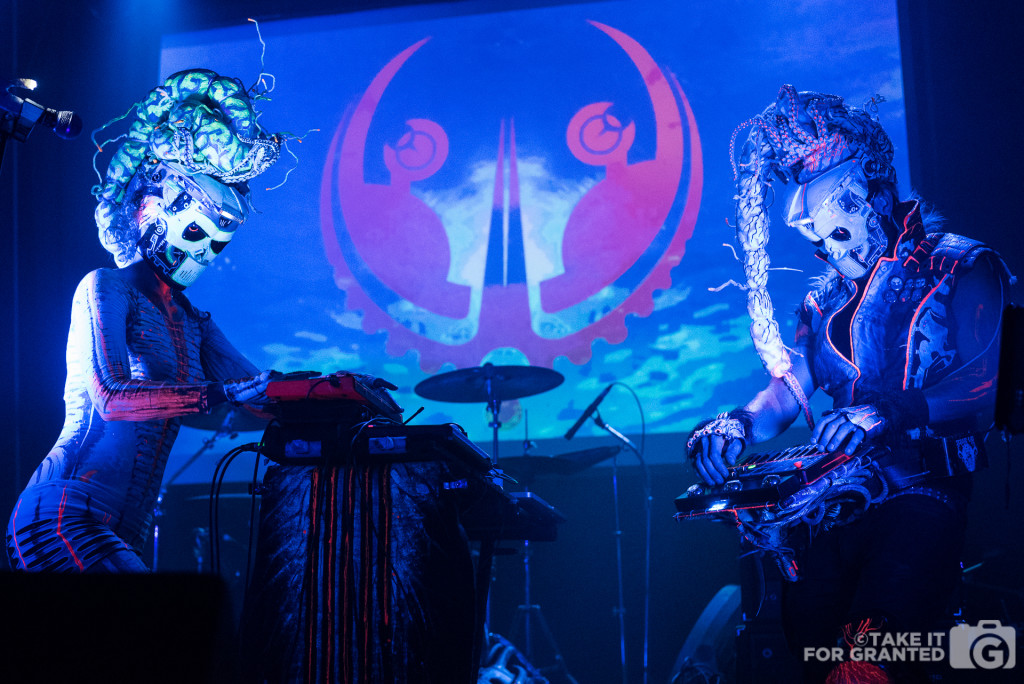 After that, GoFight took over the stage. First off, if you haven't picked up any of Jim Marcus and crew's work, I'd advise you to do so immediately. This would be the part where I would say, "Go ahead, I'll wait." But we've no time for that. Do that on your own time. To categorize GoFight's sound is doing a disservice to them. The heavy bass, hard guitar and drumming, accompanied by Jim's intensity on the mic, is something that needs to be witnessed. Also, there was something else that I bore witness to when they were onstage: two people in horse masks and pelvic thrusting everywhere. It's just as amazing as it sounds, I assure you. Spoiler alert: one of the people in the horse mask was Steven Archer.
3TEETH: This band has pretty much kicked down the door to the genre and has everyone on board. I did get their CD when they first came out, just to see what made them so special. I can easily admit that most industrial metal isn't my thing, but I am pretty glad I gave them another shot. 3TEETH is pretty much a multimedia experience; the music itself is solid, old school industrial metal that is reminiscent of Ministry. However, seeing them in person with the accompanying visuals give it another dimension that ties everything together, much more than just hearing them on CD.
Rhys Fulber's project Conjure One brought the room to a good place, with soothing vocals and an almost orchestral feel to the music. It was a great way to wind down from pretty much three days straight of partying. Conjure One is the type of music you can easily see yourself relaxing to in a dark room and losing yourself in it entirely. And that is pretty much what happened in the club.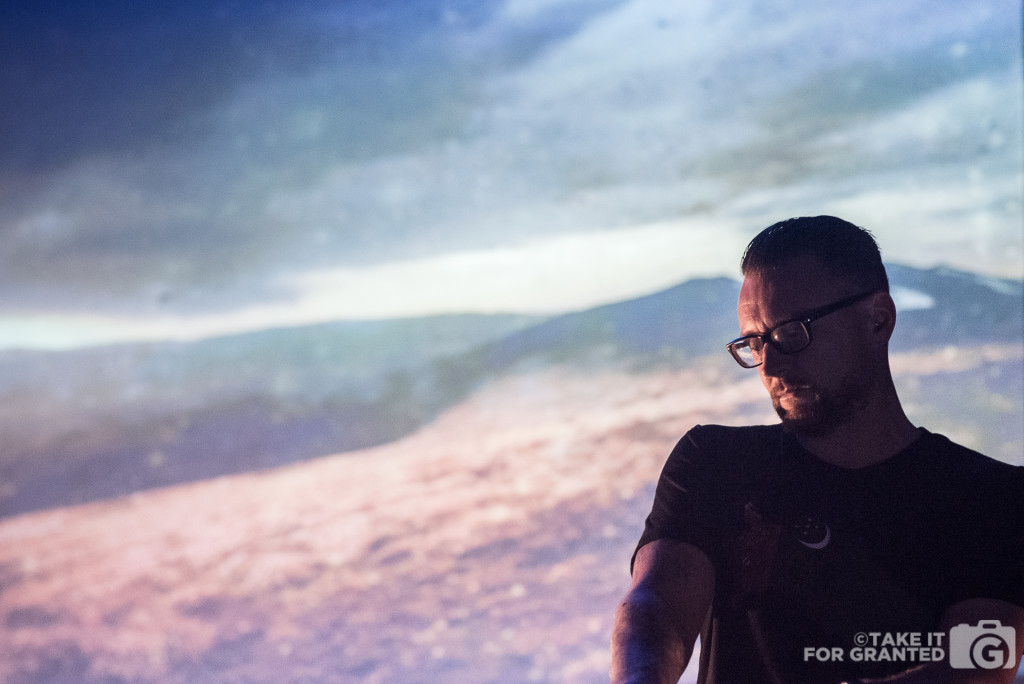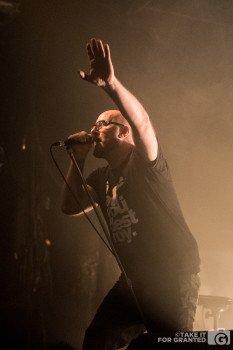 Last but not least, was Haujobb. I was definitely looking forward to seeing them perform. I witnessed Daniel perform as Architect a few months ago with Seabound, but I knew this would be completely different. This time, I knew better than to not go near the front of the stage: I wanted no part of Haujobb's fangirls. Those that have gone to his shows can understand exactly what I mean by this. However, it didn't diminish my enjoyment of Daniel and Dejan's performance any less. They played music from their newest single that was released before Aftermath ("Input Error") and played some club favorites, like "Penetration." We all were shouting along with Daniel. Damn fine way to end the performance section of the festival, to be honest.
Day Four
Sunday night was the DJ night, featuring Matt Hart from Slimelight (a club in the UK), Rhys Fulber (Conjure One, Front Line Assembly), and Joe Letz (Combichrist). It was held at Velvet Underground, a club that sadly told its patrons that their doors will be closing for good in the future. Seemed like the best thing to do was to use that club and take Aftermath and the venue out with a bang.
Matt's set was definitely geared towards keeping folks on the floor with the thumping beats, and Rhys' did much of the same, but in a more chill and relaxed fashion. However, a last minute change had the party moved up the street to Nocturne where Joe Letz got his chance to bring his eclectic DJ style to the rest of the people that hung in there.
"But what about the other DJ's at Aftermath?" Someone will probably shout at me.
There were so many of you guys that I almost lost track of who was spinning when. And for me, that is a pretty good sign of a great time.
Folks, do yourselves a favor and check out these DJ's in no particular order: DJ Osaze, DJ Th'Elf, DJ Xris SMack!, DJ Mike Saga, DJ Darq, DJ Plastic Disease, DJ Electronic Commando, DJ Dreamstate…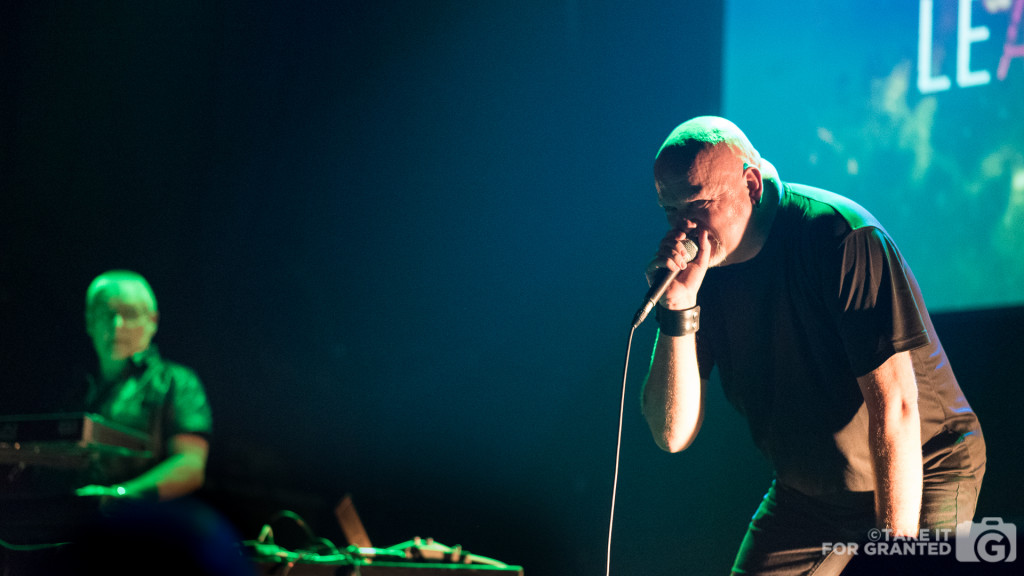 Final Thoughts
A slight revelation came to me at an odd time, while watching GoFight clear the stage for 3TEETH. (I mentioned this to my DJ friend and he happened to agree.) It was this: Watching all the people on stage, the bands and the stagehands, working in perfect unison to minimize the amount of time used between sets, was amazing to me. I've experienced it myself, but it seemed different here…and a lesson was hammered home a bit.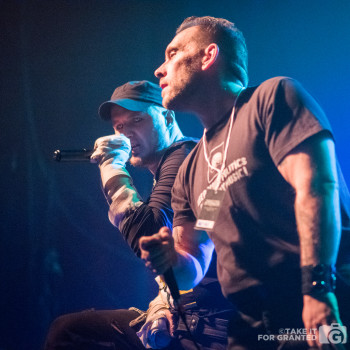 Industrial, for all the grandeur, is a tiny and almost insignificant scene. For those that decide to hop into this little mess, you have to learn how to work together pretty damn quickly. It is pretty easy for egos to get involved when there is no call for it. But regarding the scene?
Hell, we are it.
The bands, the stage crew, the promoters and the fans…we all love this music and we do want to see it flourish. Especially in the face of all these clubs and shows closing down as of late. We may not get along all the time, but we do have at least one common goal: to see this genre branch out and survive.  That's why I'm glad that there are still festivals around and people that feel the same way.
Grow the scene.
All Photos by Jill Grant ©Take It For Granted
DAY ONE
Tags 3TEETHAftermath FestivalAlter Der RuineBruderschaftConjure OneDanesha ArtisDarker Side Of LightDead On TVDJ DarqDJ DreamstateDJ Electronic CommandoDJ Mike SagaDJ OsazeDJ Plastic DiseaseDJ Th'ElfDJ Xris SMack!Ego LikenessElectrovotFGFC820Glenn LoveGoFightHaujobbJill GrantJoe LetzKevorkian Death CycleLeaether StripLudovico TechniqueMatt HartMendMr. KittyNitro/NoisePeter Turns PirateRhys FulberSquid LidStoneburnerTactical SektTake It For GrantedThe DreamingTroy HiltonVelvet Acid ChristWilliam Control
You may also like...