:Festival: Tijuana Dark Festival – September 25, 2015 @ TJ Art & Rock Cafe, Tijuana, BC, Mexico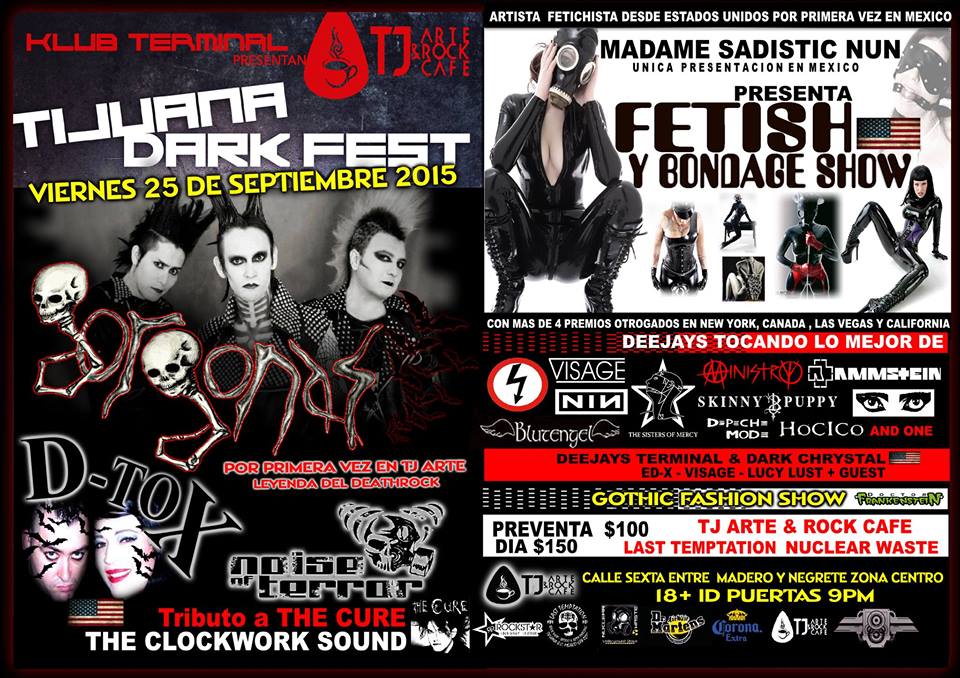 Viernes, 25 de Septiembre 2015 (Friday, September 25, 2015) – 9:00 p.m. – 3:00 a.m. PDT
Klub Terminal, Klub Terminal Mexico y TJ Art & Rock Cafe Presentan: Tijuana Dark Festival
En vivo (Live):
Gorgonas
D-ToX
Noise of Terror
The Clockwork Sound (The Cure Tribute Band)
DJs:
Terminal
Dark Chrystal
ED-X
Visage
Lucy Lust
Tocando lo mejor de la musica dark de todos los tiempos.
Playing the best dark music of all eras.
Fetish and Bondage show
Gothic fashion show
Check out the Facebook event here
Compra boletos de preventa ($100 pesos) en estos lugares:
Purchase presale tickets (approx. $6 [current exchange rate]) at these locations:
TJ Art & Rock Cafe
Last Temptation
Nuclear Waste
Puertas 9:00 p.m. PDT (Doors open at 9:00 p.m.)
18+ con ID
TJ Arte & Rock Cafe
Calle 6ta Flores Magon y Ave Miguel Negrete
22000 Tijuana, BC MX
Tags D-TOXDJ Dark ChrystalDJ ED-XDJ Lucy LustDJ TerminalDJ VisageGorgonasKlub TerminalKlub Terminal MexicoNoise of Terrorthe Clock Work SoundTijuana Dark FestivalTJ Art & Rock Cafe
You may also like...