:Festival: Nocturnal Culture Night 10 Festival – September 4-6, 2015 @ MehrGenerationenKulturPark Deutzen, Leipzig, Germany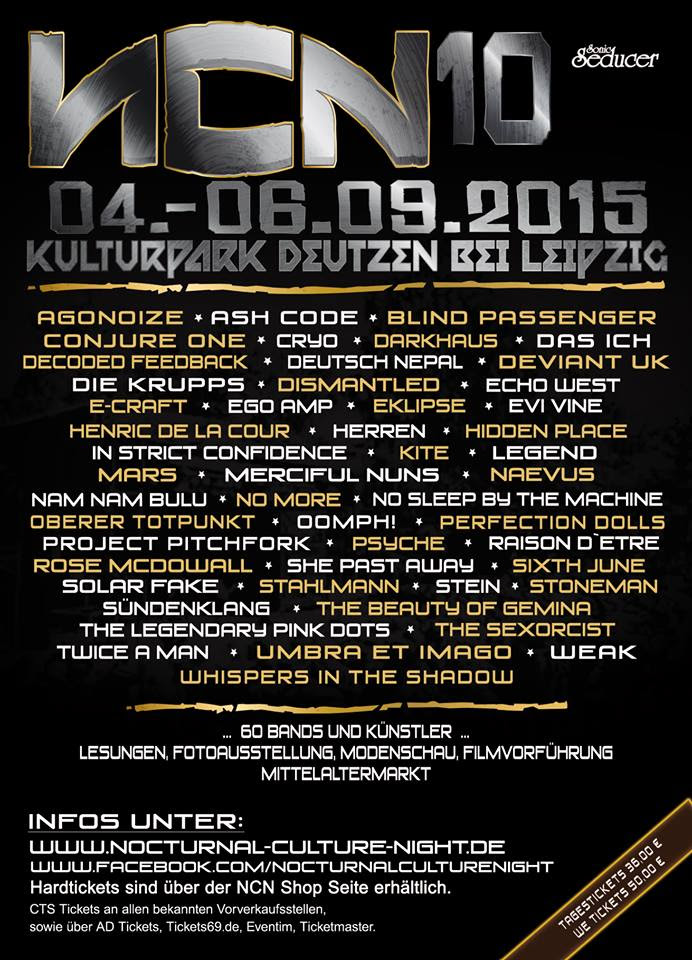 September 4-6, 2015
10th Annual Nocturnal Culture Night Festival
10:00 p.m. UTC +02
Tickets are €36 presale/€50 at the door
They can be purchased online through AD Tickets, Eventim, and  Ticketmaster
Hardcopy tickets can also be purchased online at the NCN Shop
Check their Facebook page and website for more information and updates!
MehrGenerationenKulturpark Deutzen
Arno-Bahndorf-Straße 12
04574 Deutzen
Featuring:
AGONOIZE
Ash Code
Blind Passenger
Conjure One
Cryo
Darkhaus
Das Ich
Decoded Feedback
Deutsch Nepal
Deviant UK
Die Krupps
[Dismantled] Echo West
E-CRAFT
Ego AMP
Eklipse
Evi Vine
Henric de la Cour
Herren
Hidden Place
In Strict Confidence
Kite
Legend
Mars
Merciful Nuns
Naevus
Nam Nam Bulu
No More
No Sleep by the Machine
Oberer Totpunkt
OOMPH!
Perfection Dolls
Project Pitchfork
Psyche
Raison d'etre
Rose McDowall
She Past Away
Sixth June
Solar Fake
Stahlmann
Stein
Stoneman
Sündenklang
The Beauty of Gemina
The Legendary Pink Dots
The Sexorcist
Twice a Man
Umbra et Imago
Weak
Whispers in the Shadow
Tags [Dismantled]AgonoizeAsh CodeBlind PassengerConjure OneCryoDarkhausDas IchDecoded FeedbackDeutsch NepalDeviank UKDeviant UKDie KruppsE-CraftEcho WestEgo AMPEklipseEvi VineHenric de la CourHerrenHidden PlaceHolger TroischIn Strict ConfidenceKiteLegendMarsMerciful NunsNaevusNam Nam BuluNCN FestivalNo MoreNo Sleep by the MachineOberer TotpunktOomph!Perfection DollsProject PitchforkPsycheRaison D'EtreRose McDowallShe Past AwaySixth JuneSolar FakeStahlmannSteinStonemanSundenklangThe Beauty of GeminaThe Legendary Pink DotsThe SexorcistTwice a ManUmbra Et ImagoWeakWhispers in the Shadow
You may also like...