:Club Night: Klub Therapy In Tijuana – Sept 26, 2016 @ Rubik's Bar, Tijuana, BC, Mexico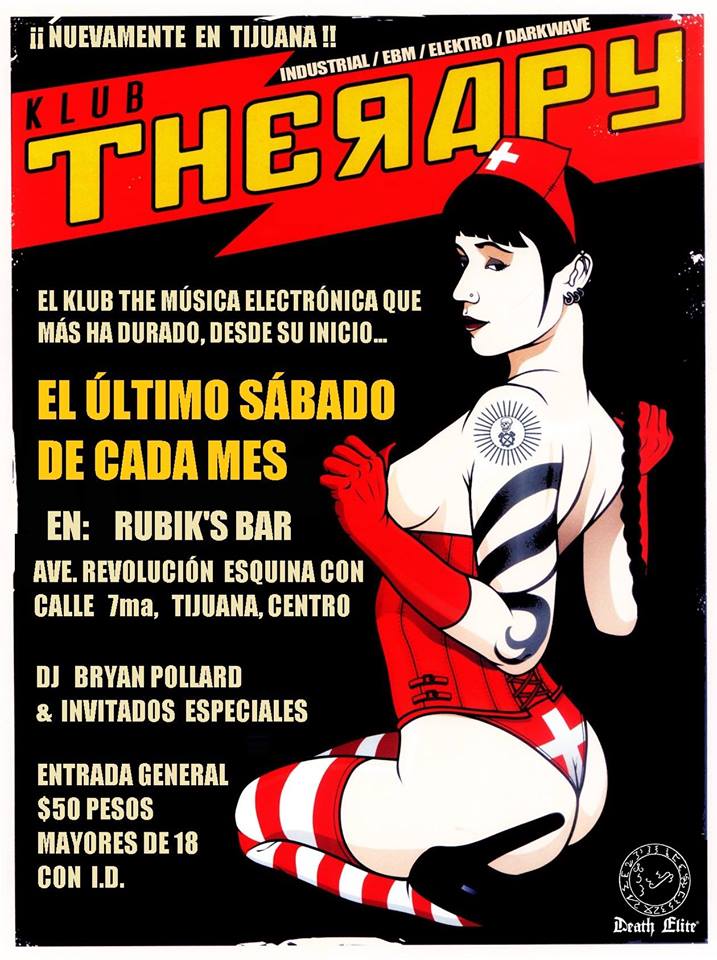 Bryan Pollard & Death Elite presentan (present): KLUB THERAPY
Después de varios años de ausencia, regresa a Tijuana (returning to Tijuana after several years' absence):
El klub de música eletrónica que más ha durado, desde su inicio a finales de los '70s, nuevamente en Tijuana el último Sábado de cada mes en Rubiks Bar, Zona Centro!
The longest running electronic music klub, since it's founding in the late '70s, once again returning to Tijuana the last Saturday of each month at Rubik's Bar in Zona Centro!
INDUSTRIAL, EBM, ELEKTRO, DARKWAVE
NOCHE DE INAGURACIÓN – SÁBADO 26 DE SEPTIEMBRE!
GRAND OPENING – SATURDAY, SEPTEMBER 26, 2015!
con (with): DJ BRYAN POLLARD & invitados especiales (& special guests)
Caguamas (Beers) $50 pesos ($3 USD)/Bebidas preparadas de 1 litro (1 Liter mixed drinks) $50 pesos ($3 USD)
Cover/entrada general (general admission): $50 pesos ($3 USD)
Mayores de 18+ I.D. (18+ with ID)
Rubik's Bar
Ave. Revolucion (Esquina con Calle 7ma.)
Tijuana, Zona Centro
You may also like...