:Music Review: The Gothsicles – Squid Icarus
The Gothsicles – Squid Icarus
Release Date: December 13, 2014
Label: Negative Gain Productions
Websites: Official │ Bandcamp │Facebook │Instagram │Pinterest │Twitter │YouTube
Review by Jaymie Burzette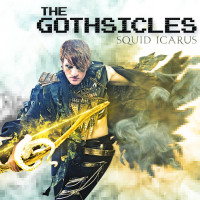 I always look forward to a new Gothsicles release. Their trademark blend of "geek" based content and absolutely fantastic music is always something to be relished. I seriously love this album. It's always in rotation in my frequently played music (there seem to be a lot of Negative Gain artists in there these days). I can listen to this album over and over and not get tired of it. It's just so damn good. What makes it so awesome? Why, continue reading my friends.
The album opens with "Super Scary Action Figure (I Want To Eat Your Brain)," a catchy, dance-inducing number that will have you singing "I want to eat your brain!" for days afterwards. People will think you're crazy, but that's ok. "Drop Dead, Squid Face!" is probably my favorite track on this album; I love its 8-bit sounds, its absolutely badass beat, and that bass line running through. I think it's one of the best dance tracks to have come out this year. Next is "Ultrasweaty," opening up with great classic game sound effects along to a fat beat. And of course there's the "We get ultrasweaty!" chorus, which I find hilarious.
Up next is "I Sniffed the Glove (vs. Cyferdyne)," another great dance track with hilarious lyrics. I love the lyrics, "Sopping up the sweat of my industrial stink." Then, of course, there's the Arnold Schwarzenegger impersonations. I could go on; this track is gold. "Give Me One More Chance to Get the Hi-Score, Then We Can Go" is like my song for my girlfriend; me wanting to play more but needing to leave. "Moon Knight is Cool" is another great dance track rife with video game references and total old school game music running through. "Chip Replacement Surgery" is such a great piece of 8-bit game music; I love it. It feels very nostalgic as the sounds of my childhood blast out amidst modern beats. I love the feeling of simultaneous nostalgia while hearing something new.
"Black T-Shirt (NIN Cover)" is another hilarious track, making fun of Trent Reznor and his black t-shirts, with his "industrial pecs." Of course, let's not forget the great beats and catchy hook. This is another one that's sure to get stuck in your head, in the best possible way. Up next is "Sword Cane," another catchy dance track with killer game effects and robot vocals. The robot voice fits in very nicely here. The vocals and beats remind me a bit of late-'90s Evil's Toy, a band I very much enjoyed, and still do. "Cthulhu Fhartwagon" is next, riddled with Cthulhu references and jokes about Bryan's brother's farty, stink-filled, crappy Toyota. Hilarious. And I love it's bouncy, dense bass line. "Bloodlust Software Was Awesome" is another dance-inducing track filled with video game effects along with a video game music-esque hook. This is one of the darker, more EBM tracks on the album.
"This Club Is Closed (feat. Angelspit)" is another track that makes me laugh like crazy. It reminds me of my DJ days when I used to play music club goers didn't like as our "get the fuck out" music. I love how they're yelling "piss off! Would you please fuck off?!" Again, another piece of comedy-music fusion gold. Of course, the fat dance beat this track has, combined with the rhythm of the track works to absolute groovy perfection. Up next is "Slime-Half," another great 8-bit interlude. I really like the music here, nostalgic with its frequencies yet new with its modern melody. The final track on the album is a hidden track called "Riding Roller Coasters with Peter Spilles," which is mainly a sample/vocal track. I think they ended the album quite well, with "This Club is Closed" as the last full, energetic song, followed by the 8-bit interlude and then a hidden track. Closed out quite nicely I'd say.
The Gothsicles knocked it out of the park again. This album makes me simultaneously want to dance and laugh at the same time, like the perfect hybrid of a comedy album and dance music. I can listen to this album over and over again and it's just fantastic. I love blasting it loud in my car so I get strange looks when people hear the vocals. I absolutely adore all the game references and geek references; it's just perfect. Their blend of "geek" culture-based lyrics with fat, bouncy dance beats has made me a long time fan, and I always look forward to what their next release has to offer. Go buy this album! Do it! Do it NOOOOWWWWW!!!
Track Listing
Super Scary Action Figure (I Want To Eat Your Brain)
Drop Dead, Squid Face!
Ultrasweaty
I Sniffed the Glove (vs. Cyferdyne)
Give Me One More Chance to Get the Hi-Score, Then We Can Go
Moon Knight is Cool
Chip Replacement Surgery
Black T-Shirt (NIN Cover)
Sword Cane
Cthulhu Fhartwagon
Bloodlust Software Was Awesome
This Club Is Closed (feat. Angelspit)
Slime-Half
Riding Roller Coaster with Peter Spilles [Hidden Track]
Tags AngelspitBrian GraupnerCyferdyneJaymie BurzetteNegative Gain ProductionsThe Gothsicles
You may also like...