:Artist Spotlight: Massive Ego

:Artist Spotlight: Massive Ego
Massive Ego, the UK based electro/industrial/gothic/futurepop band have just signed to the leading German alternative label Out Of Line Records after almost 20 years of releases and performances behind them.
With a new line-up, sound, and label backing the band, they are set to make a massive impact with their debut EP entitled Noise In The Machine, released July 24 of this year. Remixes of the track by industrial/EBM/futurepop heavy weights Aesthetic Perfection and Leaether Strip, alongside three new tracks "Generation V," "Dead Silence Rising," and "Low Life (Zarkoff Remix)" complete this stunning new collection.
Watch the EP trailer below:
The new line-up now comprises founding member Marc Massive (vocals), Oliver Frost (percussion), and new members Lloyd Price (keyboards) and Scot Collins (keyboards).
They are currently working on a follow up album for Out Of Line Records, featuring a track written for them by Boy George that's already recorded with live dates planned for early next year.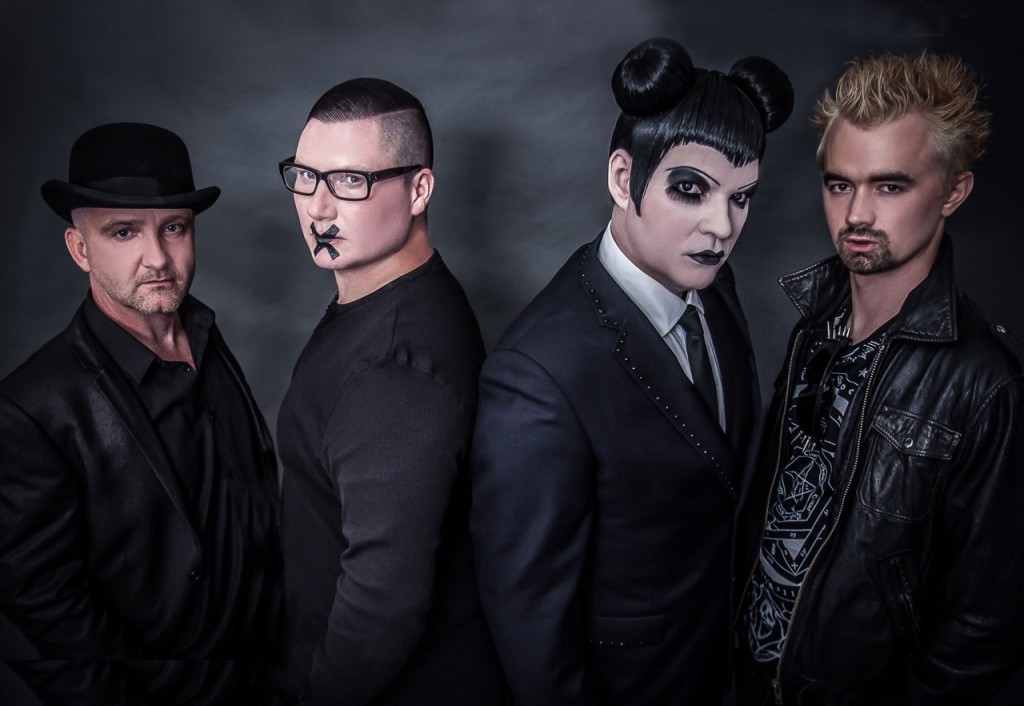 Massive Ego History:
Massive Ego formed in 1996 with original members Marc Massive and Andy JT. Marc, ex- model and dancer for Boy George's '90s Jesus Loves You band, DJ, and art event curator has fronted the band from the beginning. The band were originally at the center of the short lived new romantic revival scene in London called "Romo" which culminated in a glowing half page live review by journalist Simon Price in the UK music magazine Melody Maker.
Over the years, with many line-up changes, Massive Ego have played the length and breadth of the UK at clubs and festivals including shows at London's Finsbury Park and Trafalgar Square, and in Europe. The band have seen several single and album releases in the UK (Klone/Public DisordAr Records), Germany (ZYX), as well as releases in the USA (Ninthwave Records), Belgium (Black Leather Records), Japan (Avex Trax), and Australia (Pro-DJ). The band is also known for "out there" visuals and videos, which have seen heavy rotation in clubs, bars, and malls across America through Club Vision. Massive Ego tracks have been featured on well over 40 compilation albums from the labels above.
2012 saw the band working on material with Irish electronic band Empire State Human with their first release, Sound Of The Download, being released on Massive Ego's own independent label Public DisordAr Records and performing for an ecstatic crowd at the Summer Rites Festival '12 in Shoreditch Park, London.
A standalone digital single release of Massive Ego's dark electronic gothic cover of the classic Hazel O'Connor '80s track "Eighth Day" was released on Halloween 2012, with all profits going to an animal welfare charity.
Known for their new wave pop sound, all that changed in 2013 when Marc Massive became more interested in the darker EBM/industrial/goth scene and from this point all new material reflected this change. Early 2013 saw Marc supply lyrics and vocals on a track called "Dead
Silence" by Lia Organa & Electric Prince released through Belgian label Black Leather Records with a brilliant video by Polish film makers/artists Suka Off and a remix package including The Horrorist and People Theatre. This single was followed up by the Low Life EP with Empire State Human.
In 2014, they started working on a new EP called Noise In The Machine, with remixer and producer Lloyd Price involved in production. With the tracks completed, Marc secured a remix from Daniel Graves (Aesthetic Perfection) and sent the EP off to a couple of labels.
Out Of Line Records, based in Berlin, Germany, signed the band in early 2015. The finishing touches have been added to the EP, with a new remix of lead song "I Idolize You" by the legendary Claus Larsen (aka Leaether Strip) completing the CD.
2015 also saw the final new line-up changes take place with Lloyd Price departing from his previous band Sigue Sigue Sputnik and joining Massive Ego full time on keyboards and programming. On percussion, Oliver Frost who had been in the band for the last 10 years, was joined by newest member Scot Collins after answering an advertisement online for a keyboard player. Scot's live experience and grittier, harder industrial sound added perfectly to the new Massive Ego and was hired immediately.
Their last few months' schedule has been hugely hectic with the band working hard towards a debut album on Out Of Line in the coming months. As a taster to the EP, the label have just included "I Idolize You" on their hugely successful Electrostorm CD compilation series, now on Volume 6, released May 22 and the video for the track, which at last count had reached 15,000 views in a matter of weeks.
Check out the music video below:
Follow Massive Ego:
Official Website │Facebook │Twitter
Tags Aesthetic PerfectionBoy GeorgeLeaether StripMassive Ego
You may also like...