:Music Review: Gentleman Junkie – From The Moment That I Saw You
Gentleman Junkie – From the Moment That I Saw You
Release Date: August 11, 2015
Label: Negative Gain Productions
Official Websites: Bandcamp │Facebook │Twitter
Review by Jaymie Burzette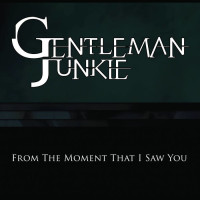 I would call Gentleman Junkie one of LA's best kept secrets. Their sound is truly excellent and pure, their lyrics deep, meaningful, and full of thought. All of these wrapped up together create something truly remarkable. I just love their music; the groove, the way that it makes you absolutely have to move to the beat. I've had the pleasure of seeing them live and they're always great (even the one time Ed was really sick, he still soldiered through like a champ). Their latest album, From The Moment That I Saw You, is even better than their last offering, Soul To Soul. This album definitely carries a sense of loss and heartbreak, the longing present in each song, each note, and each word. Most of the tracks open with desolate synths that seep into you, making you feel the pain and loneliness in a good way, if that makes sense.
The album opens with "One Last Kiss," starting with soft synth beats, then moves into a solid groove that makes it impossible to keep from moving to the beat. Vocals come in, ebbing of heartbreak and loss. "If (Feat. Saiyaka)" follows, another sorrowful song; Ed's vocals supplemented by the lovely floating vocals of the songstress Saiyaka, which serve almost as another layer of instrument over the music. "Moonlit Night" comes next, opening with soft lonely synths, the lovely melodies themselves telling a story. Then the music really comes in, and again you can't help but move your body. This song almost has a '90s Cleopatra feel to me in the absolute best way; it feels almost nostalgic.
"I Strike a Balance" follows, softer and slower, with desolate opening synths and soft female singing, the voice once again serving as an instrument. Personally, I really like the robotic vocal effects that say "I strike a balance." Up next is "Over and Over," with more of a toned down beat and gentler melody. "Propaganda by the Deed" kicks the album up, with a quicker pace and good ol' stompy beats that really make you want to dance. "The Fire from Within" opens feeling sort of like VNV Nation meets Tiësto, which I absolutely love. Another very dance-y track, but so fine flowing, almost like pure, clear water.
Up next is "Zoe," another infectious dance track with a hook that ebbs into your mind, slipping its fingers into your brain. "Blinders" follows, with more synth arpeggios that make your body move and your brain float. "Die in LA" comes next, with lots of killer synth effects and an addictive sound that will leave you wanting to hear more and more. The album closes out with "Life is Death (Alt Mix Feat. Saiyaka)," leaving you with heavy piano melodies that you can feel right in your heart. Soft female vocals once again wash over you, punctuated with robotic vocals and hauntingly lonely synths. An excellent way to close out the album.
I must insist that you buy this album, there's so much here that's just fantastic. They have excellent beats that are infectious and make you absolutely have to move. I love all the synth effects they use, which greatly contribute to their musical identity and I feel gives them a real fingerprint in their music. Perfectly timed, perfectly formed, giving rise to an overall pure and true sound that is uniquely their own. Their lyrics are very meaningful and personal, obviously much thought went into them. Everything these guys bring to the table is worth listening to; you can't help but feel their music in your body and in your mind. You really need to get in on LA's best kept secret, and see what the awesome is all about.
Track Listing
One Last Kiss
If (Feat. Saiyaka)
Moonlit Night
I Strike A Balance
Over And Over
Propaganda By The Deed
The Fire From Within
Zoe
Blinders
Die In LA
Life Is Death (Alternative Mix Feat. Saiyaka)
Tags Bil KEd KornGentleman JunkieJaymie BurzetteNegative Gain Productions
You may also like...