:News: Metroland's Passenger L (aka Louis Zachert) Passes Away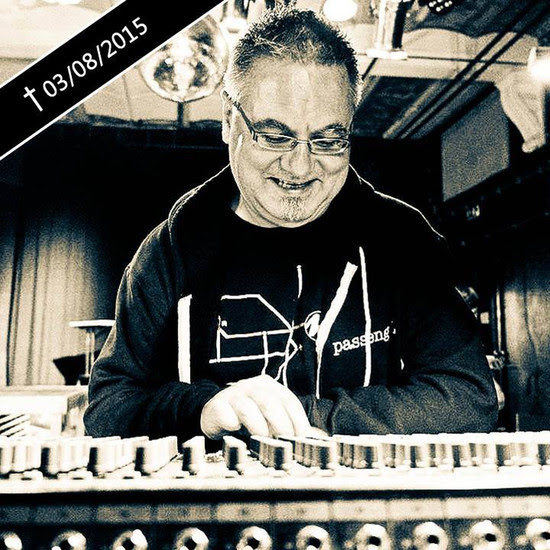 (Photo by Mélanie Detry; manipulated by Metroland)
Louis Zachert, also known as Metroland's Passenger L (or Brother Louis), passed away in his sleep two days ago.
The death of Louis Zachert has moved a lot of people who have known him personally. In a short but strong statement the Belgian electronic group Metroland have expressed their sadness: "Words fail with the loss of Louis Zachert, our very own beloved and amazing Passenger L. His final touches on all of our music has had a definite impact and in most cases made a world of change over the last two decades. It's with tons of grief and disbelief that we are forced to say goodbye to one of our closest and oldest friends since 1994! Things will never sound the same again. Forever friendship!"
Louis Zachert's musical career span many years, including a solo album Vie! (1992) under his own name, a lot of sound engineering work on Ionic Vision releases (The End, Sweet Isolation, Complete Isolation) and albums under the Cycloon name together with Axel Kleintjes (Plasma Fusion, Head|Over|Now, Zeitseize, etc). Many of these releases are now impossible to find and have gotten a second life on eBay reaching incredibly high prices. Via his UnderTheRoof – Audio Mastering studio Louis Zachert kept himself very busy working with other artists like David Rey, Inertia, Digital Factor, Leo Nocta, Ortta, Bye Bye Leader, Amaury, Philine, Jean Delouvroy, Buenas Ondas, No Sunglasses, Darkmen, Teradélie and so on.
Alfa Matrix's Bernard Van Isacker issued the following comment: "If there was one person who really was genuine in the dark scene in Europe (and especially Belgium), then he was the one and only you should have cherished. My condolences go to Louis' wonderful wife Petra and to Sven and Andy who have lost their musical father and a dear friend."
Side-Line reviewer co-editor in chief Stephane Froidcoeur aka Deranged Psyche was particularly touched by Louis' 11000 Virgins album which was released under the Black Wedding moniker in 2008: "He was a real kind person with a great musical knowledge; it always was a pleasure to meet him and I'll remind him for his genius Black Wedding album."
The sadness is everywhere but the good memories will prevail. Bis später Louis!
Tags Alfa MatrixBrother LouisLouis ZachertMetrolandPassenger LSide-Line
You may also like...