:Music Review: Mr.Kitty – Fragments
Mr.Kitty – Fragments
Label : Negative Gain Productions
Release Date: August 25, 2015
Website: http://mrkittydm.bandcamp.com/
Review by Jaymie Burzette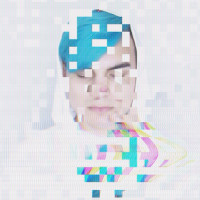 I'll never forget the first time I heard Mr.Kitty's music. I was doing the Oontzcast at the time, and the owner of the now defunct Engraved Ritual sent me over "Heaven" to play on the podcast. From those first opening notes, I knew I had something special. The way the music immediately elevated my brain and ebbed into my soul, so infectious, so spiritual, I knew that this guy was one day going to be famous. And now here we are. His music sings to my soul in a way that only Louis Armstrong and Duke Ellington can, telling a story with every note, every pause, every word. From the very first synth line, the turbulence in my head begins to wane, the knots in my brain untangle, and my soul begins to heal.
Fragments marks Mr.Kitty's third release on Negative Gain Productions, the first being a re-release of Life, followed by Time. Mr.Kitty's music is described as "beauty in simplicity," with melodies that you can take with you on different journeys through life. Those words ring quite true—beautiful melodies that I most assuredly take with me through my life to help combat the demons inside my head. He is the light that guides me through the darkest night.
The album opens with "Hell," and from the first warm synth rolling in, the music begins to burrow and settle into you. Asynchronous drum beats kick in, and off you go into Mr.Kitty-land, where warm synths wrap around you and hold you in your arms. "Mother" follows with more warm synths that serve as his definitive fingerprint. "I will hold your hand, as you learn to walk," seeps in, his vocals soaring over the infectious melody. "Entwine" is next, currently my favorite song on this album—the beats, the melody, the chorus are just incredible. I wish I could aptly describe the way this song makes me feel, the warm orange-y red healing glow I see in my head as the melody flows through me.
"Shanghai" comes next, opening with an 8-bit sounding Asian melody, like it could have come out of a Nintendo game from the '80s, so this track actually felt nostalgic to me (as a huge Nintendo player in the '80s/'90s). Again with his signature drum beats that fit in ever so perfectly. "I Lost You" follows, with its great catchy melody, bouncy beats and fat '80s synth lines. "Discolored" opens with another 8-bit influenced sound, followed by haunting vocals floating in. I really like the chorus with synth-distorted vocals. It keeps that seeping feeling, like his music bleeds into my skin.
"In Your Blood" is up next, the first single off Fragments. I really love the totally '80s drums that the track opens with, moving into more synths of that era. One of the things I really love about Mr.Kitty's music is that it's like brand new '80s music. I love music from that decade, so having new music inspired by it come out now is really fun. The ninja kitty has aptly captured the spirit of the '80s in his infectious synths and drum beats. "Flowers for Boys" follows, having a bit more of a trance influence to it. Very danceable, it was very hard to hold still listening to this track! Next is "Cycle of Violence," with more of that great '80s 8-bit music opening, but the song then becomes darker and the melody of the chorus is just beautiful—the drums, synths, this song could be right out of my childhood. The album closes out with "Spirit of the Forest," opening again with his signature synth style into soft warm music, followed by his soft, yet powerful, vocals. My only complaint about this album is that it's only 10 tracks instead of his usual 15. That's just cuz I'm greedy and want more kitteh.
Fragments is an incredible album that proves once again that Mr.Kitty is the master of emotion. His remarkable ability to reach into your brain and direct your emotions with each track, each melody, each word, is uncanny. For me, there is no better medicine when I'm feeling alone, or down, than listening to Mr.Kitty's music. Better than any medication or any drug. The elevated way his music makes my body and mind feel is better than any antidepressant. This album has the '80s flair and style down perfectly. This whole album made me feel nostalgic, which I think is pretty damn awesome. I think it's amazing how he can take a musical style and make it entirely his own, while still making people nostalgic for a bygone decade. This just proves the magic and genius of Mr.Kitty. Personally, I'm hoping to one day see a re-release of his earlier works Death and Eternity, which are both phenomenal albums. But for now, I'm going to listen to Fragments until my brains melt, and eagerly await his next live performance on tour with the amazing IAMX. What a lineup! Make sure to not miss out on the Metanoia Tour; look for your city's tour date on our site! And be sure to head on over to Negative Gain's Bandcamp to pre-order this masterpiece!!
Track Listing:
01. Hell
02. Mother
03. Entwine
04. Shanghai
05. I Lost You
06. Discolored
07. In Your Blood
08. Flowers for Boys
09. Cycle of Violence
10. Spirit of the Forest
Tags High Road PublicityJaymie BurzetteMr. KittyNegative Gain Productions
You may also like...