:Festival Review: Industrial Arts Fest – June 27, 2015 @ Toad Tavern, Littleton, CO
Industrial Arts Fest
Assemblage 23, Voicecoil, Kill Minus Nine, Necro Contruct, Faces Under The Mirror
Festival Date: June 27, 2015
Venue: Toad Tavern
Location: Littleton, CO
Review by Sarah Martinez
Photos by Fernando Altonaga
The Colorado Industrial Arts Fest had lofty aspirations. The Fest's website pledged to promote unity within the Colorado scene and shed light on the Art from Ashes organization which provides programs that promote health and hope via expression, connection, and transformation for high-risk youth. The Festival was the brainchild of Xanthus, from Necro Construct, with much assistance from the gracious pink-haired Alexia and the always entertaining Slim FadEy, in addition to ADSR Presents and Synthesis Reaction Entertainment.
The Festival was held at Littleton's Toad Tavern which is comfortable for a bar venue, though we won't delve into descriptions of that dry sauna that is the green room. Vendors selling wares ranging from truly scary to silly were camped out towards the back of the venue and were on the path one would take coming from the restroom to getting another drink from the bar. Logistics!
DJ PharaohMoan laid down the appropriate tracks for those entering the Fest which began early in the day. VJ Grand Theft Zombie did a wonderful job of providing visuals throughout the night that were on par with something one would see at a much larger festival.
Faces Under The Mirror were the first band to play the Fest. Their strong basslines and melodic guitar work create an atmosphere that's undeniable. Lyrics that are clearly emotional resonated on a universal level. I appreciated the young woman on keyboards that provided lovely backing vocals while playing in wedges for the whole set. Definitely a band I'd like to catch again and one we can easily see playing for larger crowds in the near future.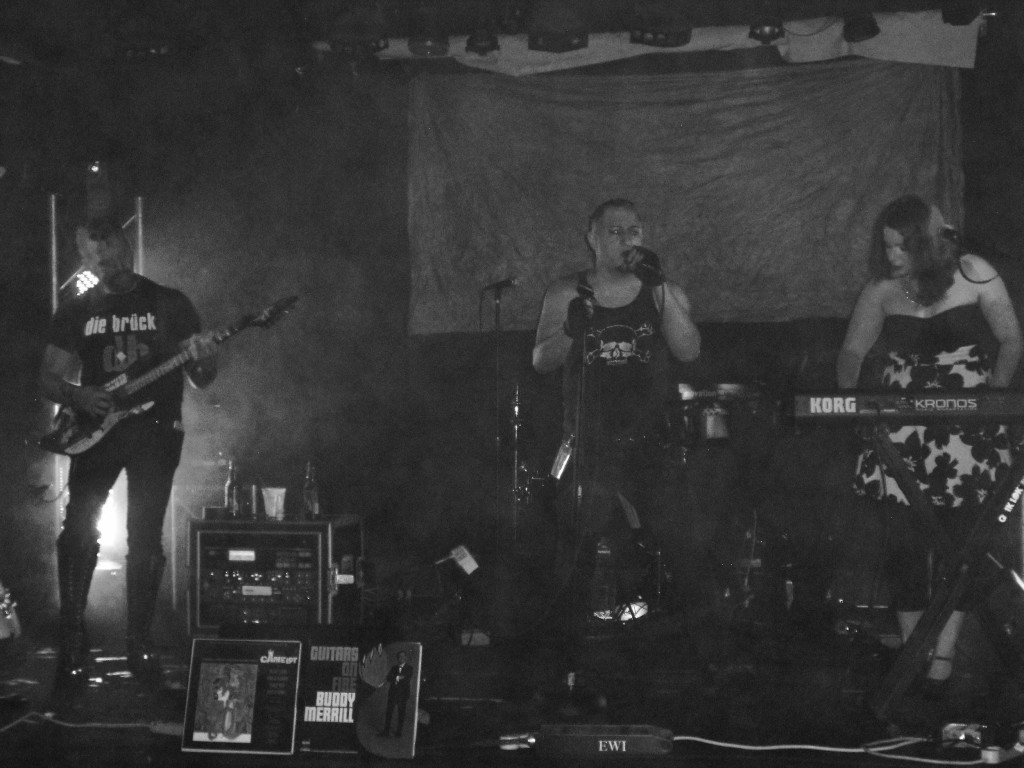 DJ Mudwolf kept things dark and moving with, amongst others fine songs, a cover of "So Alive" and a little Einstürzende Neubauten.
Next up was the Amazing Boobzilla, owner of the "Oh, No!" Variety Show. Partnered with David the Goliath, Boobzilla performed classic side-show feats and had the audience both crowding closer to the stage to get a better look and cringing back with the payoff of each act. A performance that should be seen for yourself to be truly appreciated.
Necro Construct followed, and I've got to say, this is the best performance we've seen from this band in recent months. Be it the impeccable sound provided by Bright & Loud Productions or just an on night, these gentlemen both looked great in their illuminated hoodies and glowing accessories and sounded cohesive and enthusiastic. The guys were at the top of their game this evening.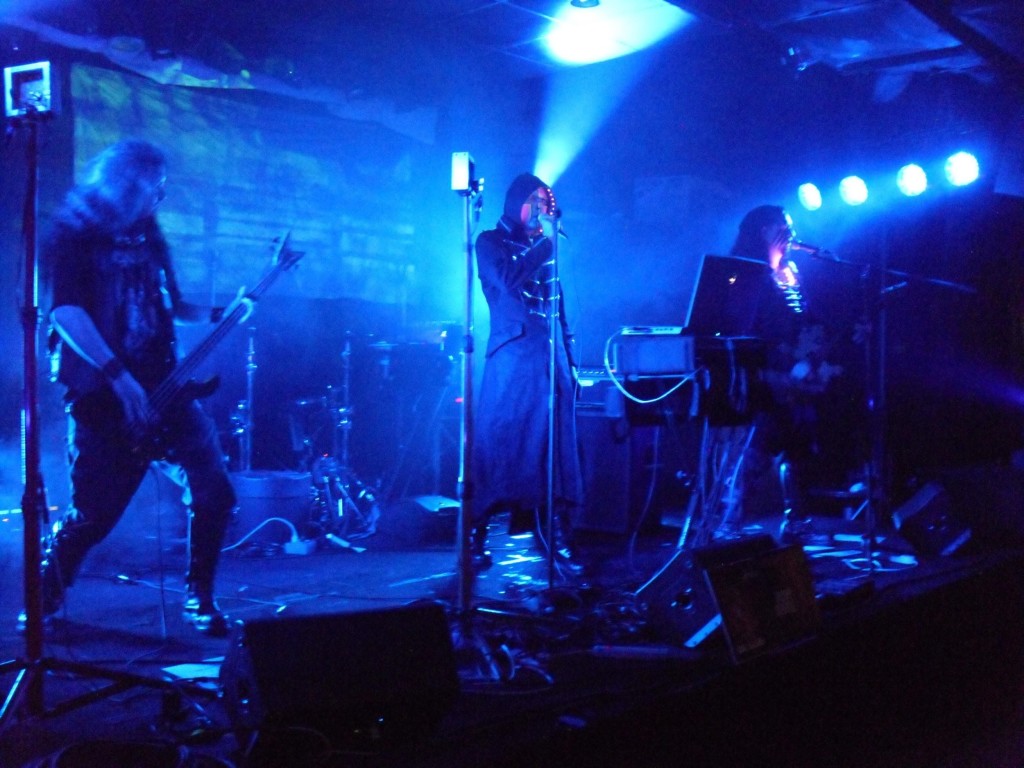 Sexy stripteases followed by ladies of varying body types and abilities dancing to Nine Inch Nails and Depeche Mode. Depeche's "Stripped," of course. Total sidebar, this took me back to Mr. Paddywack's in Seattle and the best striptease to a Depeche Mode song I've ever seen, which was to "Halo."
Kill Minus Nine took the stage looking properly industrial and with a definite danceable sound that's akin to a rough Nine Inch Nails. Throw in a little Contagion and you get what I'm talking about. The band worked the stage well and again we see lighted accessories. The drummer killed it and I do love it when a band references themselves in their lyrics. Their version of Tears for Fears' "Shout" is the only one I'd ever want to hear again.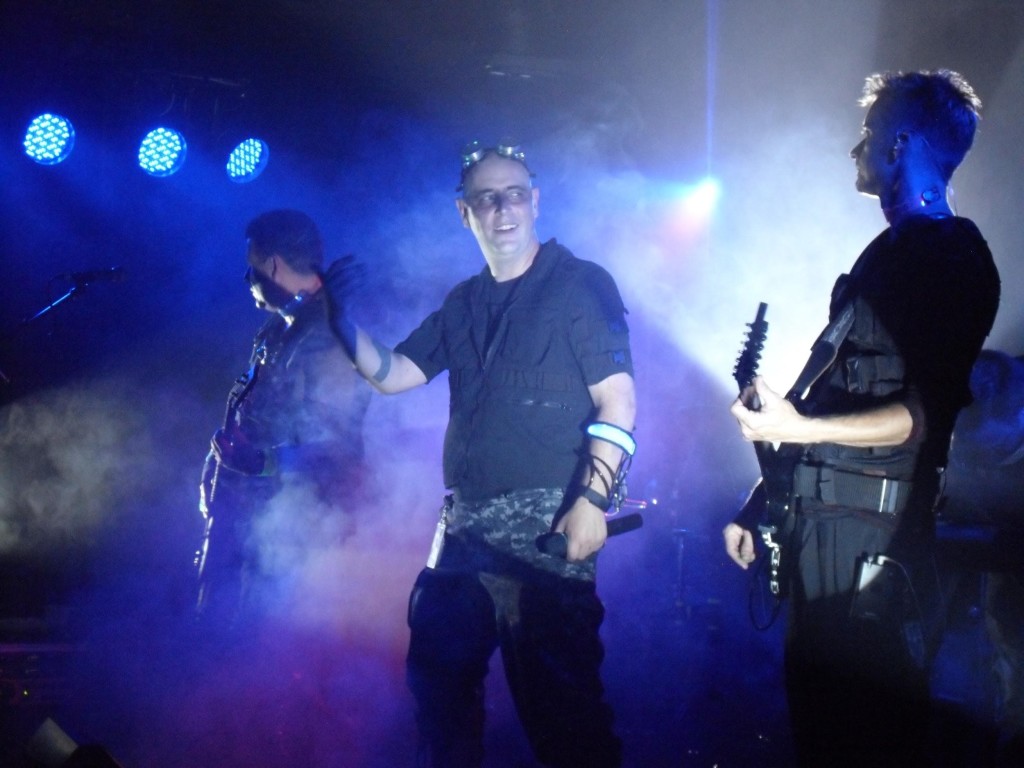 In between bands, AJ Ritual catered to his audience with his DJ set starting off with Die Antwoord, a little KMFDM, more NIN, as well as a version of the Doctor Who theme.
I'd be remiss if I didn't mention the kindness of the staff at the Toad Tavern, especially our main server, Judy, who was incredibly pleasant, worked the room skillfully, and said that it'd been a great day.
On to Mark Sousa's Voicecoil. Right off the bat I've got to say that Voicecoil's CDs don't do the man justice. While the production on his prerecorded material is quite nice, what gets lost is Mark's stage presence which is theatrical, tasteful, and goth in that way that made him a clear choice to open up for Covenant on many of their recent tour dates. There's a nearly fanatical reverence for the sound being top notch at his show which is appreciated because as we all know, so often industrial music is muddled and of poor quality live. The crowd clearly loved the performance of incredibly danceable tracks and admirers swarmed the dance floor. I like that although Mark has worked with many major bands, he reps Denver and is proud of its healthy industrial scene.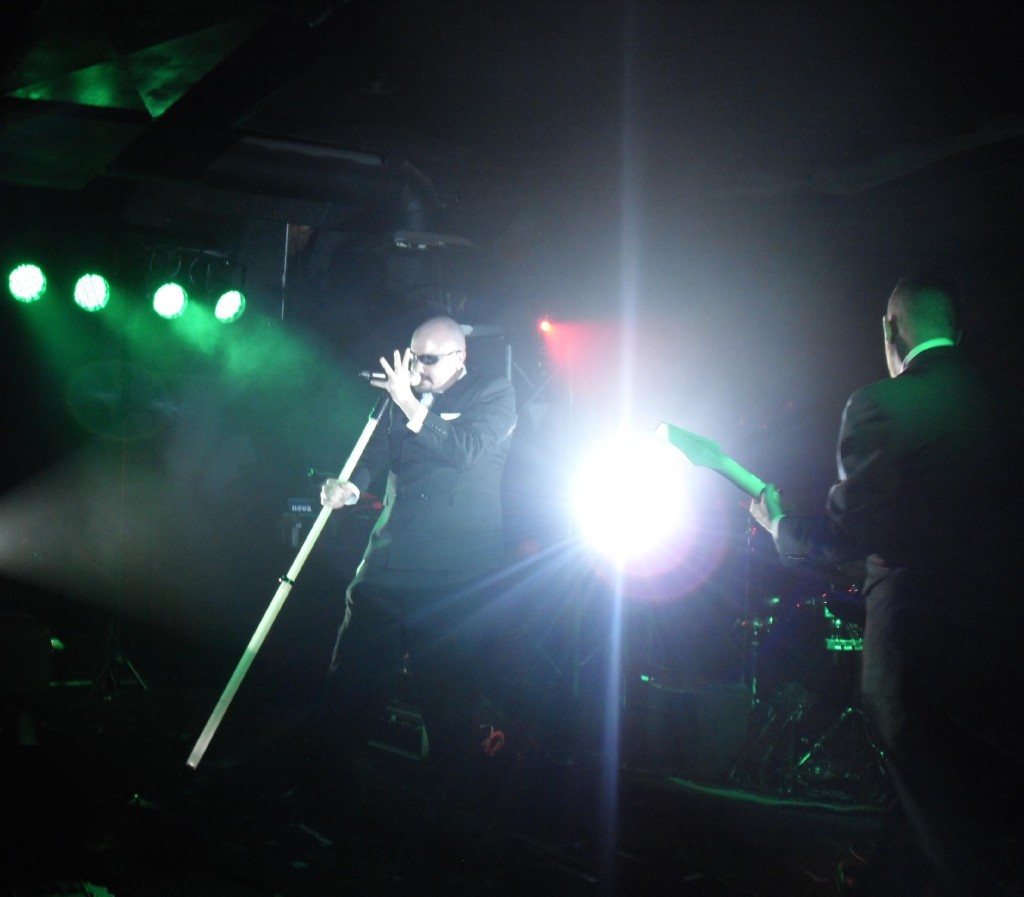 DJ PharaohMoan played his final set starting off with Voltaire's "If I Only Were A Goth" which made me ridiculously happy and also included Front 242 in his set.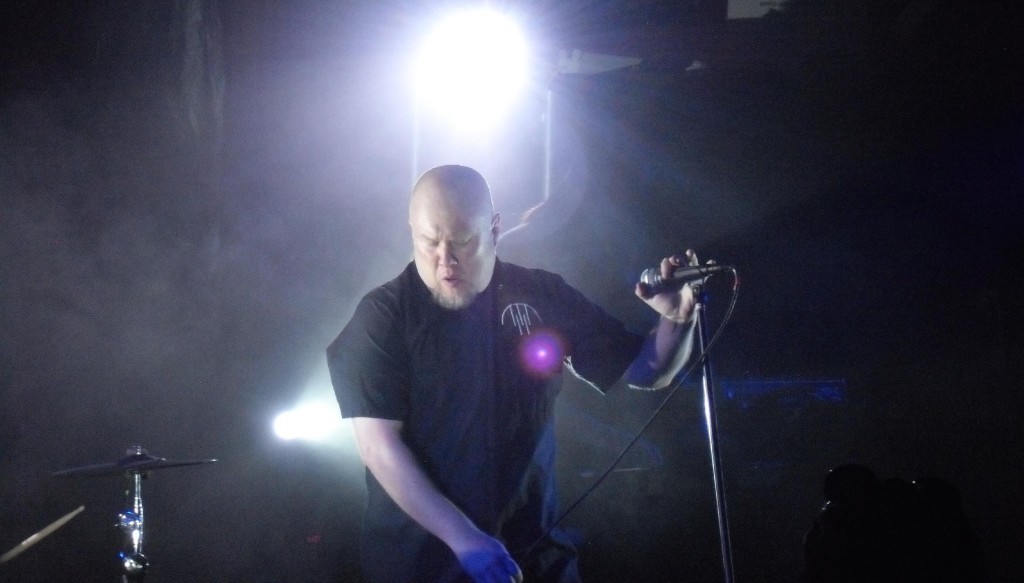 Seattle based Assemblage 23 hit the stage and commanded the room instantly. Tom Shear's been at this for over 20 years and clearly knows what he's doing. Falling under the industrial/futurepop/electro/whatever umbrella, Assemblage 23 gets all the goth stuff just right too. Dancers would alternate between the swaying "step over your dead friend" dance à la traditional goths to quick dramatic turns with hands in the air bouncing up and down. So many songs are just beautiful and more than anything, Assemblage 23 live makes you FEEL. Lyrically strong and even profound at times, these are songs that speak to everyone in the audience.
Hearing "Damaged" live was sincerely a delight. While there were truly gorgeous mellow arrangements, there was no shortage of fun, danceable songs. If you peep Tom's diverse playlists from when he DJs, it's clear the man cares about aiding people in having a good time. At one point there were perhaps only 10 people sitting in the entire venue (that had much seating) because Tom made good on his speech to the crowd in that, "We came here with one purpose and one purpose only—to make you dance."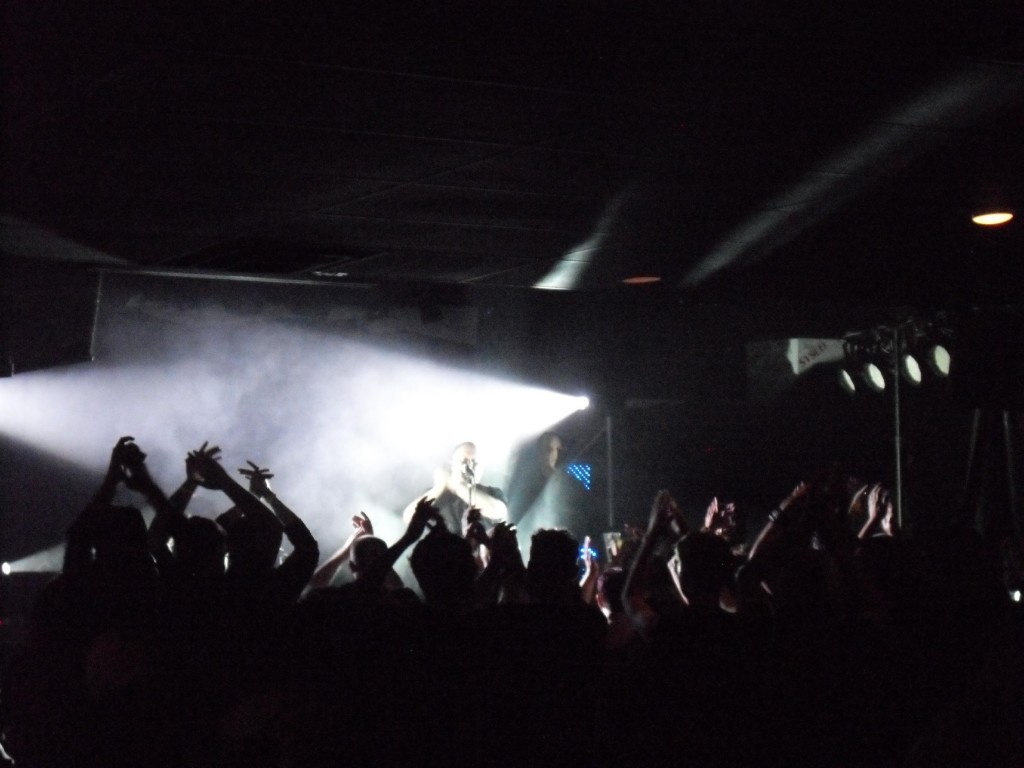 Tags AJ RitualAmazing BoobzillaAssemblage 23Bright & Loud ProductionsDavid the GoliathDJ MudwolfDJ PharaohMoanFaces Under The MirrorKill Minus NineNecro ConstructVJ Grand Theft ZombieVoicecoil
You may also like...