:Tour Information: God Module Prophecy Tour 2015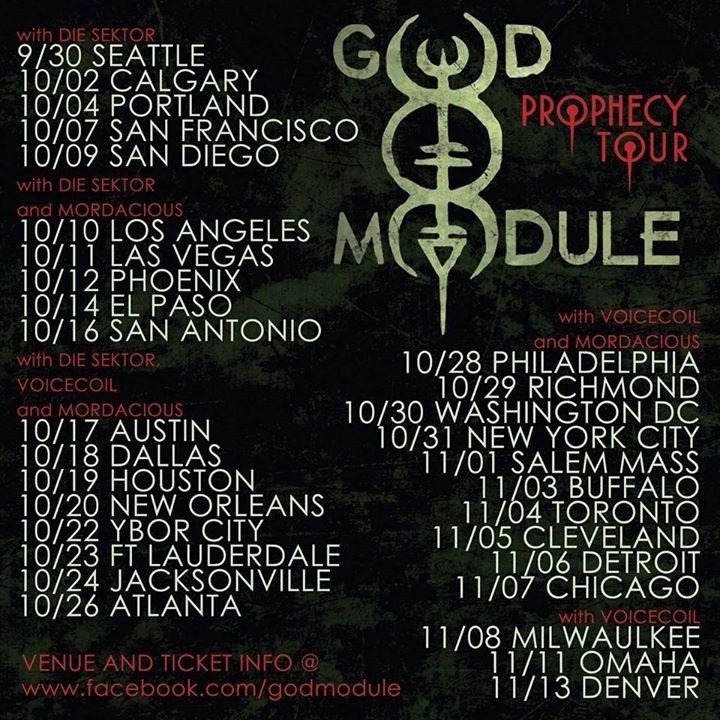 God Module announces dates for the Prophecy Tour this fall. They will be joined by guests Die Sektor, Voicecoil, and Mordacious on select dates.
For venue and ticket information go to God Module's Facebook page.
With Die Sektor:
9/30 Seattle, WA
10/02 Calgary, AB, Canada
10/04 Portland, OR
10/07 San Francisco, CA
10/09 San Diego, CA
With Die Sektor and Mordacious:
10/10 Los Angeles, CA
10/11 Las Vegas, NV
10/12 Phoenix, AZ
10/14 El Paso, TX
10/16 San Antonio, TX
With Die Sektor, Voicecoil, and Mordacious:
10/17 Austin, TX
10/18 Dallas, TX
10/19 Houston, TX
10/20 New Orleans, LA
10/22 Ybor City, FL
10/23 Ft. Lauderdale, FL
10/24 Jacksonville, FL
10/26 Atlanta, GA
With Voicecoil and Mordacious:
10/28 Philadelphia, PA
10/29 Richmond, VA
10/30 Washington DC
10/31 New York City, NY
11/01 Salem, MA
11/03 Buffalo, NY
11/04 Toronto, ON, Canada
11/05 Cleveland, OH
11/06 Detroit, MI
11/07 Chicago, IL
With Voicecoil:
11/08 Milwaukee, WI
11/11 Omaha, NE
11/13 Denver, CO
You may also like...