:Concert: Music Over Matter Tour 2015 – The Paramedic/It Lies Within/The Bad Chapter/Our Likely Escape and More! – July 19, 2015 @ Bada Brew Bar & Grill, Crest Hill, IL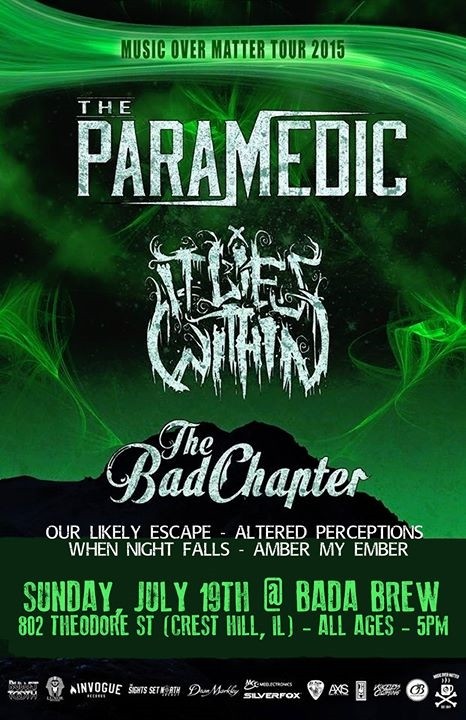 Music Over Matter Clothing (M.O.M.) presents:
The Music Over Matter Tour 2015
Sunday, July 19, 2015 – 5:00 pm CDT
All Ages/21+ Drink w/ID
$12 – Tickets can be purchased in advance here.
Bada Brew Bar and Grill
802 Theodore St
Crest Hill, IL
Check out their Official Facebook event page for more details and to RSVP.
Featuring:
The Paramedic
Our Likely Escape
Altered Perceptions
When Night Falls
Amber My Ember
Tags Altered PerceptionsAmber My EmberIt Lies WithinMusic Over MatterOur Likely EscapeThe Bad ChapterThe ParamedicWhen Night Falls
You may also like...