:Festival: Gothic Festival 2015 – 45 Grave/Bella Morte/Tragic Black and More! – August 15-16, 2015 – Mexico D.F.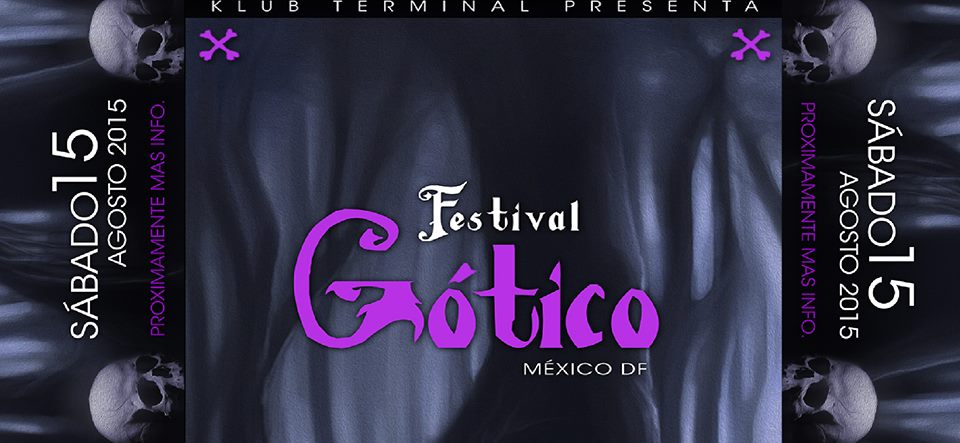 Klub Terminal and Klub Terminal Mexico Presenta (Presents):
Festival Gotico 2015 (Gothic Festival 2015)
4:00 pm Agosto 15–4:00 am Agosto 16, 2015
August 15 starting at 4:00 pm – ending at 4:00 am August 16
Check out the Facebook event page here.
45 Grave
Bella Morte
Tragic Black
Gorgonas
La Voz de Tus Ausentes
The Six Six Sixers
DJs:
DJ Bundy
DJ Tony X
DJ Sadikos
Lord Fer
Mercy Will
DJ Matrixx
Parte del contenido de este evento (Activities included in this event):
*Música (Music)
*Pintura (Painting)
*Ilustración (Illustrations)
*Teatro (Theatre)
*Literatura (Literature)
¿Te gustaria ser parte de este festival? (Would you like to participate in this festival?)
Estamos buscando (We are seeking):
· Diseñadores (Designers)
· Arte relacionado con este evento (Art relevant to this event)
Keep Smiling Foundation – Klub Terminal te invita a ser parte de esta noble causa a favor de los niños discapacitados. Trae un juguete nuevo y participa en la rifa de un regalo conmemorativo de todas las bandas que participan en este festival.
Klub Terminal would like to invite you to take part in this noble cause to benefit children with disabilities. Bring a new toy and participate in the raffle to win a commemorative gift from all the bands participating in this festival.
Tags 45 GraveBella MorteDJ BundyDJ MatrixxDJ SadikosDJ Tony XGorgonasKlub TerminalLa Voz de Tus AusentesLord FerMercy Willthe Six Six SixersTragic Black
You may also like...