:Concert Review: The Forgotten Cities Tour – Aurelio Voltaire/Ego Likeness – May 24, 2015 @ Casselman's, Denver, CO
Forgotten Cities Tour 2015
Aurelio Voltaire, Ego Likeness
Concert Date: May 24, 2015
Venue: Casselman's
Location: Denver, CO
Review by Sarah Martinez
Photos by Mandi Martini
Heading into Cassleman's for the Cirque Brûlée presentation of the Circus of Nights, One Hundred Delights show featuring Aurelio Voltaire and Ego Likeness, we were met with two distinct and somewhat complimentary soundscapes. Hare Krishnas were outside the venue playing their rhythmic mantra with small cymbals and drums and treating those waiting in line to home-made cookies. From inside the venue there were heavy, dark-laden beats that drew all of us closer, wanting to know what was going on just behind the double doors. We'd catch glimpses of people on stilts, in sexy clown attire, and the standard goth/steampunk gear one would expect at a Voltaire show.
Tickets for the Denver leg of this tour were priced 2-3 times higher than those for other cities, but Denver was also the only city which had the pleasure of a nearly full-on circus accompanying the show. Walking in, we were treated to a variety of booths boasting: Vagabonds! Freaky Variety Show! Glass Walking! Honey Hoopy! Burlesque! and Magic! Tasty treats included funnel cakes, home-made corn dogs, and popcorn. There was even a kissing booth.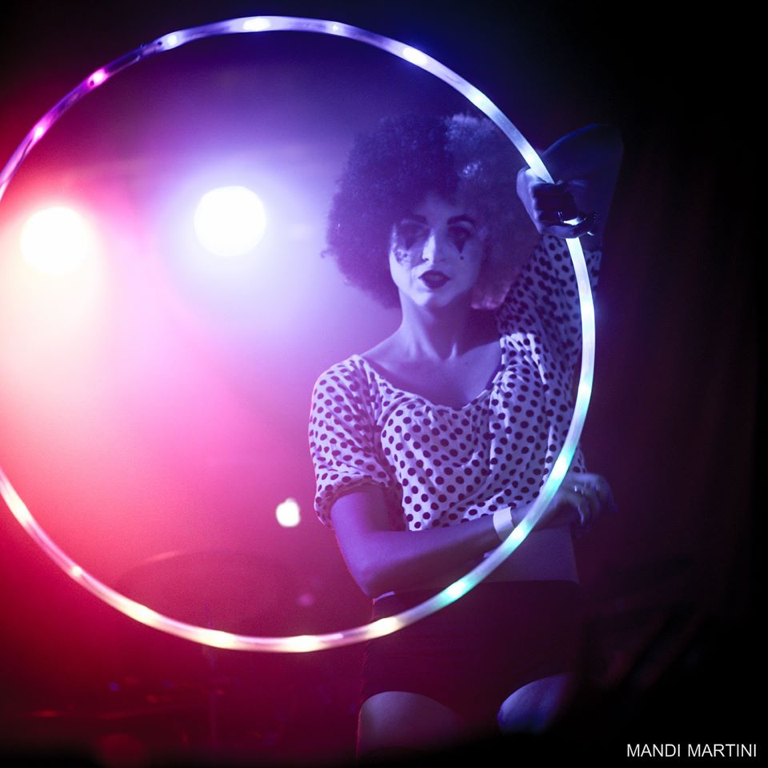 Five platforms spread throughout the good-sized venue held go-go dancers, mimes, jugglers, and a variety of performers in varying degrees of undress. I felt like we were constantly turning to one another pointing, "Look over there, he looks like an Unsullied! That cat girl, did you see the cat girl? Oh that's just terrible, who'd wear that?" Truly one hundred delights with a few misses here and there.
The show opened up with ring master Daniel du Kinque introducing The Chateau & Velvet Vixens featuring Rough Lynx singing "Welcome to Brûlée." I was struck by how much the lead singer looked like Uma Thurman and sang like a dream. Fetish performers followed, pretty girls with glowing hula hoops as well as skilled performer Rufio using a grinder on stage.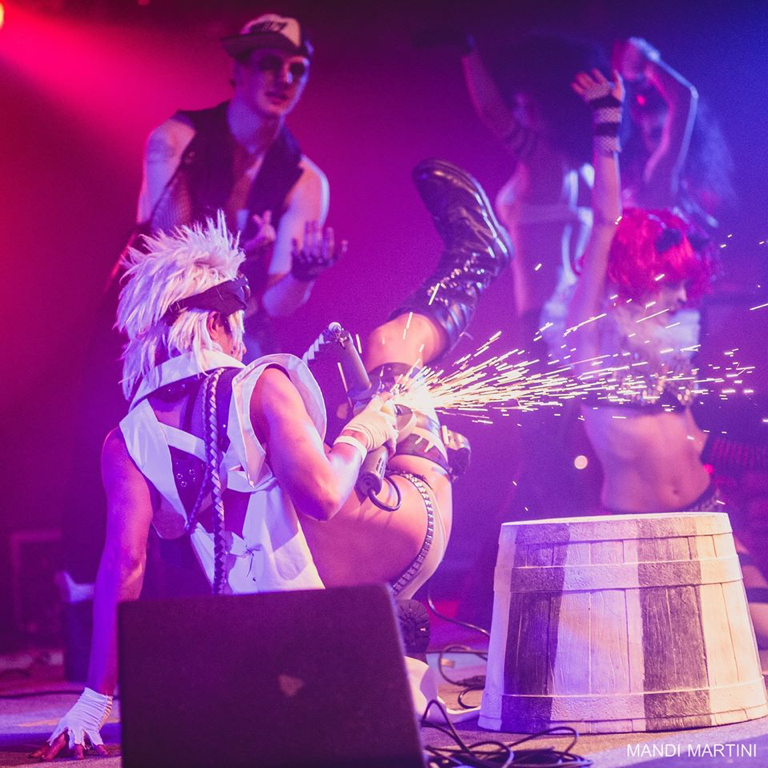 On the main floor, some of the most memorable imagery came from stilted men in top hats who pulled the strings on their "undead" marionettes as they walked through the audience. A fire spinner who lit the thinly carpeted floor on fire a couple of times kept things interesting, as did the girl in a tiger suit who was whipped by her trainer in a mesmerizing dance of playful seduction. Aerialists added even more legitimacy to the circus atmosphere. All to the soundtrack provided by DJ Tashaya. Truly enticing.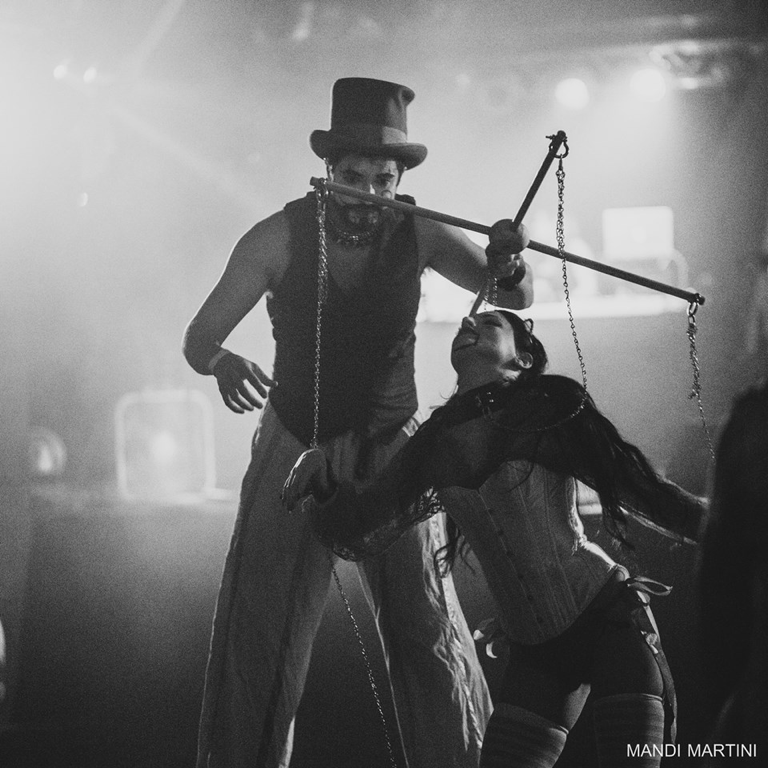 On to openers Ego Likeness. So many people really love Ego Likeness. It feels as though they've gotten much press lately, though don't mistake them for an overnight success as the band has been making music since 1999. Their eagerly anticipated new album is due to be released in July. In addition to their musical compatibility, both Ego Likeness and Voltaire are artists that crossover and are successful in many different fields of art; they clearly respect and admire art in many forms. This writer also likes Ego Likeness' references to literature, both in the band's name itself and tribute to Neil Gaiman.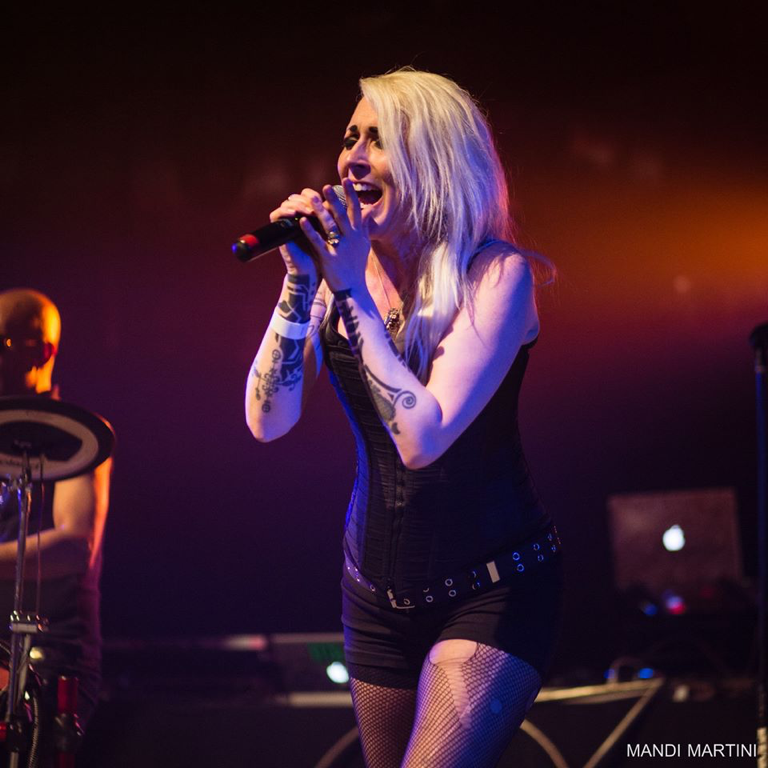 Husband and wife Steven Archer and Donna Lynch were joined onstage by drummer Mike Johnson on this, their second tour with Voltaire. Donna and Steven are quite striking visually and bring a dynamic stage presence. Ego Likeness is a kind of mix of electronic darkwave with definite metal guitar-work courtesy of Steven. Enthusiastic and rhythmic, they had the crowd dancing and taken with nearly every song. Playing for about an hour, the band kept things going, gaining new fans and putting on a show that existing followers clearly enjoyed as they sang and danced along. We also appreciated seeing Donna talking with audience members outside after the set, mingling easily with attendees but not treating them as merely fans.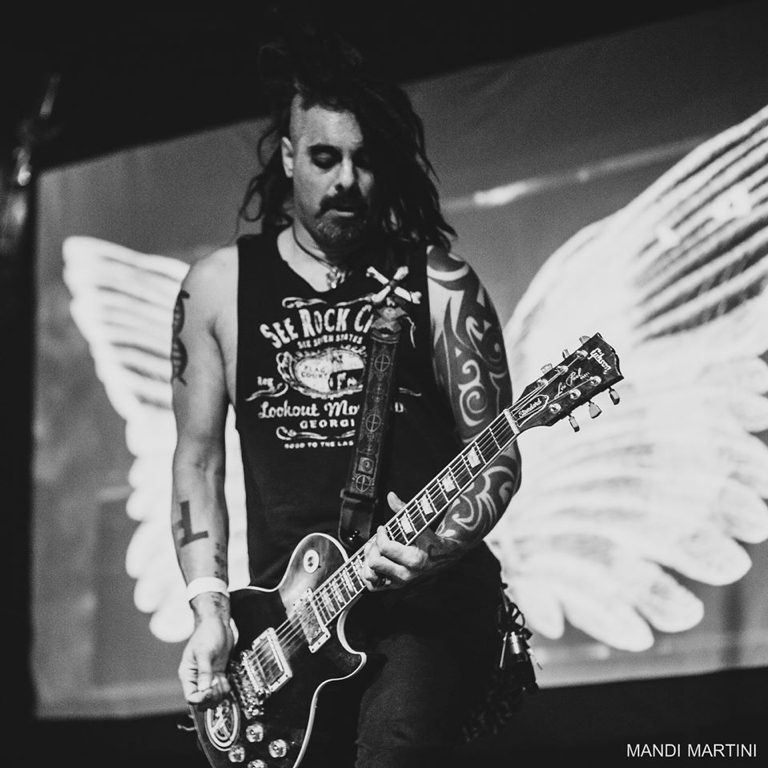 And now Aurelio Voltaire. Full disclosure, I've had a crush on Aurelio Voltaire since the late '90s and his release, The Devil's Bris. For some reason I'd never seen him live and was pretty stoked for this show and had high expectations as everyone I've spoken with who's seen him live has really enjoyed his performance.
It's cool when a man can come onstage and command an audience with no back-up band, a guitar, and a bottle of Captain Morgan. Brandishing his beautiful Takamine acoustic, and wearing a luxurious, long velvet overcoat and red Swordfish Edwardian Fluevogs, Voltaire held the audience enraptured during his entire set.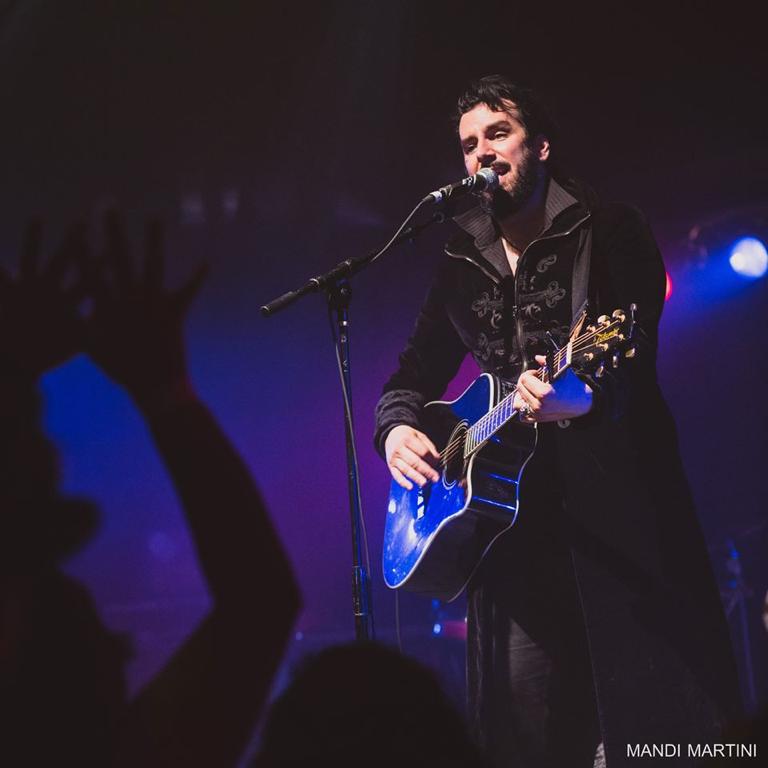 Stories of moving to New York City when he was young and finding like-minded individuals which became family clearly resonated with fans, many of whom have likely walked similar paths. Banter with the audience in a very Tom Waits-like fashion is one of Aurelio Voltaire's strong suits. Witty retorts paired with sincere humility drew the crowd in, hoping for his ear for just a moment. The age range of the attendees was impressive. The girls in front of us couldn't have been more than 21 but sang along with every song enthusiastically and I swear I saw tears in one of their eyes. There was no shortage of older fans either, many hanging back in the crowd, letting the youth have their time.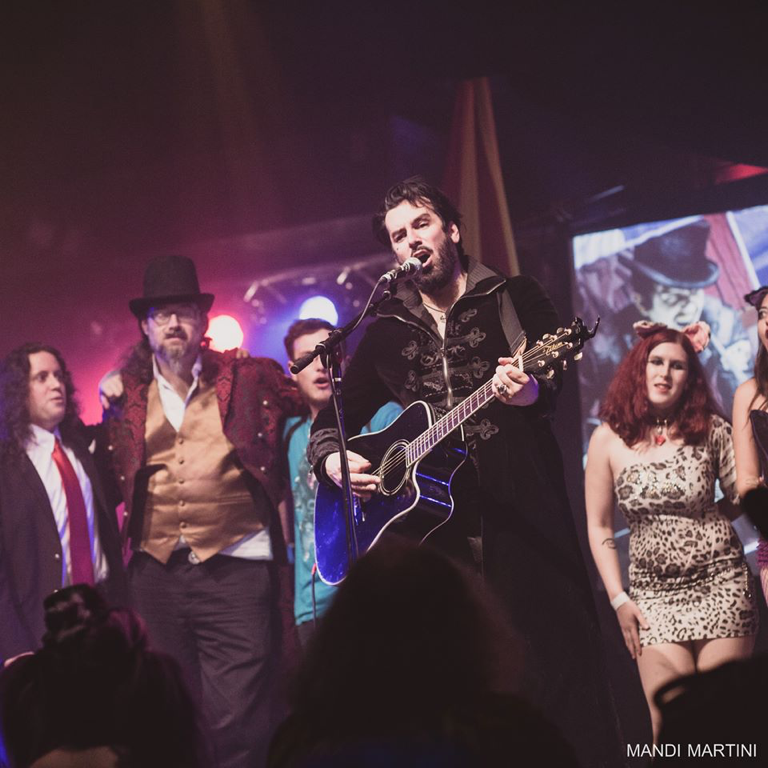 Aurelio Voltaire live is just fun. It's easy for even new listeners to catch on and follow along with the songs and get caught up in the drunken camaraderie of the show. For his final song, audience members who knew all the words to "When You're Evil" were welcomed onstage to sing along as the Denver chapter of the "Beelzebub Philharmonic Choir," which no doubt has scores of choir members throughout the country.
All-in-all, the show exceeded my expectations, and I'd recommend not waiting 15 years as I did to catch him if you can.
Aurelio Voltaire set list: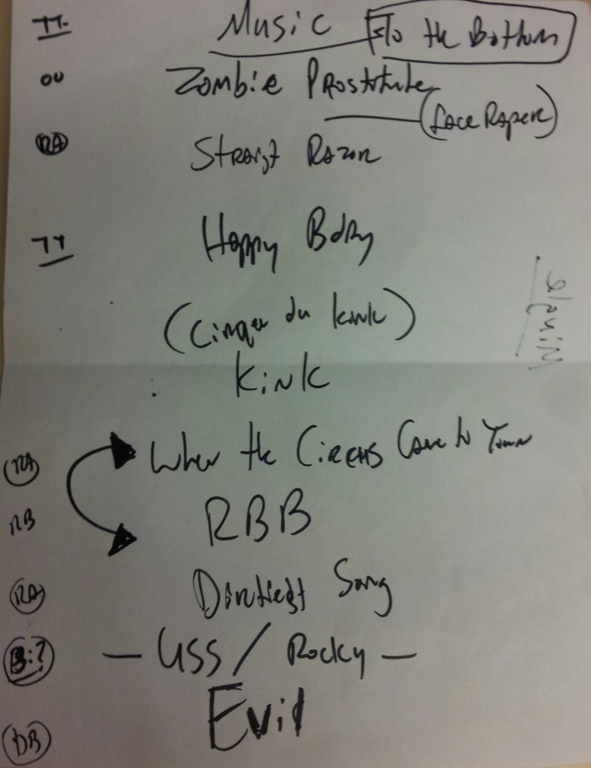 Tags Aurelio VoltaireCirque BrûléeEgo LikenessMandi MartiniSarah Martinez
You may also like...