:Festival: Aftermath 2015 Lineup Released!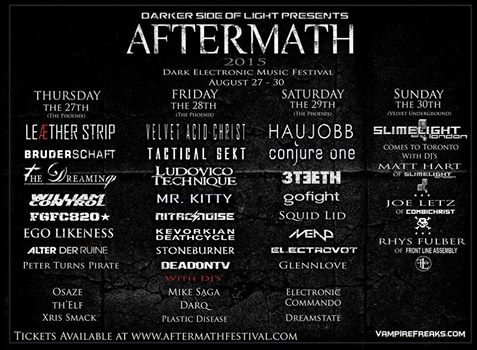 Darker Side of Light Presents:
Aftermath Festival 2015
Purchase tickets here!
Day 1, Thursday, August 27
Leaether Strip
Bruderschaft
The Dreaming
William Control
FGFC820
Ego Likeness
Alter Der Ruine
Peter Turns Pirate
DJs
Osaze
Th'Elf
Xris SMack!
Day 2, Friday, August 28
Velvet Acid Christ
Tactical Sekt
Ludovico Technique
Mr. Kitty
Nitro/Noise
Kevorkian Death Cycle
Stoneburner
Dead On TV
DJs
Mike Saga
Darq
Plastic Disease
Day 3, Saturday, August 29
Haujobb
Conjure One
3TEETH
GoFight
Squid Lid
Mend
Electrovot
Glennlove
DJs
Electronic Commando
Dreamstate
Day 4, Sunday, August 30
DJs
Matt Hart (of Slimelight London)
Joe Letz (of Combichrist)
Rhys Fulber (of Front Line Assembly)
Tags 3TEETHAftermath FestivalAlter Der RuineBruderschaftConjure OneDarker Side of Light ProductionsDarqDead On TVDreamstateEgo LikenessElectronic CommandoElectrovotFGFC820GlennloveGoFightHaujobbJoe LetzKevorkian Death CycleLeaether StripLudovico TechniqueMatt HartMendMike SagaMr. KittyNitro/NoiseOsazePeter Turns PiratePlastic DiseaseRhys FulberSlimelightSquid LidStoneburnerTactical SektTh'ElfThe DreamingVelvet Acid ChristWilliam ControlXris SMack!
You may also like...