:Music Review: Ego Likeness – When The Wolves Return
Ego Likeness – When the Wolves Return
Release Date: July 10, 2015
Label: Metropolis Records
Official Website: http://www.egolikeness.com/
Review by Jaymie Burzette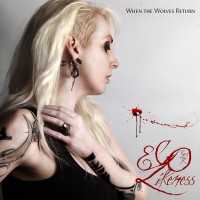 After five long years, the wait is finally almost over. There has been a lot of speculation as to the status of Ego Likeness with their long hiatus, but they're back and better than ever with their latest offering, When the Wolves Return. Much hard work, blood, sweat, and tears went into this album, and it definitely shows through. Since their last release, Breedless, Donna and Steven have faced some truly brutal trials and tribulations which sent the duo into some rather dark places. This album is the result of years of pain, struggle, and loss, all poured into writing both lyrically and musically. Packed with emotion, it will dig into your brain and seep inside of you; the music just takes over.
The album opens with "Leave A Light On, Thomas," a haunting melody with Donna's lovely voice drifting in, sending the listener on an ethereal journey of light, tingly feelings and deep shifting colors. From the words, "I'm coming back," to the guitar riffs that seem to say, "that's right, we're back," this is just an excellent opening track. "Darkness" comes next, opening with a bouncy beat that makes you really want to move. Again, Donna's voice just pulls this all together and is a crucial element to this musical journey. "En Rouge" follows, opening with tight guitar riffs and some great, spacey synth work that truly transforms this song into a great dance track. "New Legion" is up next, more stompy and rock-based than the previous tracks thus far. I really like the chorus—"We are justice, we are treason, we are karma, we are reason, my name is Legion." The gruesome twosome are planning on turning this track into a music video, so be sure to be on the lookout for that!
"Oracle" follows, keeping in the same vein as "New Legion" in sounding more on the rock side of electronic rock. I really like the echo effect used here on Donna's voice, repeating "oracle" multiple times. Next up is "Mercy" which returns to the more electronic side with fat, bouncy synth beats. "I Let You" slows the album down a bit with its somber mood. "Crossed" is on the slow side as well, and has an almost '90s retro feel to it in the guitar riffs and synths. "Persona Non Grata" mesmerizes with its '80s synthpop synth lines and Donna's hypnotic vocals.
"Treacherous Thing" was the first single released off this album; it has a great dance-y beat with enveloping guitar riffs and rhythmic, smooth vocals. "Someday" is definitely more on the rock side, with great bass lines and drums that make you want to tap your foot and move to the beat. The album closes out with "When the Wolves Return," opening with soft piano lines and Donna's soft voice, almost dreamy over the piano melody. Lone guitar riffs punctuate through this track, which really help drive the feelings home. I really liked the drum work on this track; military-style rolling snares and crashing cymbals build up the final sequences of notes as the album exits, taking its final bow.
The experience of this album is like an ethereal trip through the mystical fabric of the universe. The senses their music activates combine to weave together a rich tapestry of musical energy that pulses through your body and ripples out through your finger tips and bottoms of your feet, touching each part of you as it runs through. This is one of the best Ego Likeness albums to date. It is also their darkest; you can really taste the anguish, the frustration, the hurt. It ebbs into your mind and body and yet doesn't leave you feeling sad and empty. It moves you in a way that the Phantom of the Opera score would move you. This document of pain, desperation, chaos, triumph, and growth proves that Ego Likeness are still the top dogs in the game. And personally, I am so glad to see them back in action. We did remember you.
The physical album can be pre-ordered from Metropolis Records here.
Track Listing:
Leave A Light On, Thomas
Darkness
En Rouge
New Legion
Oracle
Mercy
I Let You
Crossed
Persona Non Grata
Treacherous Thing
Someday
When The Wolves Return
Tags Donna LynchEgo LikenessJaymie BurzetteMetropolis RecordsSteven Archer
You may also like...