:Festival: STIMULATE 7th Annual 4th of July Industrial BBQ @ DROM, New York City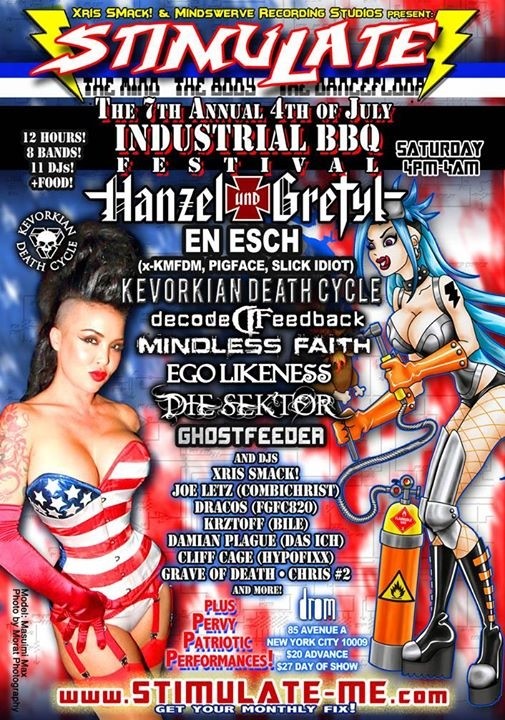 Xris SMack! and Mindswerve Recording Studios NYC present The 7th Annual 4th of July STIMULATE Industrial BBQ
It is now a full festival with 12 hours of bands, DJs, and tons of food!
July 4, 2015
4pm–4am EDT
21+
DROM
85 Avenue A (at 5th Street)
New York City 10009
Buy Advanced Reduced Admission Tickets HERE!
$20 in advance/$27 day of event
RSVP HERE!
STIMULATE YOUR SENSES!
:SOUND:
Live Bands:
Hanzel und Gretyl
En Esch (ex-KMFDM, Pigface, Slick Idiot)
Kevorkian Death Cycle
Decoded Feedback
Die Sektor
Mindless Faith
Ego Likeness
Ghostfeeder
DJs:
Xris SMack! (STIMULATE, SMack!, Fetish Tribe)
Joe Letz (Combichrist)
Dräcos (FGFC820)
Krztoff (BILE)
Damian Plague (Das Ich)
Cliff Cage (Hypofixx, Cynical Existence)
Chris #2 (STIMULATE)
DJ Grave of Death (Dungeon X)
DJ Stalagmike (Defcon NYC Industrial)
More TBA
:SIGHT:
Pervy Patriotic Performances by Christina Cathleen
Visual Stimulation from the SMack! Video lab
The STIMULATE GoGos – Jade, MelissaSaurus "Underjoyed," Rebecca Star, Nola Bunny, Raven, Shaila Kristie, and more!
:TASTE:
DROM in-house BBQ specialties – burgers, hot dogs, treats, and more
:TOUCH:
Ticket Giveaways:
8/1 – Necropolis with special guests Cynical Existence (Sweden)
8/22 – STIMULATE with Inertia (London) and The Seeming
9/19 – STIMULATE 7-Year Anniversary with Pop Will Eat Itself (1st show in 20 years and ONLY area appearance)
Advanced tickets for the events above available HERE.
Giveaways from Metropolis Records, Vampire Freaks, Stimulate, Mordacious, and more!
SMack! Fetish Play Space!
Dungeon equipment from the Fetish Tribe and dominatrix hosts Mistress DeVille, Lulu Kramer, and more! Special guest Mistress Simone Justice from L.A.
Suggested Dress Code:
RED, WHITE & BLUE!
Cyberpunk/cyberslut, steampunk, electrohead, rivethead, industrial, gothic, fashionista, fetish (PVC/vinyl, leather, latex, corsetry), etc.
Sponsored by:
Stockroom – Use promo code "SMack" for a discount on your purchase
Gothic Renaissance
Vampire Freaks
Videography by Vonespur Studios
SAVE THE DATES for other STIMULATE 2015 events throughout the year! RSVP HERE!
Join STIMULATE:
E-List │Facebook │Facebook Group │Instagram │Twitter │Vampire Freaks │ReverbNation │YouTube │FetLife │Xris SMack! RSS
Tags Chris #2Cliff CageDamian PlagueDecoded FeedbackDie SektorDJ Grave of DeathDJ StalagmikeDräcosEgo LikenessEn EschGhostfeederGothic RenaissanceHanzel und GretylJoe LetzKevorkian Death CycleKrztoffMetropolis RecordsMindless FaithMindswerve Recording Studios NYCMordaciousSTIMULATEStockroomVampire FreaksVonespur StudiosXris SMack!
You may also like...