:News: Ego Likeness To Release New Album 'When the Wolves Return'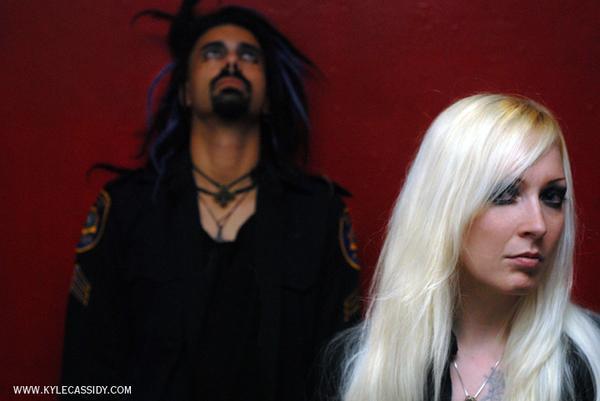 Ego Likeness To Release New Album When the Wolves Return
First Single, "New Legion," Premiered on New Noise Magazine
Rock/darkwave artists Ego Likeness have released the first single off of their sixth studio album, When The Wolves Return, titled "New Legion." When The Wolves Return is scheduled to release July 10th on Metropolis Records, with preorder available HERE.
Ego Likeness, the long running musical project of artist Steven Archer and writer Donna Lynch, presents the long awaited new album When The Wolves Return. The duo blends powerful female vocals with elements of electronica, darkwave, trip hop, and rock. In the time between their previous album, Breedless, and When The Wolves Return, Donna and Steven faced a series of personal battles…sickness, deaths, and personal demons. The couple found themselves in dark places. The resultant years of struggle, tribulations, and eventual triumph are all represented in When The Wolves Return.
You will hear all of this on it. Not in specific words, but it's all there, in metaphor. It is the hardest thing I've had to write yet, lyrically.
– Donna – Ego Likeness
The album is, at its core, an artistic act of emotional self-evisceration. It is the product of pain felt and caused. Of suffering and loss and chaos and desperation. It is a confessional; it is words and sounds that have come from fighting back, and from the growth to understand that the Wolves are still out there. The album is beautiful and it is at times heart shattering. It is also a glorious testament to survival and strength.
About Ego Likeness
Ego Likeness was created in 1999 by artist Steven Archer, a DC native, and writer Donna Lynch in Baltimore, Maryland. Taking their name from Frank Herbert's classic science fiction novel Dune, the band began as an experimental/dark trip hop project. The duo have released four EPs and five albums, with the sixth, When The Wolves Return to be released on July 10th 2015.
Steven, a graduate of The Corcoran School of Art, continues to exhibit paintings, sculpture, and mixed media pieces in various galleries, stores, conventions, and venues throughout the US, and online through the band's website, Facebook, and his Etsy store. He has been a regular contributor to Weird Tales Magazine and Steampunk Magazine. He is the author and illustrator of one children's book, Luna Maris (Imaginary Books, 2008), and the graphic novel Red King Black Rook. He was invited to The Goddard School at NASA in 2012 to read Luna Maris to a group of young students, and has plans for a second children's book in the near future. He was also commissioned by NASA to score a video for the OSIRIS-REX space mission
Donna has done various spoken word performances, and released two collections of poetry: In My Mouth (2000) and Ladies & Other Vicious Creatures (Raw Dog Screaming Press, 2007). Her first novel, Isabel Burning debuted in 2008 through Raw Dog Screaming Press and a prequel is scheduled for release in early 2013. A novella, Driving Through the Desert was released by Thunderstorm Books in 2012, and the German edition of Isabel Burning was released by Voodoo Press throughout Europe in 2013. She has also collaborated with Steven on several art projects, including a handmade, limited edition, illustrated book called Twenty-Six (An Uncommon Book of ABCs) and a series of Key and Lock paintings, which will likely be released as a complete collection in book form in the future, and Daughters of Lilith (RDSP, 2010). She is a recurring guest reader at Pseudopod.org, and is an active member in the Horror Writer's Association.
You may also like...