:Tour Information: KMFDM Salvation Tour 2015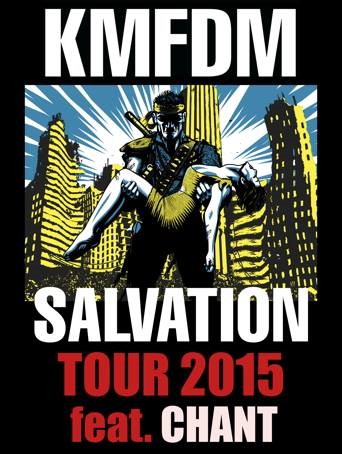 KMFDM are back bringing us 30+ years of conceptual continuity. They will be launching their 2015 North American tour this July along with their partners in crime CHANT! Special guests Black December, Seven Factor, and Inertia will be joining them on select dates.
They will be showcasing their full length album Our Time Will Come, available now through Metropolis Records. Their Salvation EP is available for pre-order with a release date set for July 10.
Remember to check their official site for additional dates or changes in show schedule!
Date
Venue
Location
Tickets
Jul 18
Showbox Market
Seattle, WA
Tickets
Jul 19
Imperial
Vancouver, Canada
Tickets
Jul 20
Star Theater
Portland, OR
Tickets
Jul 22
Mezzanine
San Francisco, CA
Tickets
Jul 23
The Regent Theater
Los Angeles, CA
Tickets
Jul 24
Livewire
Scottsdale, AZ
Tickets
Jul 26
Gas Monkey Live!
Dallas, TX
Tickets
Jul 27
Scout Bar
Houston, TX
Tickets
Jul 28
Civic Theater
New Orleans, LA
Tickets
Jul 29
Variety Playhouse
Atlanta, GA
Tickets
Jul 30
Lincoln Theater
Raleigh, NC
Tickets
Jul 31
The State Theater
Falls Church, VA
Tickets
Aug 01
The Sinclair
Cambridge, MA
Tickets
Aug 02
Union Transfer
Philadelphia, PA
Tickets
Aug 04
Irving Plaza
New York, NY
Tickets
Aug 05
Water Street Music Hall
Rochester, NY
Tickets
Aug 06
Iron Works
Buffalo, NY
Tickets
Aug 07
Mr. Smalls Theater
Pittsburgh, PA
Tickets
Aug 08
House of Blues
Cleveland, OH
Tickets
Aug 09
The Southgate House Revival-Sanctuary
Newport, KY
Tickets
Aug 11
Exit / In
Nashville, TN
Tickets
Aug 12
The Ready Room
St Louis, MO
Tickets
Aug 13
The Vogue
Indianapolis, IN
Tickets
Aug 14
House of Blues
Chicago, IL
Tickets
Aug 15
Mill City Nights
Minneapolis, MN
Tickets
Aug 16
The Granada
Lawrence, KS
Tickets
Aug 17
Summit Music Hall
Denver, CO
Tickets
Aug 18
Urban Lounge
Salt Lake City, UT
Tickets
Aug 19
Knitting Factory
Boise, ID
Tickets
---
Tags Black DecemberCHANTInertiaKMFDMMetropolis RecordsSeven Factor
You may also like...