:Music Review: White Shadow – Panopticon
White Shadow – Panopticon
Release Date: December 20, 2014
Label: Self Released
Official Website: http://www.whiteshadowmusic.com/
Review by Don Waugh Esq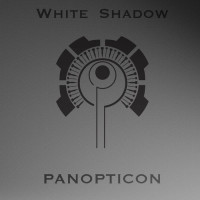 According to the press junket, White Shadow's fourth full length is based on the works of Jeremy Bentham, a late 18th century English philosopher and social theorist. A panopticon is essentially a prison wherein the inmates would be watched by a single warden, who may or may not be watching at any given time. It would be up to the inmates to act accordingly on an honor system, believing that they're being watched.
With this concept album, we, the listeners, are that warden to White Shadow's industrial metal soundtrack.
The band, hailing from Maryland, consists of DXNero on vocals and drum programming; Kryptich on bass, guitars, and synth; Nytro on guitars; Marowit on live drums; and Wahkeen on sound design and programming. And they ride through this album like sonic warriors in an electronic age.
There's a lot to like here. "Slipgate" starts the expedition with an ode to one night stands. DXNero's vocal sneering pairs perfectly with chugging guitars and harsh electronics as he leads us into that dark night. If White Shadow are the prisoners, then he's definitely the gang leader whose word is law.
"Zugzwang" is a good representation of how industrial metal brings together everything. Yes, everything. You have your dirty guitars, your pounding bass, your programming…it's a lovely mesh of how the genre should sound. "I Don't Know What I Am" pleads for forgiveness from a litany of sins, even if we can't keep track.
"10,000 Masks" and "Panopticon (Suite Pt.1)" also lead the assault on the metal side, and make this album a strong contender for favored album in my mp3 player. It's hard not to headbang a little while listening, and I fully admit that I was bothering the neighbors by playing this loud.
The album isn't all hard, though. Softer moments do prevail, as "Six Months of Sundays (Suite Pt.2)" shows. It's a vulnerable track, one that asks us for help to be strong, if only because we're all weak.
White Shadow as a band has a wide array of inspiration to draw from, and while at times we can hear traces of everyone from King Crimson to Killing Joke, this is ultimately a band that makes its own voice.
Track Listing
1. Slipgate
2. The Fix Is In
3. Zugzwang
4. Crowd (Control)
5. I Don't Know What I Am
6. 10,000 Masks
7. Ingress
8. Panopticon
9. Six Months Of Sundays
10. Cold Ground
11. Egress
12. Addicted To Despair
13. Temple
You may also like...