:Festival Review: Colorado Goth Fest 2015
Colorado Goth Fest 2015
Festival Dates: May 1-2, 2015
Venue: Zodiac Bar
Location: Colorado Springs, CO
Review by Sarah Martinez
Photos by Opposite of Amnesia
Why are Goth events always in the warm/summer months? Goth picnics, World Goth Day and Bats Day at Disneyland? Why do we do that? Fortunately, the Colorado Springs weather was cooperative and appropriately gloomy for the inaugural Colorado Goth Fest. A two day pre-sale pass was only $15 which is something I'll be able to tell the baby goths in the years to come when they get on this bandwagon and pay 3X that much.
The names on the promotional materials ran the gambit of Denver and Colorado Springs staples such as Echo Beds and Deophagy, as well as DJs JuJu Bat and Madbot. Out-of-towners Acid Casualty and They Feed at Night added to the diverse mix of artists from around the country. Long standing staple of the Colorado Springs scene, the Zodiac held Goth Fest and brought it in with appropriate flair. One of the Zodiac's charms is that it feels like an old Applebee's that's been fucked up appropriately to house some pretty sweet events. The old-timey streetlights, a lovely chandelier and foliage add a grip of charm to the place. Additionally, there's a strong collective of regulars at the Zodiac that are really welcoming and far less pretentious than many of their Denver counterparts.
Day One
Day one started off with pretty it-girl, Jinxy Poppet, the MC of Colorado Gothfest introducing Denver's Nekroconstruct in their super cool outfits. This reviewer appreciates industrial/goth bands that look the part. Covers of Rob Zombie and Men Without Hats' "The Safety Dance" got people interested right off the bat. Chris from Nekroconstruct states one of the band's goals is to put on a good show for the audience and visually, it's hard to touch this crew.
DJ Matte Black took the helm next. Matte Black not only spun some tasty techno-Goth but also added to the ambiance of the whole festival on both days. Standing off on a raised platform behind a merch stand sweeping a whip in a slow figure eight motion, one couldn't help but be mesmerized.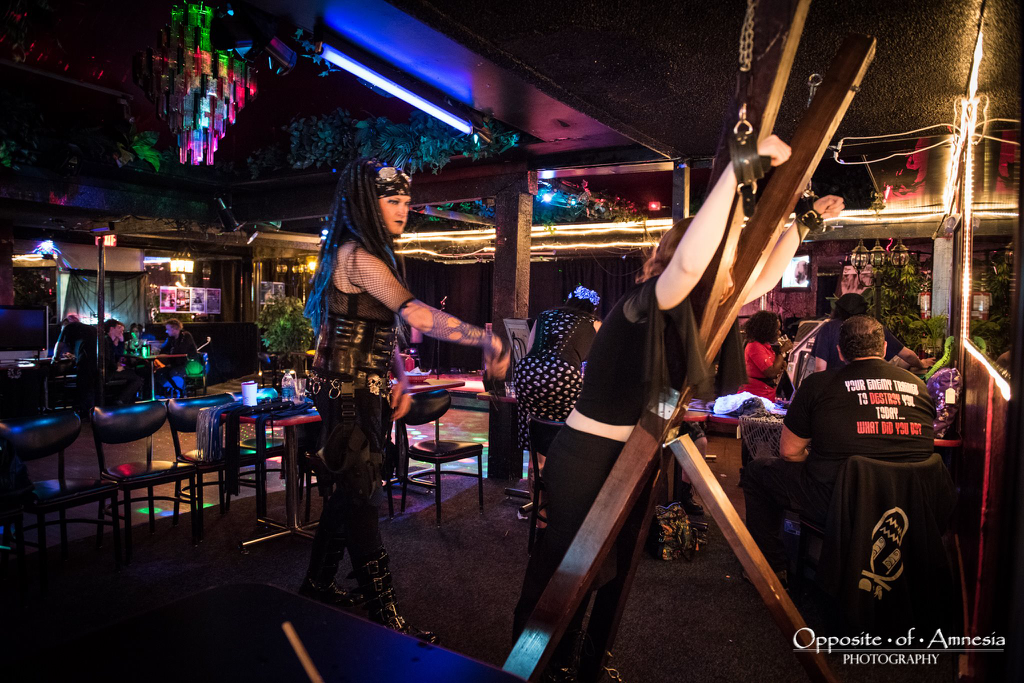 Robert Xander and the Bottom Strings followed with their self-proclaimed death-pop sounds. We're not sure if we'd call RXatBS death-pop, but we like what we hear. Xander loosely fits into the goth genre, but is interesting to watch and clearly talented. It's no surprise Xander has been making music for as long as he has. Also, he's really friendly and has lovely hair. We like that.
DJ Madbot, with the cutest jacket ever, was up next. Using his hardware savvy and what sounded like solid, by-the-book techniques, he segued the crowd into one of the best performances from a band during the festival.
Echo Beds took the stage and masterfully blew the Zodiac up. Keith and Tom brought straight up industrial goodness to the party. For the record, Colorado had so many great shows going on during the weekend of Goth Fest. Denver Noisefest was downtown at Rhinoceropolis and Author & Punisher was playing at Lost Lake. We were really torn about missing some of the edgy music around Denver proper but man-oh-man did Echo Beds satisfy that craving. Solid all around and the first band of the day to hold a full dance floor.
DJ Gari-Sama managed to keep the crowd going with what was easily our favorite DJ set of the festival. I wish I could say more, but seriously we kind of got lost in the set and just enjoyed the hell out of it.
The heat was on Acid Casualty to maintain the momentum set forth by Echo Beds and they didn't balk under the pressure. Michael Martin was joined on stage by Miguel Reiner from Visions in Black and the duo had a chemistry that was enticing. Sexy ladies dancing on each end of the stage with just the right amount of tummy pudge responded to the danceably unique vibrations coming from the band. Acid Casualty's music is seductive and makes people wanna dance and so they did. Grand sounding synths and edgy vocals kept the floor full of goths doing what they do. One of our goals during Goth Fest was to get into Michael's head about his music and the Goth scene as we were fortunate enough to be his first stop touring outside of Michigan. Additionally, both Michael and Miguel were super cool and surprisingly humble in person.
This ended our day at Goth Fest proper, but have no doubt that the party kept going. FYI, for future attendees of Goth Fest, while it may seem like a brilliant idea to stay at a motel a block away from the venue so you can stumble back between outfit changes after a full day's worth of drinking, you may want to check into a few things. Little things like the air-conditioning not being turned on in the whole motel until May 15th and windows that don't open. The swimming pool that's been rocked over or the prevalence of meth'd out neighbors that keep their party going ALL NIGHT LONG. We digress.
Day Two
Day two opened up with Denver's Deophagy. It's apparent when Deophagy set up that they're pros at playing out. Mics with zero feedback—which was an anomaly for many of the bands on both days—created a clear, crisp sound. Deophagy also bring a strong stage presence looking appropriately industrial. Bassist Zeb said the band was invited to play Goth Fest after Aaron Hernandez (DJ Batboy) heard the band open up for Voicecoil at a recent show.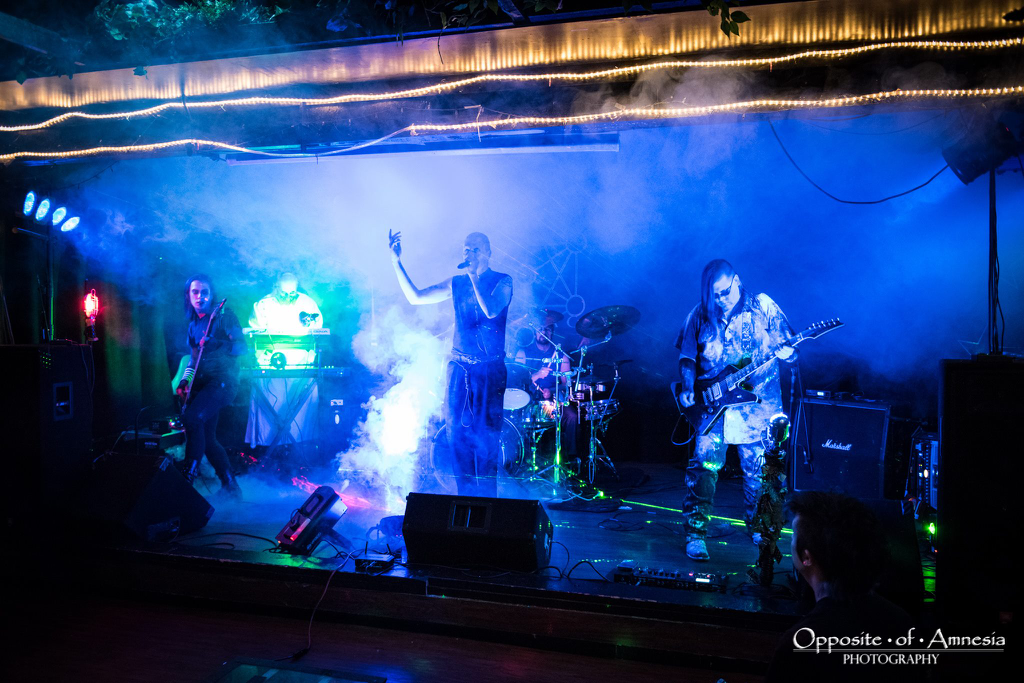 Let's talk about DJ Batboy, aka Aaron Hernandez, for a moment. Aaron was instrumental in helping create the inaugural Goth Fest. He's quick to cite others who helped bring everything together relatively seamlessly, "…DJ Gari-Sama with the Hearse Club. DJ MadBot, and L0G1k (who spun a delightful set) helped me with sound and setting up the bands. I was in charge of the booking for the bands and DJs." Aaron may be young, but he's got a solid grasp of Goth culture, is quite proper and was quick to respond to questions regarding the 'fest.
Maximizing his time in Colorado, Acid Casualty not only performed on the first day, but was also asked to spin a guest DJ set. There are many musicians who try and take a whirl at the turntables and don't quite get it. Michael is fortunate in that he has a grasp of transitions and had a solid mix of interesting music.
Day two also included a set by California based They Feed at Night who've opened for the Gitane Demone Quartet and Kommunity FK amongst others. Self-proclaimed "sexually crazed sophisticates," this is a band who, more so than any other at Goth Fest, fell under the "deathrock" tag. These gentlemen have the chops to back up their look and feel really genuine.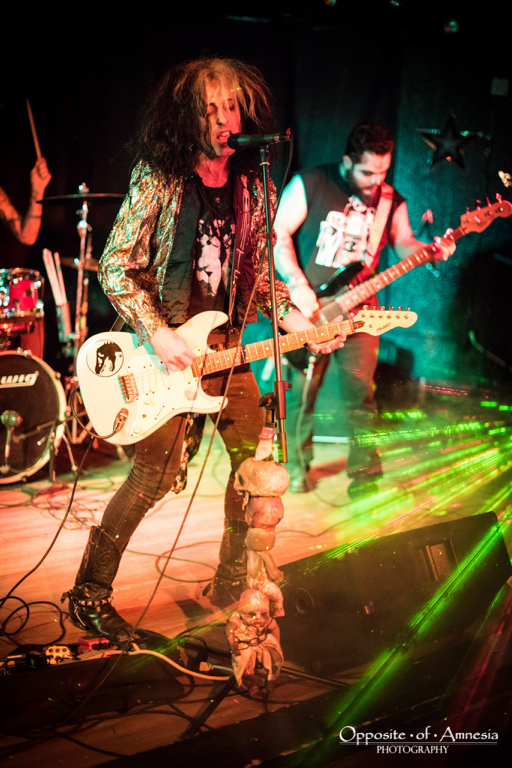 Showing the diversity of what can go over well at a goth show was the band Royal Dead. Some would say psychobilly, some would say punk. It's easy to see why this band has shared a stage with Nekromantix and Koffin Kats. Bassist Adrian manipulates his instrument with ease and flair. Vocalist/guitarist Eddie Suicide and drummer Joey round out the band and are high energy, engaging performers.
One of the most visually and aurally arresting bands on tap for day two was Suspension 9. With thrashing guitars, a truly dark and evil look, and flames…flames spewing forth from the band, there was almost too much badassery to take in. A really fun performance by what we'd call a rock-based somewhat more traditional Industrial band.
Captain Blood. They take their name and bring it to life on stage. You've got a captain and you've got blood. A lot of blood. The band's name suits their sound in that it's fun, dark and kind of classic; horror punk that's not quite psychobilly. We weren't able to speak with the band to see if their name stems from the book, film or video game that holds the same name. Curiosity reigns!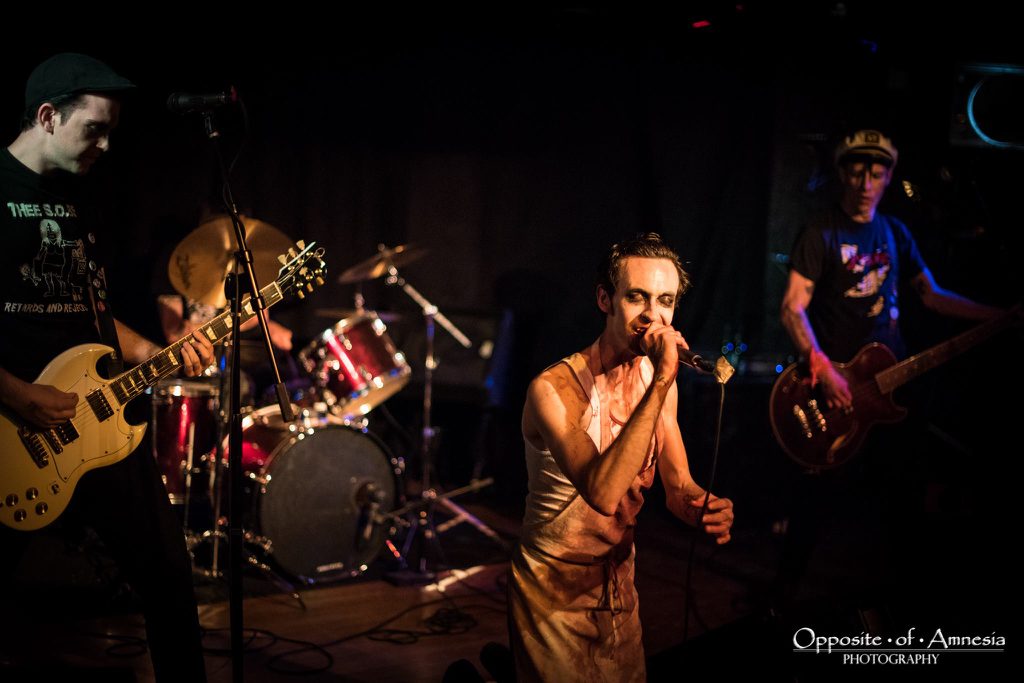 The cool thing about Toothgnasher is that you feel like you're listening to a band that has some substance; that there are some opinionated, informed members in the band in the vein of how old-timey Industrial used to be. One of the only bands at the 'fest who properly used glitch techniques and just hard-hitting and strong.
Interspersed throughout the bands on both days were DJs RuinR, JuJu Bat, Cyber One and Neea Starla, each with their own takes on what's danceable and suits a Goth Fest crowd. Sets ran the gamut of industrial aggro/hardcore to more traditional goth to somewhere in-between to just lovely (respectively). All the DJs at Goth Fest had the challenge of keeping the energy going during both long days and most rose to the occasion.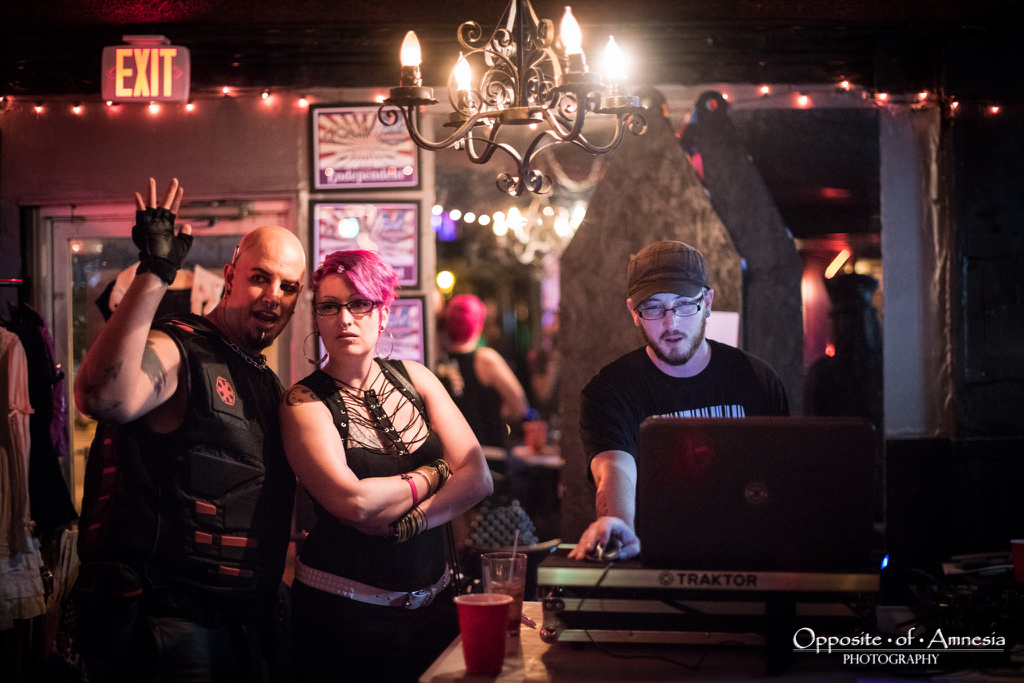 In closing, we'd be remiss if we didn't mention the kindness of the staff at the Zodiac. The bartenders don't hesitate to fix a proper double or triple drink with a smile and the Green Line Grill next door doesn't fool around with their food. Ask for the Cowboy Fries, which in addition to anything else on the menu, can be delivered to the Zodiac. Choice.
There was so much to take in at the Colorado Goth Fest. From pretty burlesque girls closing out the 'fest (hey, Miss Theresa!) to the Hearse Club parked outside and vendors selling clothing and dark art. Old friends, new acquaintances and interesting conversations filled both days in-between sets. Too much smoking, drinking and socializing, as is our way, led us to be exhausted by the end of our two day stay in Colorado Springs but in a really hopeful way. The 'fest wasn't perfect, but there was a camaraderie amongst the artists and a good feel about it all. As Goth Fest matures, no doubt the small things that plagued the festival will fall by the wayside and one day will be a serious contender on the goth/industrial festival circuit.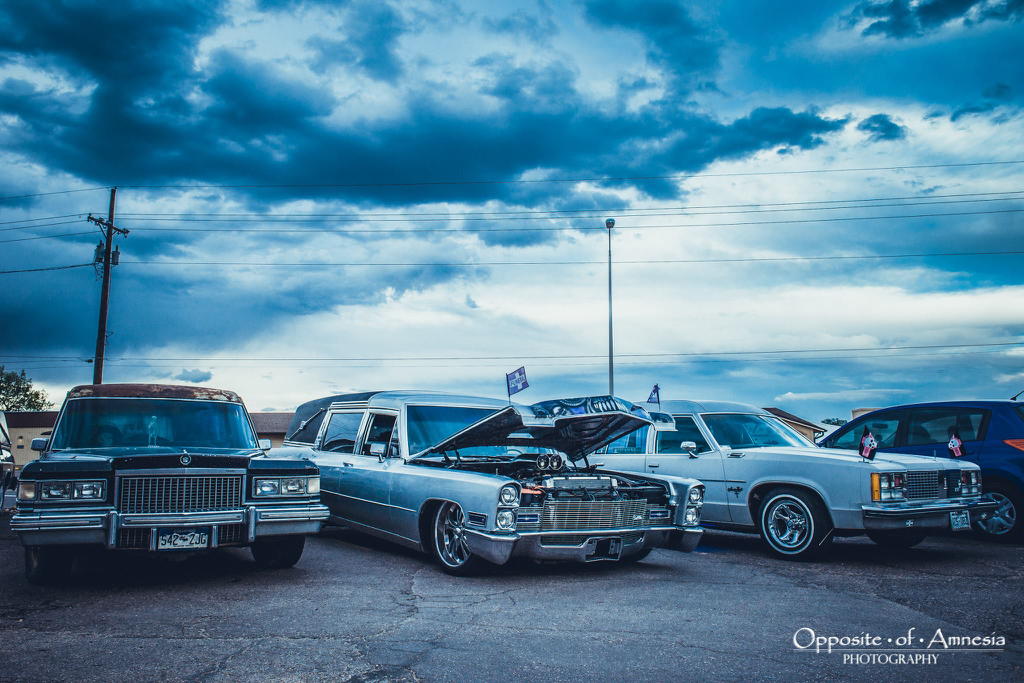 Thanks to Michael Martin for his insights on the 'fest and so much love to Fernando Altonaga for his technical guidance and stellar companionship during our fun-filled weekend.
Tags Acid CasualtyCaptain BloodDeophagyDJ Cyber OneDJ Gari-SamaDJ JuJu BatDJ LoG1kDJ MadbotDJ Matte BlackDJ Neea StarlaDJ RuinREcho BedsJinxy PoppetMichael MartinMiguel ReinerNekroconstructRobert Xander and the Bottom StringsRoyal DeadSarah MartinezSuspension 9They Feed At NightToothgnasher
You may also like...