:News: Blue Stahli Releases Surprise Record 'Antisleep Vol. 04, Ch. 01'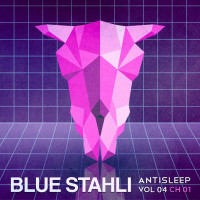 Detroit-based energetic electronic rock artist Blue Stahli has returned with the latest addition to his instrumental Antisleep series with Antisleep Vol. 04 Ch. 01. The new release, which was announced to fan's surprise via FiXT Online today, is comprised of tracks like the James Bond-influenced "Secret Agent Business," and dirty rock 'n' roll-influenced "Stangblack," as well as others.
The record is for sale one day early via the FiXT Store and will be available via all other major retailers and streaming services, such as iTunes and Spotify, tomorrow.
Blue Stahli's Antisleep series has led to his internationally-acclaimed music being placed in an array of films, trailers, television shows, and video games. Music from Blue Stahli has appeared on Star Trek: Into Darkness, Iron Man 3, American Horror Story, and many others. View a comprehensive list of Stahli's music placement at FiXT Online.
Listen to "Secret Agent Business" now:
Blue Stahli had this to say about their new release:
"Originally, "Secret Agent Business" was going to be released as a single with the intent that I'd get to making more Antisleep songs after finishing the album I'm currently working on. A few strange opportunities came along and gave me the shot to write some new material I've been itching to do. That all came about really quickly and in that whirlwind of writing and beatmaking, it was discovered that I had done 3 songs of full on dirty lo-fi indie blues action and never released them. Blue Stahli is a multi-genre affair and that's never more apparent than when you've got lo-fi bluesy badassery, spy themes, techy action beatdowns, and anthemic indie dance through a VHS haze."
You may also like...