:Concert Review: Alter Der Ruine, ΔAIMON @ The Bancroft Bar, Spring Valley, CA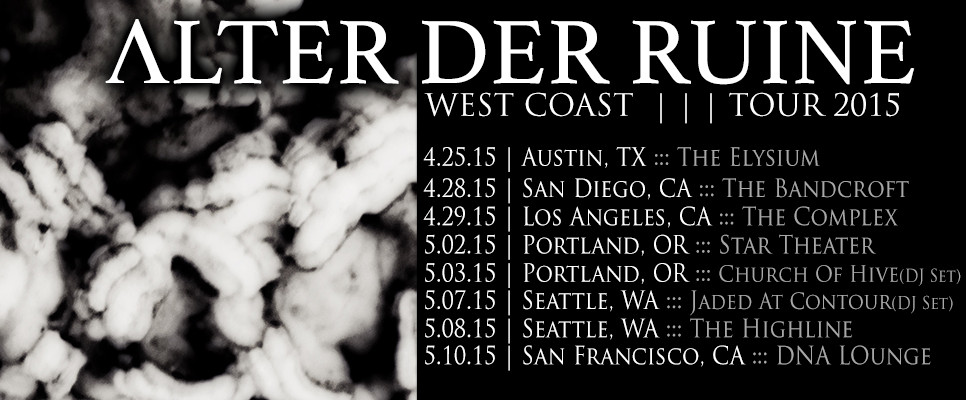 Alter Der Ruine, ΔAIMON
Concert Date: April 28, 2015
Venue: The Bancroft Bar
Location: Spring Valley, CA
Review by Jaymie Burzette & Yvette Arambula
The smell of hay lingered in the damp air when we descended upon Spring Valley, on the outskirts of San Diego. This was the first show the three of us (we had our photographer Vanessa in tow) have covered in a while. Local events for Bryan Pollard's Darkwave Garden/Klub Therapy are now hosted at The Bancroft Bar. Bryan has been putting shows together in San Diego since before we were wee larvae. From the outside, The Bancroft looks like a typical dive bar, complete with an erratic parking situation and a sign out front that said, "Keep cool with us" in chalk. Inside it looks like an old-fashioned saloon, with friendly bartenders and great atmosphere.
There were only two bands playing that night, ΔAIMON followed by the headliner, Alter Der Ruine. Unfortunately, none of us are familiar with ΔAIMON's catalogue so we were unable to list any songs they played. This performance sounded much better than the last show we saw of theirs, but this was due to the rather bad acoustics of the previous venue. The dichotomy of smooth, melodic vocals from the girl versus the brash, unpolished screams of the male made for an interesting show. Not necessarily in a bad way, though. One thing to note, I really like the drummer they use when they play in San Diego (he also plays for The Shaolin Signal, a local band)—he's always tight, always right on beat, always fun to watch. During one of the songs he busted out a killer snare roll with machine-like precision.
ΔAIMON closed out their set with a cover of INXS' "Need you Tonight." Throughout the performance the band was quite focused and put forth loads of passion that was absolutely infectious with the audience. Quite a few people were dancing in front of the stage, including an older man (whom I shall refer to as "Pops" from now on) that appeared to be on some prime drugs, judging by the way he was getting down; he was dancing like it was 1995.
Up next came the always entertaining Alter Der Ruine. They opened with the soft, melodic "Lights," the first track from their newest album I Will Remember It All Differently. From there they moved into "Tiny Wars And Quiet Storms," and then played "Horizon Slide" which was made even more badass by a killer drum solo by drummer Michael Jenney. Jenney's kit was totally awesome by the way; it appeared to be an acoustic/e-kit hybrid with light-up cymbals and bass drum.
As the band played on with "Will We Tear You Apart," vocalist Michael Treveloni peered across the club with a penetrating 1000-yard stare. Treveloni's stares, expressions, and movements worked in concert with the music, as if they are as integral to the music as the individual notes and melodies. He was dancing around the stage like a maniac, as is his usual. Towards the back on keys, Tamara Jenney made her performance seem deliberate and effortless with her slow, graceful movements. Pops was pop-and-locking across the dance floor to the music. At one point Pops asked our photographer to dance with him; she declined.
Next, the band said they were playing a new song, the crowd cheered, and Michael T. said, "It might not be good. Thank you for the enthusiasm." He jumped offstage and sang amongst the audience. Pops was fluttering around him like a broken-winged butterfly. This was followed by "Keep The Devil Off Your Back" with Mike T. spazzing out on stage in his usual, albeit entertaining, manner. He's got great rapport with the audience and always makes them feel like they're part of the show. "Stars" came next followed by "Leviathan." After those came a song they had never played live before (which totally rocked). It may have been "I Am Drugs" but I was too into the performance that I wasn't paying as much attention to such things as I should have. They closed out the night with "Boozetooth," which I'm sure (for the most part) is what Pops was afflicted by.
What can I say? It was a great night full of great music enhanced by some slapstick tomfoolery from a certain audience member. We got to converse with the band and their label manager Roger Jarvis (Negative Gain Productions). It's nice to talk to people in person who we've worked with for a while via the internets. The bands put out a lot of passion and some really great vibes that added to the relaxed atmosphere of the venue. This was the third time seeing ADR and they are always fantastic. We can't wait to see them again when they come back to our town on June 20, this time at Brick By Brick.
Tags Alter Der RuineJaymie BurzetteNegative Gain ProductionsYvette ArambulaΔAIMON
You may also like...