:News: Justin Symbol Releases New Remix album 'F * C K H E A D'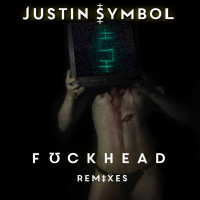 Beginning with the release of debut album V Ω I D H E A D on Halloween 2014, the self-proclaimed "King of Negativity" has emerged as a bold new force in the NYC alternative club scene. Symbol and his band have garnered attention for the controversial subject matter of their music and videos and theatrical live performances, as well as their unique sound—an intoxicating hybrid of alternative rock, EDM, and industrial metal. V Ω I D H E A D features co-founding Marilyn Manson guitarist Daisy Berkowitz, and has been accompanied by a seemingly endless stream of music videos and live performances opening for national acts such as Wednesday 13, Orgy and Die So Fluid. This buzz has helped Symbol gain the attention of major music press and build a rabid cult following.
F U C K H E A D is the remix record for Justin Symbol's debut album V Ω I D H E A D. Featuring 2 new songs, and 12 remixes from artists such as Psyclon Nine, BILE and Statiqbloom, F U C K H E A D spans a wide range of electronic music styles including, but not limited to: industrial, aggrotech, experimental, trip hop, witch house, breakbeat, techno and industrial metal. The album kicks off with new single "Scarecrow," produced by FLO and includes another new track, "Kingdom of Fear," featuring Verena May. Released in May, this album will be sold in a limited edition of physical copies on Symbol's upcoming U.S. national tour with William Control and Requiem beginning May 6th.
Check out the track, "Scarecrow," which premiered on Bloody Disgusting:
Justin Symbol Official Site
Facebook
YouTube
Twitter
Instagram
You may also like...