:News: Juno Reactor Releases Third Single From Upcoming Remix Album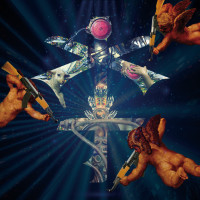 Underground Electronic legend Juno Reactor has released the much anticipated third single, "Tempest (Zeologic Remix)," off of The Golden Sun… Remixed, with an Exclusive Premiere on The Music Ninja on Friday, May 22, 2015.
"Tempest" was the perfect song for Zeologic to remix, as its misty qualities translate well into the style of choice. The underground edge was kept alive, and the Belgrade beatmaker ran with it, pulling off a stunning display of musical savvy. Juno Reactor's original was done justice, and soon it will be available for you to keep. – The Music Ninja
Listen to Juno Reactor's "Tempest (Zoologic Remix)":
Preorder Juno Reactor The Golden Sun… Remixed HERE.
When it comes to Trance, Ben Watkins wrote the book. His legendary Juno Reactor project now ranks among the all-time greats of electronic music as essential innovators. The 1993 debut long-player Transmissions is widely accepted as the first trance album in history.
From scoring The Matrix Trilogy to performing their stunning live shows at major Festivals: Glastonbury, Coachella, Fuji Rock, The Glade, Boom and many more; Summer 2015 sees them headlining the Ozora Festival.
Juno Reactor are a one of a kind, constantly redefining, playing with music.
"If judgment day passes, and the Judeo-Christian God comes back to offer His opinion of the living and the dead, I can be sure, without a doubt, that The Golden Sun of the Great East will be the soundtrack playing gloriously in the background. Amen to that."
–Zachary Houle 13 May 2013 PopMatters Music Editor
The Golden Sun Of The Great East is the 8th Juno Reactor album since the project started in 1991. The album further hones the exotic mix of surging beats, cinematic vision and lustrous world music flavours which characterized its predecessors, from propulsive turbo-opener "Final Frontier," a homage to Ridley Scott's Blade Runner, to evocative satellite serenade finale "Playing With Fire" and its panoramic chorale of piano, strings and haunting voices. In between, tracks such as "Invisible", "Guillotine" and "Trans Siberian" surge on mammoth waves of coruscating riffs, Eastern vocal refrains and turbulent drums, all directed by Watkins' unique sense of drama. While "Zombie" and "Tempest" introduce darker atmospherics, "Shine" and "Bycula" hop off the pounding beats express to deliver a subtler strain of exotic, emotional flow. Studded with future classics, the album seems built for a stratospheric live show.
Check out The Golden Sun Of The Great East on Soundcloud and order it HERE.
Connect with Juno Reactor:
You may also like...