:Artist Spotlight: Black Nail Cabaret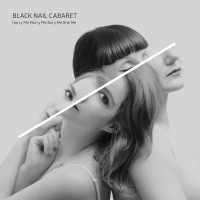 Black Nail Cabaret is a Hungarian Noir Synthpop duo from Budapest. Formed in 2008, the group consists of Emese (vocals) and Sophie (keyboards).
They started to perform as dancers together at the biggest local industrial/cyber party series called Kollektiva, and in 2005 they've formed a small theatre group called Art Macabre, with 7 members, for bringing the horror genre to life on stage. That's where the idea of a theatrical music project came from. Sophie has been playing the piano since childhood. After buying her first keyboard, Emese started to compose songs, her Hungarian poems turned into English lyrics.
The band made its live debut on Halloween night in 2010, in Budapest, Hungary with additional bass by Veronika Lang and backing vocals/performance by Susanne "Susy" Novaky. Susy has been playing with the band ever since, supporting them as a vocalist on some live shows. Since their debut they had a chance to support the Swedish industrial group Covenant and the German synthpop band De/Vision. They also performed at the RECession Festival in Aarhus, Denmark and on the Schwarzes Leipzig Tanzt X-Mas event in Leipzig, Germany. This was also the last show where the band had theatrical performers on stage.
BNC's debut album Emerald City was released on May 29, 2012. Since the very beginning the girls work together with producer Krisztian "Devon" Arvai, who also helps them at live shows. The band has also recently worked with Sandor "Vereb" Szamveber (sound engineer, mixer, live and studio works), Laszlo "Cila" Hornyak (live mixing, studio work), and Tamas Szamveber (guitars).
Emese participated on the latest album of German mastermind Daniel Myer's experimental electronica project Architect. MINE was released on September 17, 2013. Sophie recently worked with Hungarian composer and experimental artist Balazs Temesvari; they've performed together with Biodark project I.O.N and as a new electrock formation called ROSINFLUX.
You may also like...