:Concert Review: Diverje/Black Cell/Wire Trap @ 3 Kings Tavern, Denver, CO
Diverje/Black Cell/Wire Trap
Concert Date: April 16, 2015
Venue: 3 Kings Tavern
Location: Denver, CO
Review by Sarah Martinez & Fernando Altonaga
There were a surprising amount of black clad, old timey deathrockers and rivetheads milling outside of the 3 Kings Tavern on the snowy Thursday kick-off to 4/20 weekend in Denver. The band Diverje had braved the blinding snow over Raton pass on their way from Albuquerque to bring Denver a growly, danceable Metal/Industrial show that didn't disappoint.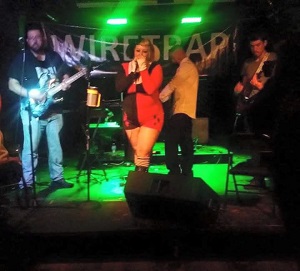 Denver's own Wire Trap started the evening as patrons played pool and saddled up to the bar. The modest dance floor at 3 Kings started filling up with each song. Frontman Chris looked proper in black slacks, white shirt, and tie and led bandmates Tim, Brian and Starla in classic hardware-based industrial in the vein of Birmingham 6 and Razed in Black. Additionally, (and super important in our opinion), Chris was incredibly gracious in conversation, and genuinely appreciative of the audience. Starla's a delight to dance with and no doubt Tim and Brian are good guys because only good people make music this solid.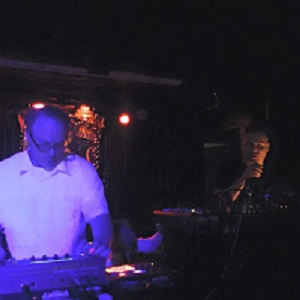 Black Cell took on the second part of the evening and kept the energy going with their own hardware set. Black Cell always have an impressive, sexy set up of gear. Vintage analog synths are cleverly manipulated to create diverse soundscapes that hint at dark influences hijacked by synthpop techno heads Matt and Eric. Black Cell's experimental electro sounds remind the audience of the diversity of what can fall under the umbrella of industrial music.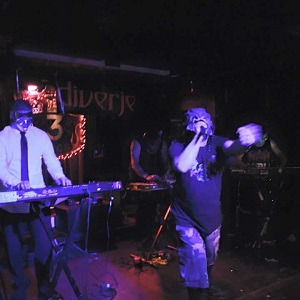 On to headliners Diverje. It's apparent when Diverje take the stage that you're watching experienced musicians. Not only is the band cohesive musically, they're incredibly entertaining. The live version of Diverje is brought together by Tommy T, Nino, Vicente and Kenny. For this show, Chris from Wire Trap also joined in. Having shared the stage with other theatrical bands, such as Skinny Puppy and My Life with the Thrill Kill Kult, has either rubbed off or, as they say, "birds of a feather…." Whatever the case, it's really cool when you go to a show and it's a show. With 15 releases under their belt, Diverje has no shortage of music to pull from when playing. It's been said Tommy T is so prolific and hardworking, he's like the James Brown of underground Industrial. Much dancing ensued and head bobbing from those sitting further back in the venue who were too cautious to get knocked around up front by the fans who were enthusiastically flailing around. We'll end with the fact that Tommy T is just a super cool guy.
One of the really great things about the bands that played this night, and something that should be taken to heart by many other Denver musicians, is the fact that all of the bands stayed for the entirety of the show and there was a clear camaraderie and respect of each others' skill. It's got to be noted that DJ E.D. Gain kept the audience going in-between sets playing Industrial standards and even throwing in classics from local favorites like the Warlock Pinchers. In closing, any show that ends with the remnants of a giant, battered, pink stuffed bunny all over the dance floor is totally legit.
Tags Black CellDiverjeFernando AltonagaSarah MartinezWire Trap
You may also like...