:Concert Review: Industrial Strength Sunday 2015 – Covenant/Aesthetic Perfection/Mr. Kitty/Carved Souls/The Alacrity
Industrial Strength Sunday 2015
Covenant/Aesthetic Perfection/Mr. Kitty/Carved Souls/The Alacrity
Concert Date: April 5, 2015
Venue: Avalon Hollywood
Location: Los Angeles, CA
Review by Yvette Arambula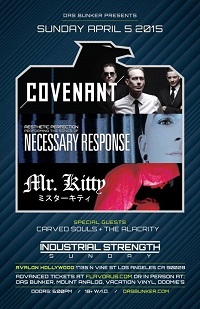 The day I had been waiting for had finally arrived! I was extremely excited when I found out that there would be yet another Industrial Strength Sunday event, hoping it would be a repeat of last year's awesomeness. I was walking along Hollywood Blvd, past the Pantages theatre, when I happened to notice Vincent Price's star on the sidewalk. Lena Horne's star was a few feet away; memories of past Sanford and Son binges came to mind. To avoid last year's evil surprise after the show, I took precautions this time. We, along with a few other attendees, were towed due to obstructed signage. But enough about unfortunate events, let's get on with the show.
The Alacrity started out the night with stompy, bassy musical treats. I'm not too familiar with their music; only one of the songs sounded familiar. What I heard did make me want to check out more of their music, which you can find here. The music had a lot of energy; a massive screen played videos of various themes that changed with each song. I could not hear the vocals very well over the music, if at all. Nevertheless, they had some people dancing despite the venue not being very full at that point.
Carved Souls took the stage afterwards with a full band: lead vocalist, two keyboards, guitar, and drummer on e-kit. Again, I'm not familiar with their music either (for shame!), but you can check it out here. It was mostly synthpoppy; a bit rockish sometimes. They played a song that was new to their live repertoire. What caught my eye during their performance was the drummer banging away at the poor e-kit with reckless abandon; loved it. At the end of their set, they threw a t-shirt out to the audience which was very nice of them.
Mr. Kitty graced us with his aural delights next. He was wearing all white, except for his shorts which had Japanese print on them, and white platforms which just added to his already tall stature. I was surprised to see he had someone on keys with him; usually it's just him. After a short intro he went into "Inhale, Exhale" off his first self-released album, Death. Next, was "Destroy Me" off his second self-released album, Eternity, my favorite album of his. During "XIII" he was bouncing around as rainbow colored lights shone on his outfit. "Heaven" came next which was the first song of his I heard back in 2012 when Life was first released. I fell in love with his music at first listen.
All of a sudden, I found myself back in the 90s with a cover of Alice Deejay's "Better Off Alone." "Unstable," "Modern Romance," and "Insects" followed. As he performed "Haunts," it appeared that he got closer to the audience, perhaps even amongst them. My view from the balcony wasn't always that great and it was pretty dark at the time, even the lights on stage were minimal. He ended his set with a new song, "Entwine," which is out now as a single through Negative Gain's Bandcamp. At the end of his set, people were stretching out their hands to him and he would give them each a squeeze while blowing kisses at them. He was a total rock star that night, with people crowding around him wanting pictures and asking all manner of questions. Well done sir, well done.
Aesthetic Perfection had a special treat for everyone. As Daniel Graves said on AP's Facebook page, "Oops, I did it again," the oops referring to playing a Necessary Response set that night which he's only done once since abandoning the project back in the late 2000s. The house lights were still on when the intro from NR's sole album started playing. Daniel Graves came onstage enthusiastically saying, "Good evening Hollywood!" before going into "Forever" followed by "Tomorrow," and "For All The Lost." At that point he said, "We haven't played a show like this since 2009. We are fucking old." "Elements," "Vapor," and "Dying In The Worst Way" blasted our ear holes. Daniel encouraged the crowd to yell in time with the beat, "You can do better than that!" [Crowd screams] Then all of a sudden they start playing "Antibody," the crowd screamed with even more fervor.
The last song of the set went back to NR material with "Spilling Blood" before Daniel and his keyboard player walked offstage. Except they weren't done despite the house lights and music coming back on (which was apparently not supposed to happen yet). Daniel came back out for an encore saying, "Would you guys like another song? We were going to do a dramatic exit without saying anything but you ruined it," referring to what I mentioned before, with the lights and the music. Tim Sköld walked onstage with an acoustic guitar and they started playing an acoustic version of "Big Bad Wolf," which I must admit I liked better than the album version. Aesthetic Perfection will be releasing an album, Imperfect, on May 12 featuring acoustic versions of their songs which were performed at a special show August 31, 2013 at Complex in Glendale, CA. It is currently available for pre-order through Metropolis Records' Bandcamp.
At last, the band I've been wanting to see for well over a decade was up: Covenant! Once the equipment was set up, consisting of two keyboards, one of which had a slide guitar looking contraption attached to it, every once in a while Daniel Jonasson and Andreas Catjar would come out and make seemingly random sounds on their synths. The house music was still playing at this time so I wasn't really sure if they were just doing sound check or what. Then came the loud, humming sound of synth and bass that made the balcony floor vibrate beneath my feet like a Footsie Wootsie while blue stage lights kept flashing on and off. Daniel and Andreas came out and started with "Leaving Babylon." Eskil Simonsson was nowhere to be seen yet.
Once they started "Bullet," Eskil came out in time for the vocals, wearing his signature suit. "Figurehead" and "Ignorance & Bliss" were next, after which Eskil introduced Daniel and Andreas to the crowd before playing "The Beauty And The Grace." Eskil announced that they would be going back to LA for a special show where they will be performing songs from Europa, which was recently re-released on vinyl, as well as other older material. The show, that I regretfully was unable to attend, was on April 29 at Complex.
During "Go Film," a female fan somehow ended up onstage, dancing around to the music. The band played on but soon enough, Eskil noticed her and briefly walked offstage to let someone know. No one came to get her. She danced ever closer to him, trying to grab his hand; Eskil thanked her then politely asked her to leave the stage. She did not leave until someone came to try to persuade her. She needed a lot of convincing, but eventually she yielded and was finally led out. Sometime during that incident, they started playing "I Am."
Eskil said, "How does it feel to set things in motion" before going into "Prime Movers." "Edge of Dawn" really got everyone moving. "20 Hz" came next after Eskil said, "We are all strangers to each other." He often said something related to the songs before the vocals started. He said, "Thank you for coming out tonight and mixing your noise with ours" as "Ritual Noise" filled us all with its decadent sound waves. Andreas made use of the guitar-like contraption during this song. People cheered when the tell-tale beat of "Like Tears In Rain" began, one of my personal favorites. "Let this be the last dance…" as, hmmm let me guess, "Last Dance" commenced. It was not the last dance, though; "Call The Ships To Port" was. Or was it…? Eskil walked offstage first while the song was still playing, followed by Daniel and Andreas.
Time for an encore! The crowd cheered when they walked back out and "Prometheus" started. After that song Eskil said, "Thank you for standing alone together, right here, right now" before the last song (for real this time) played: "We Stand Alone." A great ending to an amazing night. Industrial Strength Sunday once again failed to disappoint. The crowd wanted more, hell so did I despite how tired and deaf I was at that point, but it was late and the venue had to be cleared out soon. Time for that nearly three hour long trip back to San Diego. Sigh….
Tags Aesthetic PerfectionCarved SoulsCovenantMr. KittyNecessary ResponseThe AlacrityYvette Arambula
You may also like...