:Music Review: Coraxo – Starlit Flame
Coraxo – Starlit Flame
Release Date: January 15, 2014
Label: Self-Released
Official Webstite: http://coraxo-official.com/
Review by Don Waugh Esq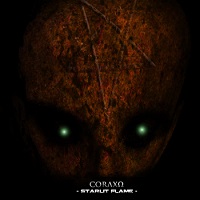 When I'm presented with a band that describes itself as "Nordic death metal meets Doctor Who," I have to ask myself if I'm on Candid Camera or Punk'd or whatever. And then I have to force myself to sit down and push play, because music like that must be an elaborate prank.
Right?
I'm happy to report that I'm wrong.
Hailing from the land of a thousand lakes, Finland's Coraxo (Tomi Toivonen on vocals, guitar, bass, synths, and programming and Ville Vistbacka on drums) makes the kind of music that compels you to walk up to the stereo at the party and find out just what you're listening to. Their debut EP, Starlit Flame, was self-released in early 2014, but due to some backlog here at COMA, we're only just getting to it. And I for one am happy that it's here.
The first of a proposed trilogy (the second EP will be reviewed by yours truly sometime soon), Starlit Flame clocks in around 28 minutes with six original tracks and a cover of Sepultura's "Resist/Refuse" that plays it straight. This effort plays homage to the Weyland-Yutani verse of Aliens fame, and provides an Electro Metal feel that dances on the edge of Industrial without losing track of their roots.
The lead instrumental track, "LV-426 J318.5-22," gives no indication of what's to come, being a nice little Ambient track, but then the album explodes with the Metal guitars for "Signal Detected," promising a full rush of storytelling and headbanging.
"Xenotaph" is probably the album's standout, and it survives as the song that gets stuck in your head, long after the album has finished. It's in this track that you really notice the tight professionalism of the band, as they manage to get a groove going that would do justice to most mosh pits.
The remaining trio of original songs on the disc do a good job of closing out the story. "The Big Fight Scene" and "Transformed" are lyrically decent, and "Escape?" is a pretty good closing to the chapter. All in all, it's well written and well performed. No one's trying to be the next big thing, they're just trying to be the next Coraxo. And that's a good start.
I'd be remiss if I didn't say that the album passed my Kitchen Test: if I can remember individual songs after I've finished making dinner, they're good songs.
I'm pleased to welcome Coraxo to the list of bands I'll keep my ears open for. Considering this was a self-released project, I'd say it's a good calling card to the rest of the world.
Track Listing
LV-426 J318.5-22
Signal Detected
Xenotaph
The Big Fight Scene
Transformed
Escape?
Resist/Refuse (Sepultura Cover)
Tags CoraxoDon Waugh Esq
You may also like...