:Music Review: En Esch – SPÄNK!
En Esch – SPÄNK!
Release Date: February 10, 2015
Label: Distortion Productions
Official Website: http://www.enesch.de/
Review by Stephen Beck Fey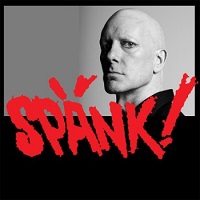 En Esch seems like he's been around forever. From the classic early days with KMFDM, to the intermittently triumphant supergroup heroics of Pigface, to the ever-reliable (if perhaps not as prolific as I'd like) Sick Idiot, to his recent down and dirty work with Mona Mur; there's always some project or another occupying his time. Interestingly though, he's never done much on his own, always having a band or collaborator to share the burden with. Indeed, his last (and until now, only) solo album was released over two decades ago. So hearing that a new release is on its way from En Esch (and nominally only him), one gets the urge to speculate as to what tack he'll take. Will it be straight-ahead rock? More club oriented? Downbeat and groove-tastic? Perhaps even something weirder?
And all those speculations are right to a degree. SPÄNK! manages to have a little something for everyone. Do you want strong swaggering guitar riffs? The opening salvos of "12345" and "Hard On" have them in spades. Looking for bouncy party tunes? For you, there's a cover of GoFight's "Give The People What They Want" that sounds like a carnival in a factory, and a neat little original, "Freedom of Mind," with an almost disco sound to it.
"Ich Bin Ein Berliner" and "SPÄNK" provide heavy sample-based electro jams. "Do Me" and "Ich Bin Bereit" bring the dark and sexy grooves. And from furthest out of left field, there's "I Hop," an honest to God commercial jingle, which would be completely jarring if its out-of-place-ness wasn't so hilarious.
Indeed, SPÄNK! has the feeling of a greatest hits compilation more than a proper LP. This is both a good and a bad thing. It's never all that cohesive as an album, the songs sound like they were meant to be spread across four or five different bands. On top of that, there is a certain trend towards self-indulgence; none of these songs really need to be over five minutes, but most of them are anyway. And honestly, did "I Hop" even need to exist?
Nonetheless, the material itself is consistently strong. The hooks are catchy. The beats are danceable. The arrangements are creative. And hell, "I Hop" may be silly and unnecessary, but it always puts a smile on my face. So do the negative points even matter?
All in all, SPÄNK! is the sound of a consummate professional stretching out and having some fun practicing the craft he's all but mastered. The songs may be all new, but they form a solid overview of En Esch's work, touching at least briefly on nearly every sound he's tried in the last twenty years. If nothing else, it's a pretty damn enjoyable ride.
Track Listing
12345
Hard On
Give the People What They Want
Soul to Steal
Do Me
I Hop
We Love to Hate
Slickalicious
No Guts No Glory
Ich Bin Ein Berliner
Ich Bin Bereit
Freedom of Mind
SPÄNK
This Party Ain't Over
You may also like...