:Festival: Montana Dark Arts Festival – July 17-19, 2015 @ Falcon's Roost Festival Grounds, Missoula, MT

The 1st Annual Montana Dark Arts Festival will kick off this July 17th–19th and will showcase a stellar lineup of some of the best industrial and dark metal acts in the world.
The 3-day festival will also feature a selection of carnival and sideshow acts, an audiovisual experience from one of the greatest media artists in the northwest, special guest dancers, artists, performers, interactive workshops, delicious food, local brews, and fine craft vendors.
The Montana Dark Arts Festival will take place near Missoula, Montana at the beautiful Falcon's Roost Festival grounds which includes 40 acres of pristine wilderness, the likes of which you will only find in Montana.
Tickets are on sale now and another wave of artist announcements will be released soon.
Tickets available online and through Rockin Rudys and Piece Of Mind in Missoula, MT.
You can also purchase tickets online by clicking here.
General Admission Tickets $80
Gate General Admission $100 (if not sold out)
VIP Tickets $150*
*VIP tickets will not be available at the gate and are limited availability while supplies last
Current Line-up:
God Module
Die Sektor
Voicecoil
Walking Corpse Syndrome
Visions In Black
nolongerhuman
Mankind Obsolete
Particle Son
Mordacious
Acid Casualty
Dark Mountain Cirkus
blessiddoom
Damsel in the Dollhouse
Technikult of Flesh
Satyr Co.
Sergeant Sawtooth
Tragic Black
Darkrad
Undun
DJ Reverend 23
JonnyBeatSeed
H0bg0bl1n
Über Cog
DJ Parasite Doll
DJ Doktor Reaktor (dark electro, industrial)
DJ Wyrmwood (aggrotech, EBM)
DJ Lunagoth (old school goth)
Vespera Bordeaux
Ravenous Raven
Salmon Rape
DJ Bones
Lyle Rhodes
Virtual Terrorist
The Patrick Kirkley Experience
Mayhem, Inc. Sideshow
Raven Digitalis
Arsenic Addiction
Cain & Fable
Starbass
Mixtress Pendula
Tu-160
3rd_Culture
DJ SAVAK
And many more still TBA
For more information visit the Montana Dark Arts Festival official website.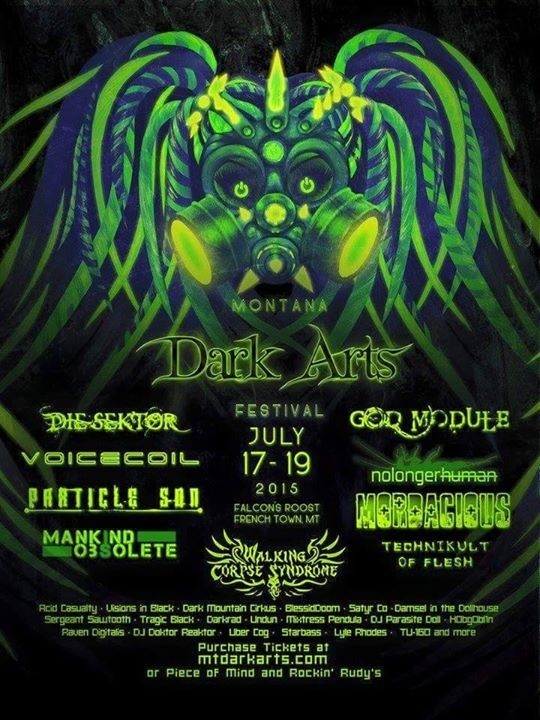 Tags 3rd_CultureAcid CasualtyArsenic AddictionblessiddoomCain & FableDamsel in the DollhouseDark Mountain CirkusDarkradDie SektorDJ BonesDJ Doktor ReaktorDJ LunagothDJ Parasite DollDJ Reverend 23DJ SAVAKDJ WyrmwoodGod ModuleH0bg0bl1nInc. SideshowJonnyBeatSeedLyle RhodesMankind ObsoleteMayhemMixtress PendulaMordaciousnolongerhumanParticle SonRaven DigitalisRavenous RavenSalmon RapeSatyr Co.Sergeant SawtoothStarbassTechnikult of FleshThe Patrick Kirkley ExperienceTragic BlackTu-160Über CogUndunVespera BordeauxVirtual TerroristVisions in BlackVoicecoilWalking Corpse Syndrome
You may also like...